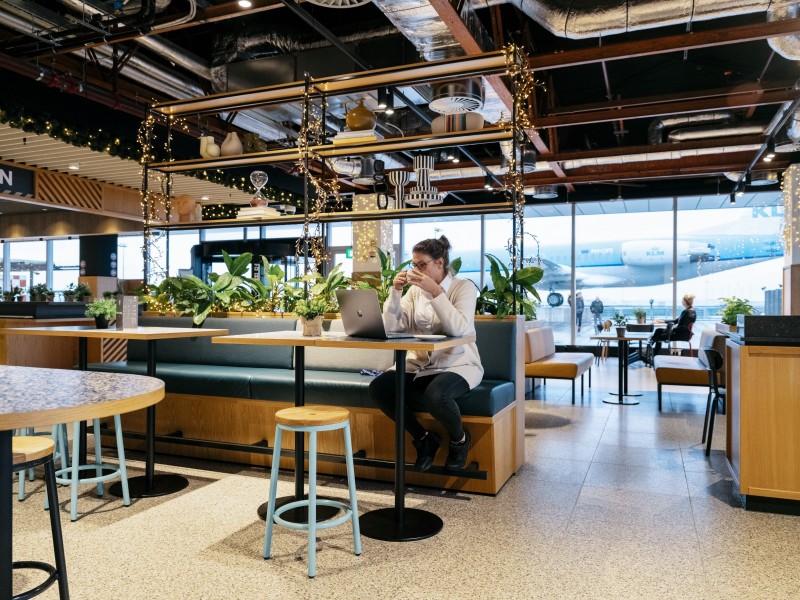 Today, a new lounge in Schiphol opens its doors – Spaces Lounge and the adjacent Panorama Restaurant. Spaces – part of IWG, the world's largest provider of flex offices – has joined forces with HMSHost Nederland -market leader in catering in airports, stations and shopping centres- to offer flex workspaces and meeting rooms at Schiphol, above Departure Hall 1. The new Panorama Restaurant offers an extensive range of food and drink options, and is next to the Spaces Lounge and Panorama Terrace. Both locations are in public areas, meaning that people can go there whether they're flying or not.
Every traveller, whether it's a business traveller, freelancer or group of colleagues looking for office or meeting space in the departure hall, can make use of the workspace for a fee. A Spaces membership is not required. Spaces features six fully- equipped work areas for more than one hundred professionals and four meeting rooms. HMSHost Nederland offers varied food and drinks options in the Lounge and Panorama Terrace Restaurant.
Redevelopment Lounge 1
The new Spaces Lounge and Panorama Restaurant is part of the project to redevelop Lounge 1. The new Spaces Lounge on the third floor of Departures 1 is the second Spaces location at Schiphol. The other Spaces Lounge is located inside the Microsoft building The Outlook, where IWG collaborated with Microsoft to create an innovative office concept.
The Dutch government said Friday it will cut the maximum number of flights allowed each year at Schiphol Airport, in an attempt to reduce noise and air pollution.