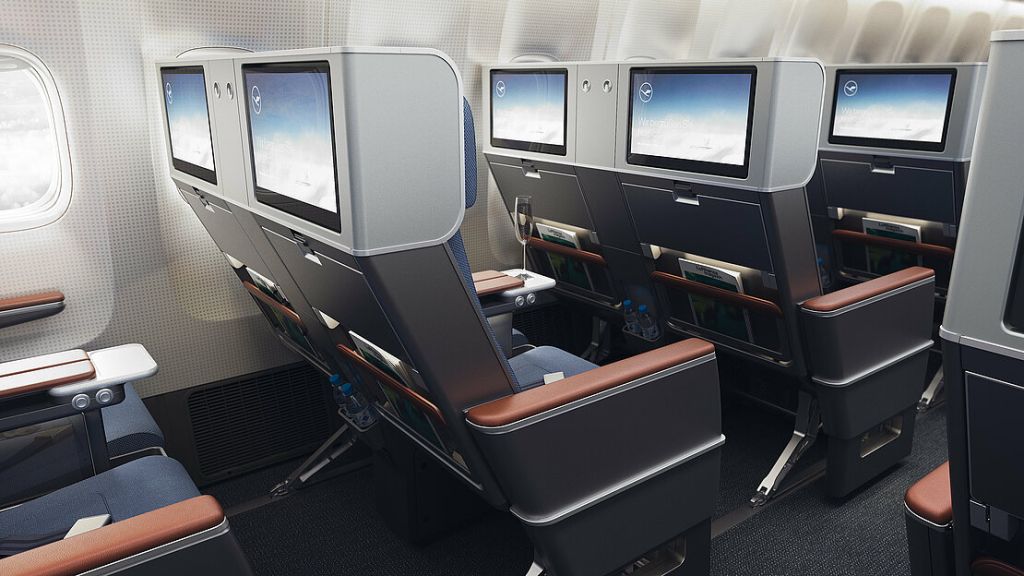 Premium and quality products have always been Lufthansa's promise to its passengers. With this, the airline is introducing a new premium product on long-haul routes under the name "Allegris" in all travel classes (i.e. Economy, Premium Economy, Business and First Class). "Allegris" has been developed exclusively for the Lufthansa Group.
"Allegris" in Lufthansa Economy
With the "Allegris" product generation, Lufthansa will also give its guests significantly more choice in Economy Class. For example, in the future, travelers will have the option of booking seats in the first rows, which have a greater seat pitch and offer additional comfort. Following the success of the "Sleeper's Row", which offered Economy Class passengers greater relaxation on long-distance flights since August 2021, Lufthansa now plans to introduce a "Sleeper's Row 2.0" on all new long-haul aircraft, as part of "Allegris." In the "Sleeper's Row 2.0", one must simply fold up a leg rest and utilize the additional mattress on offer, for rest and relaxation on a reclining surface that is 40 percent larger compared to the original "Sleeper's Row". Also in the future, Economy Class passengers will also have the option of booking a vacant neighbor seat. This will give travelers more choice, even in the most economic travel class.
The new Lufthansa Group Premium Economy Class was already introduced at SWISS in spring 2022. The comfortable seat is integrated into a hard shell and can be adjusted effortlessly, without affecting fellow passengers in the row behind. The seat offers generous space in the upper body and leg areas, and is equipped with a fold-out leg rest. Passengers can enjoy movies or music on their personal 15.6-inch monitor with high-quality, noise-canceling headphones.
Lufthansa Modern aircraft
The Lufthansa Group is about to embark on the largest fleet modernization in its corporate history. By 2030, more than 180 new high-tech short- and long-haul aircraft are to be delivered to the Group's airlines. On average, the Group will take delivery of a new aircraft every two weeks, whether Boeing 787s, Airbus 350s, Boeing 777-9s on long-haul routes or new Airbus A320neos for short-haul flights. This will enable the Lufthansa Group to significantly reduce the average CO2 emissions of its fleet. The ultra-modern "Dreamliner" long-haul aircraft, for example, consumes on average only about 2.5 liters of kerosene per passenger and 100 kilometers of flight. That is up to 30 percent less than its predecessor. Between 2022 and 2027, the Lufthansa Group will receive a total of 32 Boeing Dreamliners.