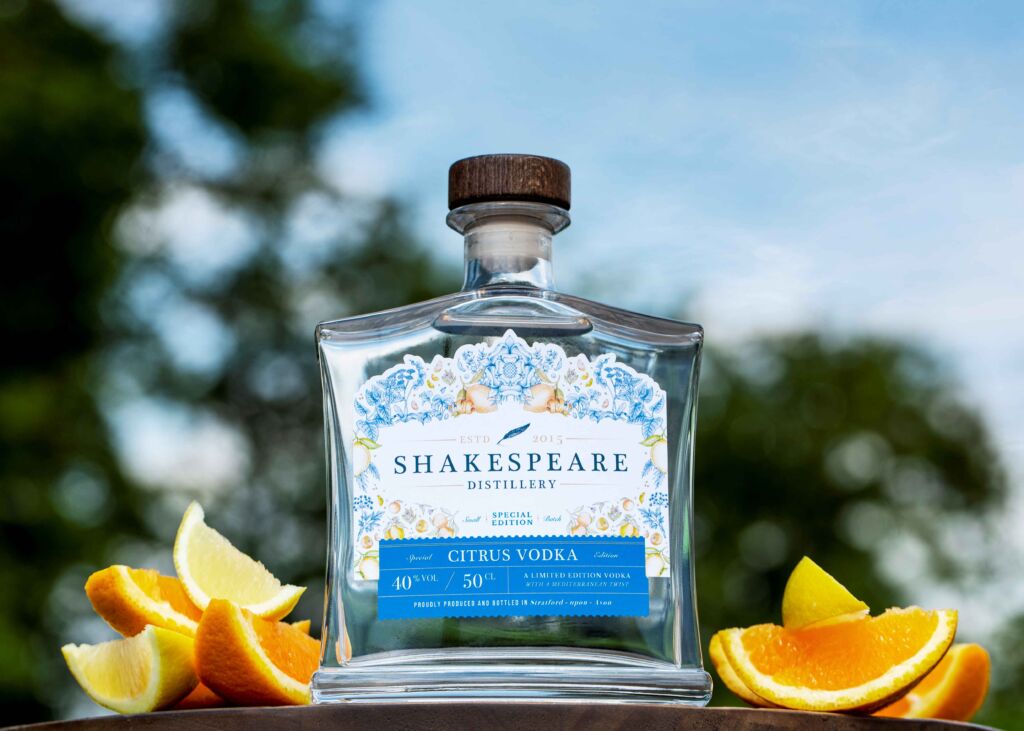 Shakespeare Distillery has launched a brand-new Citrus Vodka which is now available as a limited-edition Distillery Special. Having successfully distilled Gin for the last six years and more recently their own 'Jester' brand of White & Spiced British Rum, this is the first time the team at the independent artisan spirit producer in Stratford-upon-Avon have distilled Vodka. It also comes at a time when Vodka growth is beating both Gin and Whiskey in the UK.
Perfect for summer, the Citrus Vodka is super smooth and bursting with the flavours of fresh oranges and lemons which are hand peeled at the distillery. The team suggests serving with Ginger Ale and a squeeze of lime or making a classic Cosmopolitan Cocktail using Citrus Vodka, Cointreau, lime juice and cranberry juice.
According to The Grocer magazine, many of the UK's biggest gin brands have suffered massive declines recently whereas the biggest vodka brands have made large gains. Trade figures have revealed that two-thirds of the UK's top-selling alcohol brands have seen sales fall in the last year by more than £1.5bn collectively. Analysts have attributed this largely to consumers heading back to pubs at the end of lockdown.
Simon Picken, Director at Shakespeare Distillery said, "We're delighted to launch our Citrus Vodka in time for the summer and add another Distillery Special to our portfolio of premium, handcrafted products. The vodka is distilled slowly to create a refreshing, super smooth burst of sunshine with no added sugar, colourings or artificial nonsense".
The Citrus Vodka is available in three bottle options and retails at £34 for a 50cl bottle, £17.50 for a 20cl bottle and £6.50 for 5cl bottle.