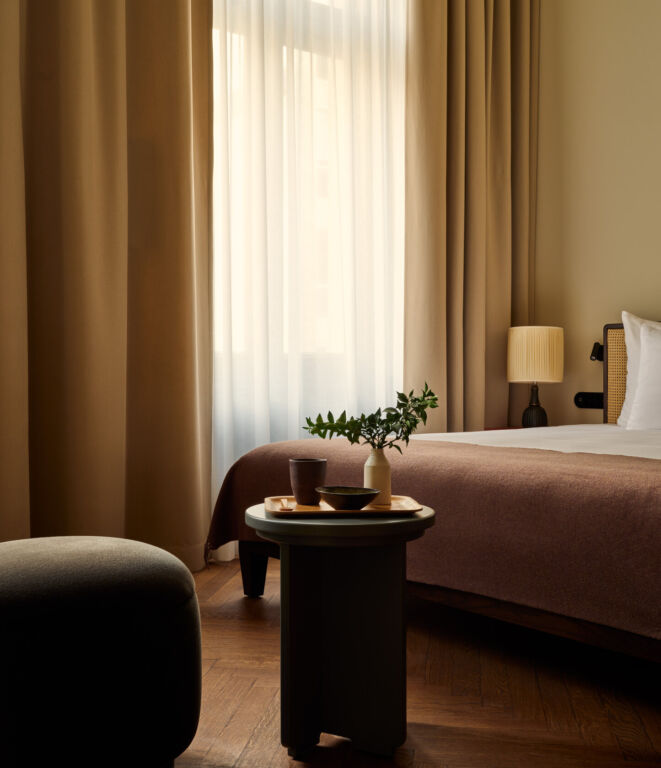 With an incredible location in the heart of Berlin Mitte, just moments from Unter den Linden, Château Royal is an innovative new 93-room boutique hotel opening its doors in summer 2022. Co-founder Stephan Landwehr and long-time manager Moritz Estermann of Grill Royal have joined forces with creative director Celia Solf to create an experience combining elements of the classic grand hotel with a contemporary feel and sensibility. Focused on choice and sustainability, it was conceived to be the discerning traveller's Berlin home.
Converting two historic and one contemporary building into a single space, Château Royal retains the historical façades and architectural features of the original structures and adds a new two-floor rooftop annexe to all three. Designed by Studio Irina Kromayer, the hotel interiors are inspired by materials popular during Berlin's late 19th and early 20th century heyday, such as coloured marble, herringbone parquet, oak, nickel and hand-made tiles.
All of Château Royal's rooms, a third of which are suites, feature high-quality, custom-made furniture designed and produced exclusively for the hotel, heated floors, rain showers, natural latex mattresses and natural fibre bedding. A different contemporary artist with strong ties to Berlin has contributed a piece of work to each room for permanent display.
The ground floor is the hotel's buzzing social hub and home to the dottír Nordic cuisine restaurant, a classic cocktail bar, a wine tasting room, several private rooms and a winter garden, filled with the unmistakable warmth and conviviality for which the hotels siblings Grill Royal, Kin Dee, Le Petit Royal and Freundschaft are all known.