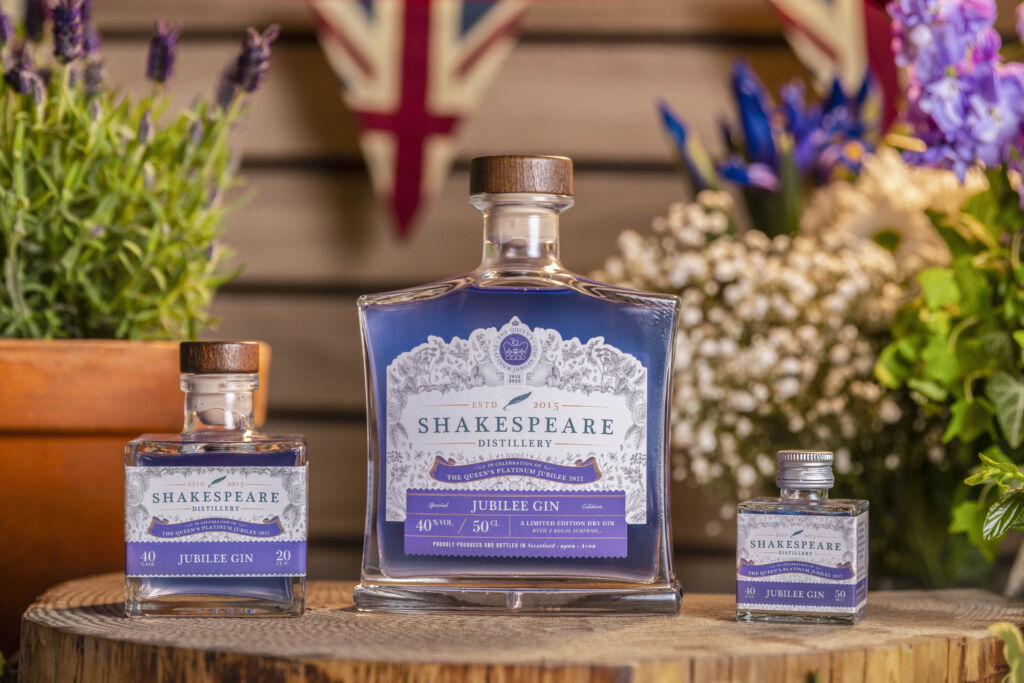 Shakespeare Distillery has launched a new Jubilee Gin on 12 May to coincide with the celebrations around the Queen's Platinum Jubilee which will see the nation and commonwealth mark this truly unique and historic moment. The team at the independent artisan spirit producer in Stratford-upon-Avon have crafted a completely new dry gin which is royal blue in colour with a regal colour-changing surprise.
Taking inspiration from a summer garden, the team have combined Butterfly Pea Flowers, Hibiscus, Lemon Verbena, and Thyme with the more traditional Gin botanicals of Juniper, Coriander Seed, Orris Root, Lemon Peel and Cubeb. To make it that extra bit special they have steeped some Butterfly Pea Flowers into the gin to turn it a lovely blue, resulting in a beautifully delicate and well-balanced gin. They suggest serving with either Fever-tree Elderflower Tonic or Fever-tree Light Indian tonic water and a slice of lemon.
Shakespeare Distillery are also re-launching another 'Distillery Special' this month, their popular Limoncello, bringing a touch of the Mediterranean to Stratford.
Peter Monks, Director at Shakespeare Distillery said "We're delighted to launch our special Jubilee Gin in time for gin fans to enjoy a tipple whilst celebrating the Queen's Platinum Jubilee. Aside from her nightly dry martini, is it well known that the Queen is a fan of Dubonnet and Gin so I hope her Majesty would approve of our new addition. We're also thrilled to bring back our Limoncello due to popular demand from our customers".
The Jubilee Gin is available in three bottle options and retails at £34 for a 50cl bottle, £17.50 for a 20cl bottle and £6.50 for 5cl bottle. These can be purchased online (https://shakespearedistillery.com/product/jubilee-gin/), at the distillery shop or from their shop at No 1 High Street, Stratford-upon-Avon. The Limoncello is also available in three bottle options and retails at £30 for a 50cl bottle, £15 for a 20cl bottle and £6 for 5cl bottle (https://shakespearedistillery.com/product/limoncello/)
The Stratford upon Avon Platinum Jubilee Festival will take place from 2 – 5 June when the town will be alive with street parties, royal celebrations, music, live performers, picnic in the park, live broadcasts of the celebrations in London on a giant screen and 1950's fairground rides. A Royal artisan market will stretch right across town on Bridge Street, Bancroft Basin, Waterside, Wood Street and High Street. Shakespeare Distillery will have a stand at the market where visitors will be able to sample their products including the Jubilee Gin and purchase from their shop in town. Shakespeare Distillery have been successfully distilling Gin for the last six years on their own premises. The company also began distilling their own brand of British Rum on site in 2021 creating a White Rum named 'Jester' and a Spiced Rum to add to their portfolio of premium, handcrafted products.
Shakespeare Distillery offers a suite of popular and informative group experiences including Distillery tours and tastings, Cocktail Masterclass and Gin School.