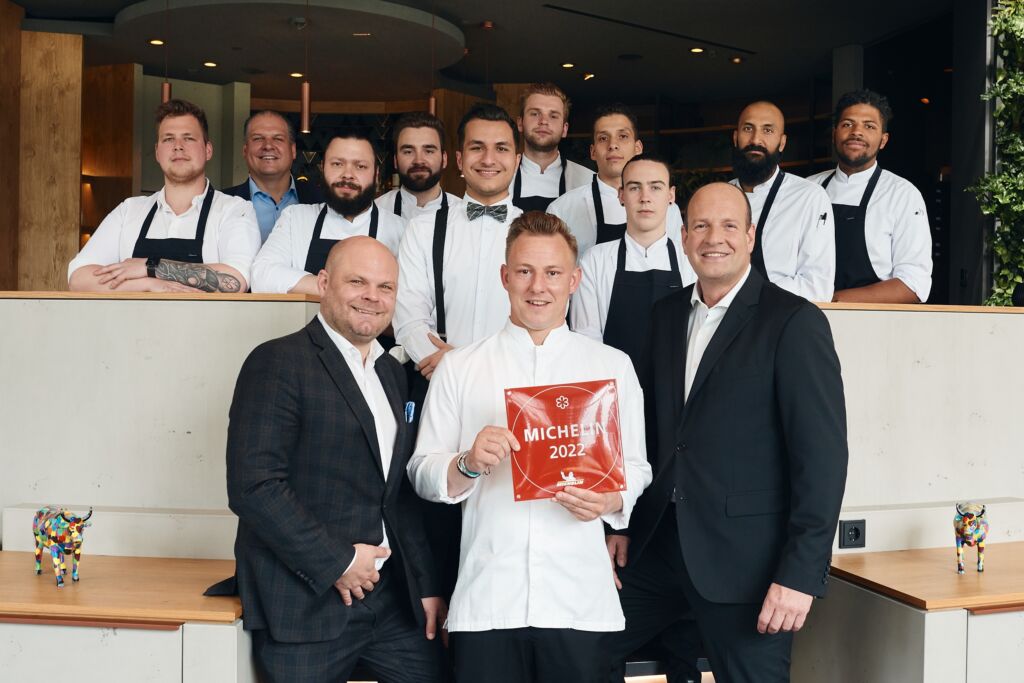 As of now, there is officially a Michelin-starred restaurant at Munich Airport. The Michelin star for the "Mountain Hub Gourmet" in the Hilton Munich Airport has now been handed over to Chef Stefan Barnhusen (photo: center) and his crew. Delighted about the award were also the Restaurant Manager of the Mountain Hub Gourmet, Johannes Gahberger (photo: left) and Jan-Henrik Andersson (photo: right), Chief Commercial Officer of Munich Airport, as well as Markus Hussler (back row, 2nd from left), General Manager of the Hilton Munich Airport. This is the sixth star, so to speak, for Munich's "Five-Star Airport," which has already won awards for its quality of stay and service.
Munich Airport CCO Andersson: "With this award, our airport is the only airport in Europe to offer such culinary high flights to the stars." Dominik Speck, representing the Guide Michelin, acknowledged the great ambience of the Mountain Hub Gourmet and praised the entire team around Chef Barnhusen for their creativity.
Besides its service to Atlanta, the U.S. carrier Delta is now operating flights from Munich to its hub in Detroit again.