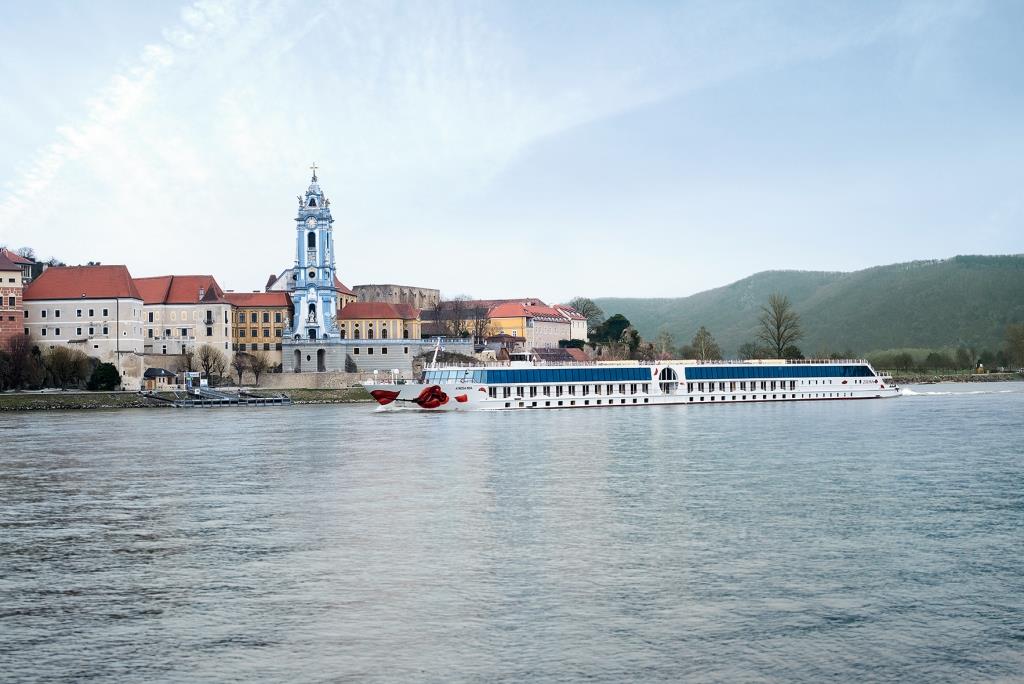 At an online press conference held today, A-ROSA Flussschiff GmbH unveiled its strategy for further developing its Premium all inclusive tariff from the 2023 season onwards. Based on detailed guest surveys and market research, the company has developed a new concept for its cruises to meet the changing needs of its guests.
More than 200 improvements – large and small – will ensure that A-ROSA, currently a premium operator, becomes a 'PremiumPLUS' operator from the 2023 season onwards. Taking into account the entire customer journey – before, during and after travel – the company will focus on making its cruises more customizable, as well as providing even better service, improving its culinary offering, becoming more family-friendly and developing its well-being portfolio. A-ROSA also plans to place greater importance on sustainability and on offering authentic experiences at its destinations.
Cuisine and customer service will be even better
At the press conference Jörg Eichler, CEO of A-ROSA Flussschiff GmbH, set out the ten biggest changes that will be introduced: "In our customer surveys people's priority was food and drink. By providing a more varied range and even higher-quality products, we'll upgrade our food and drink to gourmet standard. Plus, in the evening, guests will be able to choose between a self-service buffet and a dinner with table service."
COO Markus Zoepke outlined further steps for enhancing guests' experience: "We're going to create new positions on board, including an Assistant Maître d'Hotel. This will give our customer service a noticeable boost. There will also be a Guest Relations Manager: a key staff member dedicated to meeting our guests' needs." A-ROSA will also provide a more customer-friendly experience before the cruise. One example is its price guarantee, which will ensure that cruises booked by 30 November for the following season will not become available via A-ROSA at a lower price at any point afterwards.
Authentic, personalised experiences in the cruise regions
Another new area of focus for A-ROSA's city breaks by ship is helping guests experience the different destinations in an authentic way. They'll have the opportunity to get to know chefs, artists and local people from the various regions. A-ROSA will also introduce Destination Scouts. This innovative idea involves locals advising guests visiting their hometown on how to get the most out of their trip. "We'll be looking for people from the cities we call at who can give our guests insider tips about the best places to eat or shop and the best current exhibitions, concerts and events," explained Eichler. "This will give our guests a really in-depth experience of the region and provide insight into local life beyond the tourist areas."
When it comes to excursions, there will also be a focus on personalised experiences. With 500 different excursions available, there will be something for everyone. Guests who book excursions in the new 'exclusive tours' category will enjoy individual tours with a vehicle and driver plus their own tour guide. One particular highlight is the half-day excursion with dinner, which will be included in the cruise price from 2023 and guarantees guests an unforgettable evening.
More entertainment and relaxation
A-ROSA's onboard entertainment programme is set to provide even more value from 2023. Cruises with a duration of five nights or more will include an evening concert, while cruises lasting seven nights or more will feature two. Cruises of nine nights or longer will also have a subject-matter expert on board to give lectures about the destinations. The musical artists will either come from or be influenced by the cruise regions. Through their music – whether traditional songs or global hits – they'll convey the artistic flair of their homeland to the guests.
A-ROSA is also responding to its guests' desire for more relaxation and well-being by widening the range of activities available. The SPA-ROSA will provide new treatments and massages, while yoga and fitness classes will be added to the onboard programme. As well as going on guided bike tours, guests will also be able to borrow e-bikes and explore destinations on their own. What's more, as the industry's only provider of family cruises, A-ROSA will also be extending its offering for children. "As well as running dedicated family cruises during the school holidays, we'll provide a Kids Club with organised activities on almost all our ships if there are more than ten children on board," explained Eichler.
Focusing on sustainability
"When we were working on our realignment plan, it quickly became clear that sustainability would play a central role," said Eichler. "A-ROSA has always been involved in environmental and social actions, but taking responsibility will be a special area of focus for us in the future." With this in mind, A-ROSA opened its own sustainability department on 1 February 2022. Department head Sandra Wendland introduced herself at the press conference. "We've brought a high-level partner on board – the Fraunhofer Institute for Systems and Innovation Research – and we'll be working together to develop an integrated, long-term sustainability strategy for A-ROSA," explained Wendland. The plan for the next twelve months is to determine A-ROSA's current sustainability footprint and, on the basis of field analyses and stakeholder surveys, create a clear roadmap to 2030, which will set out indicators, actions to take and targets. "We'll be presenting the entire development and implementation process in a transparent way, and the roadmap will be unveiled at the start of the 2023 season," concluded Wendland.