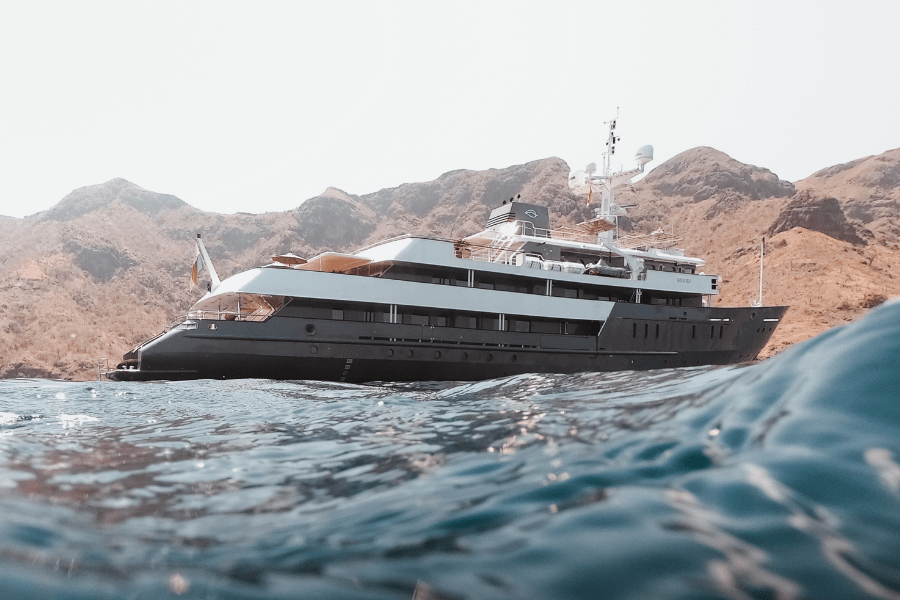 While the world has changed in many ways, one thing hasn't changed, and that is the desire to explore. Current health restrictions and safety regulations on travel mean that traveling is less of a spontaneous decision, with more emphasis on creating special experiences together in a small group of family and friends. And after the past two years, who can blame us for wanting to make every moment count? If anything, a private yacht charter ticks all the boxes for a truly memorable getaway so now is the right time to plan that family reunion or celebrate your special occasion with your loved ones. Read on as we share our picks for the top five locations in the world to indulge in such luxury!
Jewel of the Sea
Travel in this day and age has taught us that space is not only a luxury, but a necessity. What better way to experience that than with a private escape aboard a long-range explorer luxury yacht sailing the pristine seas of the Eastern Indonesian archipelago? While most operators in the region offer traditional phinisi or casual dive liveaboards, the 197 ft Aqua Blu brings a high-end Mediterranean-style experience that will suit all your modern cruising needs with the ultimate elegance and style.
Spread across five spacious decks and 15 sophisticated design suites, every single detail of the ship is yours to enjoy on either 7- or 12-night itineraries when you charter the entire vessel. Whether it is discovering the region's gastronomy via our delicious culinary offerings, sipping sundowners against the arid backdrop of the Komodo National Park, following in the footsteps of the old-world explorers in the Spice Islands, learning the difference between Ocean and Reef manta rays from our expert guides, diving some of the best sites in the Coral Triangle, jumping into a stingless jellyfish lake or even swimming with whale sharks, there is a whole new world to discover that remains untouched and wholly yours.
Heart of the Rainforest
It may not be the most obvious choice of locations when thinking of a private yacht charter, but the depth of the Peruvian Amazon is only able to be explored via small ship expedition. As the Amazon rainforest – often nicknamed the 'world's pharmacy' – houses earth's largest and most diverse collection of plant and animal life, it is only natural that a focus on flora and fauna requires a more sensitive approach to discovery.
Because Peru offers the most accessible path into the headwaters of the Amazon River and the Pacaya- Samiria National Reserve where the waters are low in sediment and rich in aquatic life, the best expeditions are the ones that provide highly customized journeys led by local experienced naturalist guides. The 1:1 crew to guest ratio and small-group excursions aboard Aria Amazon and Aqua Nera means that a lesser human presence leads to more up-close wildlife sightings of the legendary pink dolphins, red-bellied piranhas, playful titi monkeys, beady-eyed caymans, a plethora of rare bird species, and even the elusive jaguar among many others in an environment that is designed to conceal them.
Wild World
If you're looking for minimized human interaction, venturing into unspoiled sanctuaries to witness the beauty of nature and wildlife via a private yacht charter is a good idea. Voyage south toward the edge of the world where the far-flung raw scenery of Chilean Patagonia will astound you and a small group of friends or family.
As you marvel at the rugged coastline and the legendary archipelago of Tierra del Fuego at the southernmost tip of the South American continent, you will navigate the stony fjords that have been carved by ancient ice movements, to discover the wonders of the snowcapped peaks of Karunkina Natural Park, Admiralty Sound, the Magdalena Channel, and Glacier Alley.
Mekong Meandering
If there is something we have missed in our travels over the past two years, it is the cultural aspect of discovery. The answer to diving deeper into a destination in a meaningful way is by way of a private yacht charter. In a destination such a Vietnam or Cambodia, cultural immersion into the rich heritage and tradition of the region is combined with soft adventure like cycling, nature hikes, and kayaking along the Mekong River together, as well as through a culinary journey onboard.
Land Before Time
You could be forgiven into thinking you have traveled back in time when you visit Ecuador's Galapagos archipelago. In fact, this very special group of volcanic islands remained undiscovered until 1835, when Charles Darwin arrived aboard the HMS Beagle, and still preserves much of its original condition. With its proximity to the equator, volcanic activity, and influence from three ocean currents, it developed a distinctive set of unique land and marine ecosystems that remain to this day.
A private yacht charter while visiting the region's most iconic islands will offer you the rare opportunity to observe the endemic wildlife as they go about their daily life completely undisturbed by other human presence. Think giant Galapagos tortoises, humpback whales, Darwin finches (so named for their role in Darwin's eureka moment for his theory of evolution), Galapagos sea lions, blue-footed boobies, Española lava lizards, as well as land and marine iguanas among so many others. But that's not all, the dramatic landscapes caused by dynamic geological movements and the islands' dark swashbuckling past will have you hooked for adventure and ready to go!