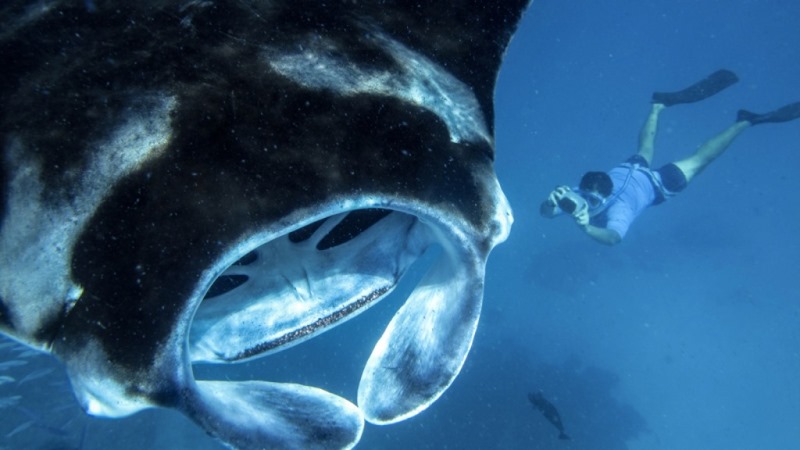 The crystal-clear water of the East Indonesian Archipelago is the playground of the world's greatest variety of marine life. 25 percent of the planet's fish species can be found here, as well as over 72 percent of coral species. It is one of the main reasons that Aqua Blu sails year-round to some of the region's wildest and most stunning destinations, giving avid divers and casual snorkelers alike a choice to explore in style. But in East Indonesia, an area so vast, where does one begin to explore the best locations for diving and snorkeling? Whether they are the drift dives and sensational reefs of Komodo, the world-class muck dives of Ambon and the Spice Islands, or the holy grail of diving of Raja Ampat, you can be sure that we will clue you in to some of the most fantastic diving and snorkeling spots of East Indonesia.
Snorkeling and Diving in Komodo National Park
Located in East Indonesia between the islands of Sumbawa and Flores in the middle of the Nusa Tenggara archipelago, Komodo National Park also lies within the Wallacea Region of Indonesia, identified by World Wildlife Fund and Conservation International as a global conservation priority area. It has been designated a UNESCO World Heritage Site since 1991 with a sizeable Marine Protected Area (MPA) surrounding the islands.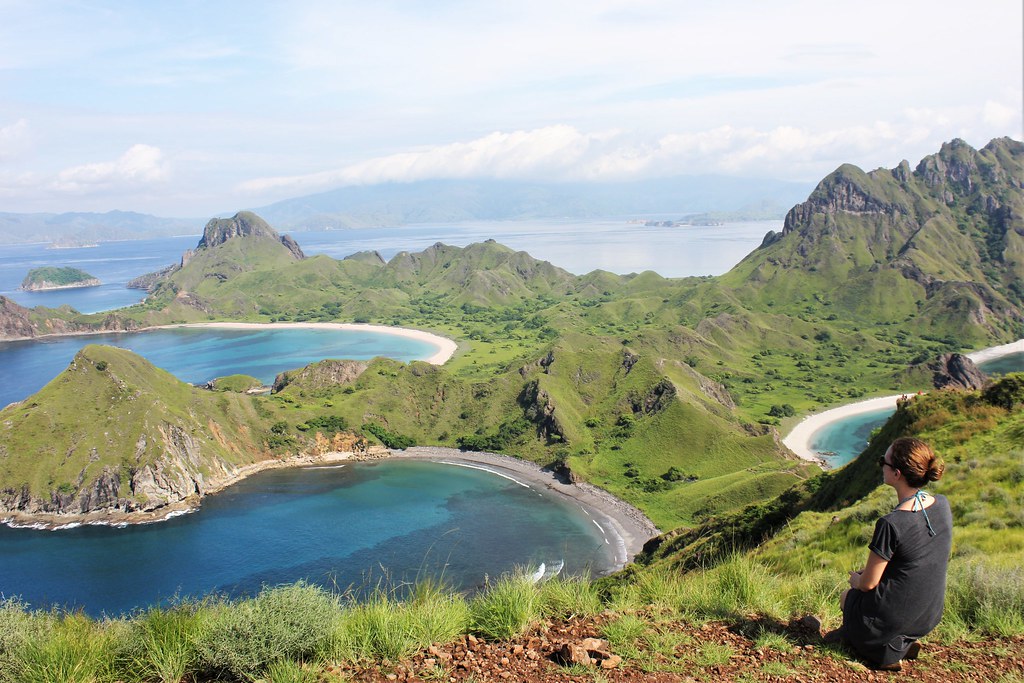 Accessible from the city of Labuan Bajo or island paradise of Bali, Komodo National Park comprises 29 islands including Rinca, Padar and Komodo, and is home to more than 1,000 species of tropical fish and 260 species of reef-building coral, making it one of the best places for diving and snorkeling within the Coral Triangle.
For drift snorkeling, we recommend staying closer to shore where the gentle currents are. Currents in certain Komodo dive sites can reach eight knots, and it is in these conditions that some of the more memorable underwater scenes of big fishes like sharks can be witnessed.
Dive In
Linta Strait
This narrow channel is where water from the Indian Ocean meets the Flores Sea, resulting in a nutrient-rich and nourishing force for marine life. Dotted with islands, this 'current city' is famous for its drift snorkeling and diving. The Karang Makassar reef complex is located on the west side of the strait, making it a great place to observe manta rays, as well as pelagic fish, giant trevallies, and big schools of barracuda.
Saleh Bay
Depending on the time of month and migration patterns, Saleh Bay is the place for whale shark encounters. Here, the Sumbawa government has discovered a group of semi-permanent whale sharks who feed from local fishermen nets. This is one of the rare locations that you will be able to swim with these gentle giants of the sea.Batu Bolong
Despite its humble name – literally named 'the rock with a hole in it' – Batu Bolong has been been proclaimed as one of the best diving sites in the world. Located on the northern part of of the national park waters, the island is made up of an underwater conical reef that offers sweeping underwater views. Exposed to strong currents, the independent ecosystem thrives untouched by fishermen. You can find populations of big pelagic fish, such as barracuda, giant trevallies, tuna, whitetip reef sharks, napoleon wrasse, or even manta rays and hawksbill turtles if you are lucky.
Snorkeling and Diving in Spice Islands
The Spice Islands is a cluster of seven major islands that once was considered the center of the entire world's trade. Named so after the birthplace of nutmeg, a spice that was worth more than gold in terms of weight, this region is steeped in historical significance as the Holy Grail for famous Old-World explorers, traders, colonists, and naturalists. Today, the islands are home to one of the most colorful and diverse displays of coral and marine life in the East Indonesian Archipelago, including enormous fan corals, the Mandarin fish, and the Ambon scorpionfish.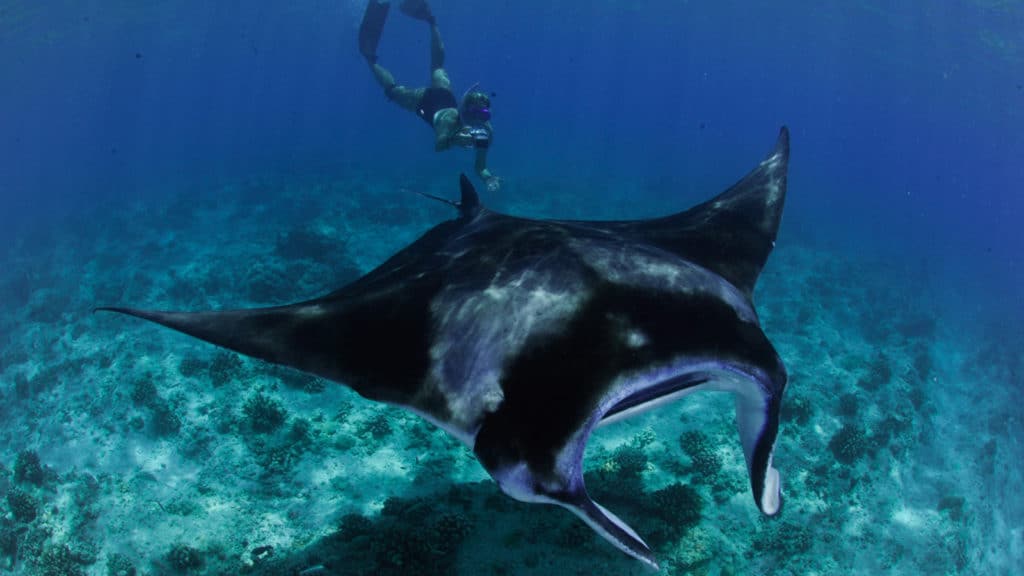 The Molucca region, of which the Spice Islands form the southernmost part, forms the transition zone between Asian and Oceanic fauna and flora, as well as spectacular volcanic lava underwater gardens. Renowned for muck diving, you have the chance to see some of the rarest underwater creatures, while providing the opportunity for clear water diving featuring deep coral walls, sea mounds, and even an incredible cave with stalactites.
It is also part of the migratory route for many birds and marine species. As you voyage the Banda Sea aboard Aqua Blu, there are opportunities for sightings of spinner dolphins, orcas, and various other whale species.
Dive In
Laha Bay
A volcanic island rising three kilometres from the seabed, Pulau Manuk is a haven for fish-hunting birds, as well as the largest aggregation of sea snakes in the world that are drawn to enjoy the area's underwater thermal springs. Marine life here is impressive, with many pelagic species such as reef sharks making an appearance.
Nusa Laut
To the east of Ambon, the island of Nusa Laut boasts a rich history and features stunning hard coral seascapes that are perfect for both divers and snorkelers. Nusa Laut is famous for its dugong population, or the Asian manatee, known to inspire the local mermaid legends.
Molana Island
For something more exciting, explore the large marine arch located on the east side of Nusa Laut, as well as natural rocky architecture along the east side of Molana island. Frequent sightings of hammerhead sharks are reported, and offshore wall and reef dives have wonderful visibility, approaching 30 metres (100 feet).
Snorkeling and Diving in Raja Ampat
Located at the heart of the Coral Triangle, the Raja Ampat region is known to house every kind of underwater habitat imaginable; pristine reef flats, secret bays, swift channels, deep drop-offs, shallow seamounts, mangroves, marine lakes, and protected coral gardens are just a sample of the types of marine habitats that can be found in the roughly 52,000 square kilometre region.
It also happens to be in the middle of a major cetacean migration route and aggregation site where various whales and dolphin species have been sighted. Of great significance is also the fact that the region is the meeting point of the Indian and the Pacific Ocean called the Indonesian Throughflow, where a six inch (15cm) average height difference between these two oceans creates an immense exchange of water carrying millions of aquatic eggs and larvae that spawn to life or serve as a vital source of food for marine animals.
As a result of the sheer diversity of underwater habitats, Raja Ampat is a thriving subterranean metropolis that houses more than 1,300 species of tropical marine fish (about 50 percent of all known species) and more than 600 species of coral (nearly 75 percent of all known species of reef-building corals) in addition to manta rays, rare sea turtle species and schooling hammerheads.
Dive In
Cape Kri
Whether you snorkel or dive here, Cape Kri is a wonder to discover, thanks to an amazing number of reef fish that form part of a massive marine food chain. The site holds the world record for the greatest number of species counted in a single 90-minute dive (374 in total). Pelagic species such as whales are a frequent occurrence, but Cape Kri is also known for its manta ray cleaning stations, where these gentle giants queue to get their skin, gills, and teeth cleaned by parasitic capepods and small cleaner wrasse species.
Dayang Island
This is a special site because of its Manta Cleaning station where both majestic Reef Manta Rays and Oceanic Manta Rays can be observed in close proximity. For snorkelers, the bordering reef systems at Wai are excellent, and for divers, find adventure by exploring the sunken wreckage of a World War II P47D fighter plane and the beautiful reefs and sea mounds of Tapok.
Otdima
Located in the middle of Gam and Kri islands, this is a favorite snorkel spot but also a challenging dive sport due to unpredictable currents and tidal movements. This creates for whirlwinds of schooling fish, as well as unexpected sightings of eagle rays, mantas, and even dolphins. With a depth of four to 25 metres, visibility with very good with excellent wide angle.