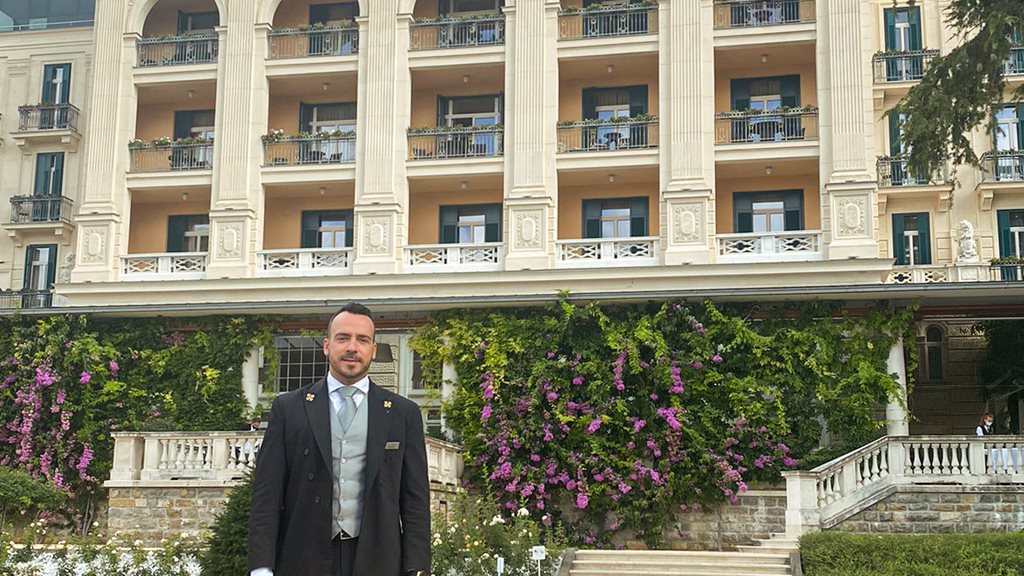 The face of the hotel and the person who receives the highest praise by the guests, Concierge Marjan, is a proud recipient of Clef d'Or Keys.
Born and bred in the region, Marjan is extremely passionate about his profession and proudly presents his uniform, now adorned with the golden keys of the Clef d'Or association, a kind of Michelin guide in the concierge world.
"A concierge's job cannot be described in a single sentence; it involves everything you can think of, and more. It covers all actions that strive towards achieving exceptional guest satisfaction and, by definition, translates in the local Slovenian language as a kind of guest administrator," comments Marjan, who initially had some problems explaining to his colleagues what he does, as there are only four active concierges in the country at the moment.
"My job is to make the guest feel welcome in our hotel and to not only make them feel at home, but to make them feel better than at home. This is my highest priority, and I focus all my activities on having satisfied and loyal guests, as communication with them is on a special level, and a special bond is created with such guests. And I can't ask for more than that," explains Marjan.
Such a bond meant that even when the hotel was closed, he communicated with guests via WhatsApp, and, seeing as they missed the hotel so much, sent them their favourite Istrian wine, olive oil and similar.
We live in a world that is saturated with IT, which made this communication easier. However, Marjan claims that he comes from the old school and is quite traditional in this sense: "There is no better way to receive information than through personal contact." A good concierge knows the destination like the back of his hand and knows how to listen to the guest and to his wishes, and will therefore recommend an experience and a tailor-made solution to each guest, depending on their preferences. "Yes, it is said that Dr Google knows everything. However, I can assure you that he does not know the hidden places in Portorož and Istria as well as I do," adds the inspiring concierge.
There is a lot of controversy and interest in sharing "strange" requests from guests, about which Marjan says, "Strange requests do not exist; there are only those that are a little harder to fulfil. I prefer to treat them as bizarre requests rather than weird ones. What is strange to me can be completely normal for the guest or vice versa."
Among his favourite requests, he likes to mention romantic occasions, engagements, special occasions or anniversary preparations, among other things. He has already served as a registrar at the wedding of two foreign guests who had already made promises in their home country, but organised the wedding in a hotel. Otherwise, "Every guest request is special and favourite in its own way, and it's even harder to think of a favourite than of the strangest," the concierge concludes.
Kempinski Palace Portorož is extremely proud of the concierge and his passion for hospitality, as he, on a daily basis, highlights brand values and brand immersion and delivers a beautiful performance, known as the top level of high-quality luxury Kempinski service. It's said that "a concierge is only as good as his contacts", but, at Kempinski Palace Portorož, this can be modified to "a concierge is only as good as his passion for the profession", and Marjan here is the best of the best.