This November, La Compagnie's a321neo has been chosen by Safrans du Monde for a 22-day round the world flight. And you can embark on the trip of a lifetime.
Treat yourself to an extraordinary and unforgettable experience: discover the diversity of both landscapes and civilizations, while letting yourself be carried away by a beautiful aircraft, a crew that listens to you, and, of course, by the refinement of top hotels, chosen from among the most beautiful in the world.
Imagine each day as a festival of wonders, thrills and images. The bay of Rio first, and you are already in Machu Picchu where the Incas celebrated the Sun. Hop in the sky again and discover the mysterious Easter Island glorified by its stone giants. Then you land for a true 4-night holiday in paradise, soothed by the irresistible charms of Tahiti, its black pearls and its crystal-clear lagoon waters!
Cross the International Date Line, your jet touches down in Fiji for a goodbye to the Pacific Ocean. One more leap, Singapore welcomes you in Asia, and it's already the bustling Hanoi that awaits you with Halong Bay at its side. Soon you will be wandering in the lush of Angkor temples. What next? Dubai and Abu Dhabi! For the modernity of the World Exposition and the quietness of the Louvre. The last chapter of your World Tour will be spectacular as you reach the pink Treasure of Petra and the magical splendor of the Wadi Rum desert.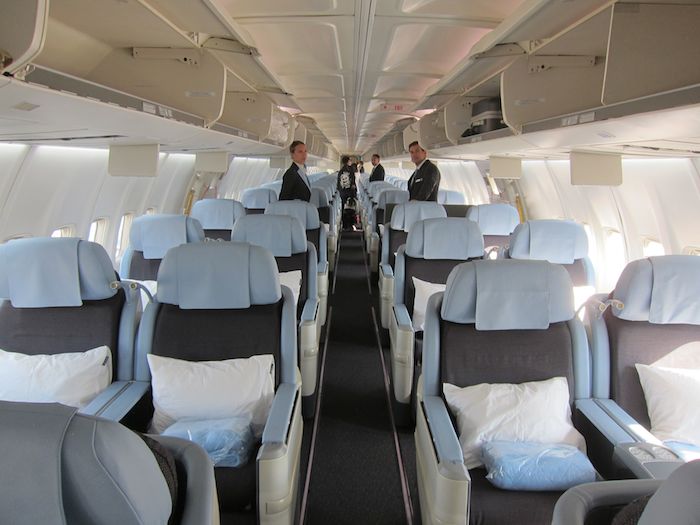 Categories of Round the World Flight
The Club Safrans for an Air Cruise with a 5-star program, in the comfort of your flatbed onboard of your brand new private plane, A321neo .
The Première Safrans, for a completely different journey, way beyond the comfort of your seat in the plane! On board, of course, you will enjoy your very own flat-bed seat with an open window-view in the front part of the plane. Pampered with special amenities and a cellar worthy of a Première. At each destination it's a whole different experience : through the fine selection of exclusive hotels and rooms, the luxury Hiram Bingham train to Machu Picchu, a heavenly stay in Bora Bora, a magical night on Halong Bay aboard a luxury junk and all that just for a very limited number of participants, just to name a few examples.
Whichever category of Round the World Flight you may choose, you will indulge yourself in the essence of Safrans du Monde by composing the World Tour you dreamt about, this very unique and memorable Grand Voyage. And even though everything is included, at each destination you may also wish to upgrade and enrich your Air Cruise with alternative programs and options à la carte created especially for you, to receive the most personal experience. Make this World Tour your own with a helicopter overflight, a surprise day tour, a special excursion, or even a stay at the Brando