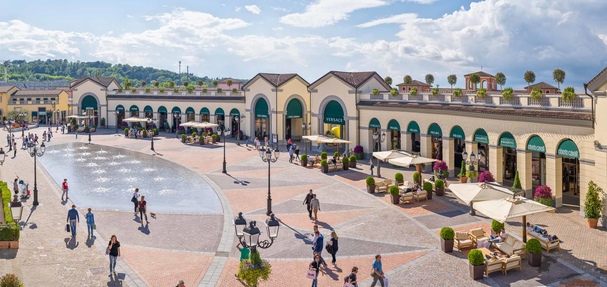 McArthurGlen announces the official opening of "Play Land", a brand new 6,000 square metre leisure concept at Designer Outlet Serravalle that is dedicated to family entertainment. The 7 million euro attraction introduces a new state-of-the-art experiential element to the centre that further enhances the shopping experience for guests of all ages.
A landmark destination
Part of the centre's 40 million euro investment programme, Play Land launches alongside six new stores that are home to renowned luxury and F&B brands, including Off White, Valentino, Zegna and Starbucks. The iconic names join recent international arrival Givenchy to further elevate the centre's reputation as one of Europe's premier luxury destinations.
The enhancements have created around 100 new jobs and also delivered wider improvements to the centre's hospitality offering, including to its VIP lounges, guest services, landscaping and car parks.
This latest investment signals McArthurGlen's commitment to the region that welcomed it over 20 years ago. Situated in the heart of Alessandria, the centre was the first designer outlet to arrive in Italy in 2000, and today has more than 240 stores spread across over 50,000 square metres of GLA, making it the largest luxury outlet in Europe by retail space.
The arrival of 'Play Land'
McArthurGlen Designer Outlet Serravalle will offer its guests a new one-of-a-kind experience this summer. From 15 June, the designer outlet's youngest visitors will be able to enjoy an entire 6,000 square metre leisure complex named "Play Land". The area has been created with a multifunctional design and is divided into four different areas, with each one dedicated to different activities.
Anchoring the facility is Lele's Aqua Park, which is a brand new concept in the McArthurGlen portfolio. Featuring a bespoke design, the 3,500 square metre waterpark features a variety of activities, including slides, water cannons and a large waterfall, designed to maximise the fun for children and enhance the day-out experience for families.
The Playground, inspired by the work of the famous Dutch artist M.C Escher, spans approximately 2,500 square metres and consists of platforms and hexagonal towers in a labyrinth of interconnected play spaces. The play village includes a structure inspired by the small villages set in the beautiful Piedmontese landscape, aiming to create a world in which children can immerse themselves in exploration and discovery, while at all times remaining inclusive for those with disabilities.
Flora's Baby park is a new service offered to families while they are shopping at the centre. It enables parents and guardians to leave their children to play among a range of adventure activities, including a small vertical maze, which are supervised and assisted at all times by experienced staff.
Designed specifically for the whole family is the Picnic Area, which provides a welcoming space set up with comfortable tables and chairs. Guests can relax in this environment while taking advantage of the centre's excellent mix of F&B operators.