Seychelles, one of the world's smallest countries, with beautiful beaches, virgin jungles, thriving coral reefs, and UNESCO-listed nature reserves attracts more than 200000 tourists per year. Almost half of Seychelles total land area is protected, and many of the islands and atolls are contained within marine sanctuaries. Let's check new hotels opened in Seychelles recently.
Mango House Seychelles, LXR Hotels & Resorts
LXR Hotels & Resorts will open Mango House Seychelles on Mahé island on July 1, 2021.
This highly anticipated, intimate and exclusive resort is situated on pristine beachfront in the southern part of Mahé, stretching along the edge of the Anse aux Poules Bleues – a sparkling calm bay with shallow clear waters. An oasis of relaxation enveloped by the revitalising fragrance of surrounding fruit trees, Mango House Seychelles will provide a convivial retreat where guests can soak in breath-taking views of the Indian Ocean and explore Mahé's white sandy beaches, all the while enjoying a truly unique hospitality experience.

Anantara Maia Seychelles Villas
Located on Mahé, the largest of the Seychelles islands and just a short drive from the international airport, the resort can be found on the south west coast amongst 30 acres of forest garden, nestled between the island's unique granite rocks and Anse Louis Beach. The award-winning resort offers 30 secluded private villas, each with a dedicated villa host available 24-hours a day for the duration of the stay. Inviting guests to do nothing or do everything, residents can enjoy undivided attention and uninterrupted privacy.
Set around a peninsula overlooking white sands or perched between greenery and granite, each of the 250 sqm private villas is positioned to afford breathtaking views and unrivalled privacy. Villas situated atop the hill offer sweeping vistas over the coastline and turquoise ocean, whilst those dotted along the peninsula are tucked away in lush tropical gardens and with direct access to Anse Louis Beach. A selection of villas is ideal for families or groups, linked through garden walkways.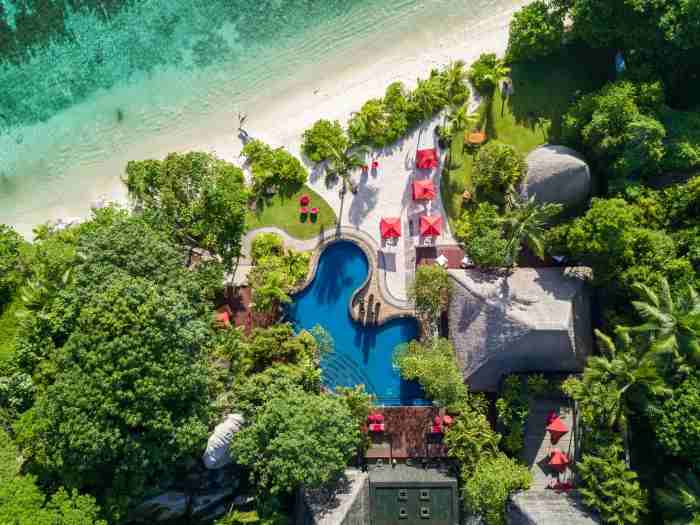 With just 11 villas, Africa's most exclusive private island is located 30 kilometres from the mainland and is accessible by a scenic helicopter flight or an hour boat ride, giving guests an immediate sense of escapism.
The island not only offers a calming refuge from the modern world but also an invigorating, refreshing getaway connected to the island's natural beauty. Aquatic explorers can take part in snorkelling, diving, fishing, sunset cruises, kayaking, paddle boarding and surfing.
Whilst on land, forest trails can be explored by foot, bicycle or private buggy, or guests can simply relax on one of the island's four pristine beaches located at each end of the compass. The island is also the ultimate playground for families and children, with a Beach Buddy program tailormade to interests and hobbies. Parents are invited to take part or can find their own relaxation whilst children remain supervised.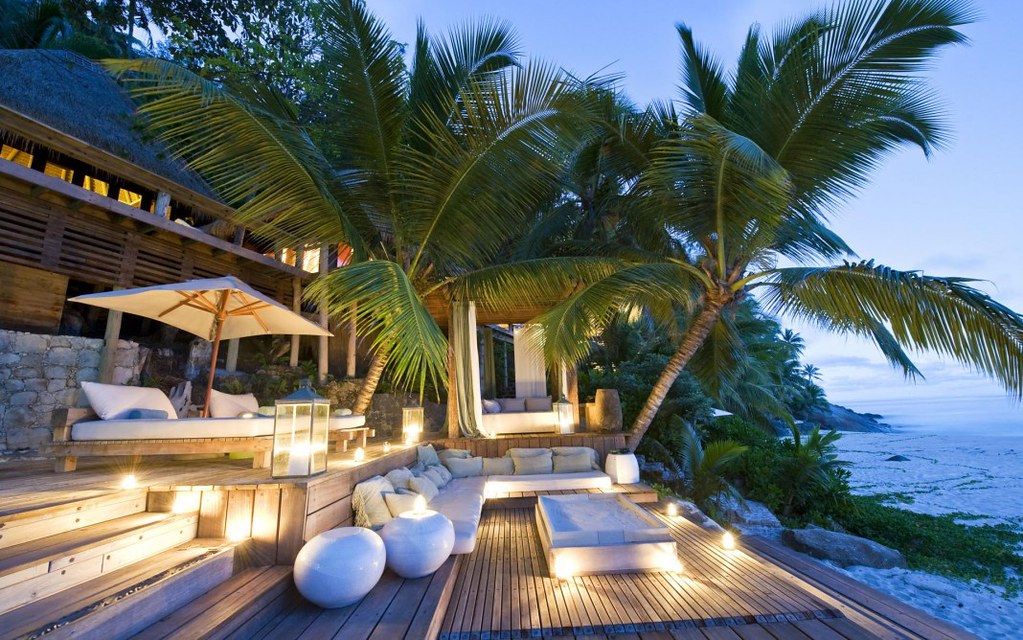 Club Med Seychelles
The resort, located on the island of St. Anne, is a 15 minutes boat ride away from Mahe with shuttle services leaving from a dedicated jetty. The 220 hectares large private island is surrounded by one of Seychelles' marine national parks.
The 5* eco-resort offers couples and families an exceptional natural setting and a variety of land and water activities, including diving, snorkelling, sailing, tennis, and yoga school.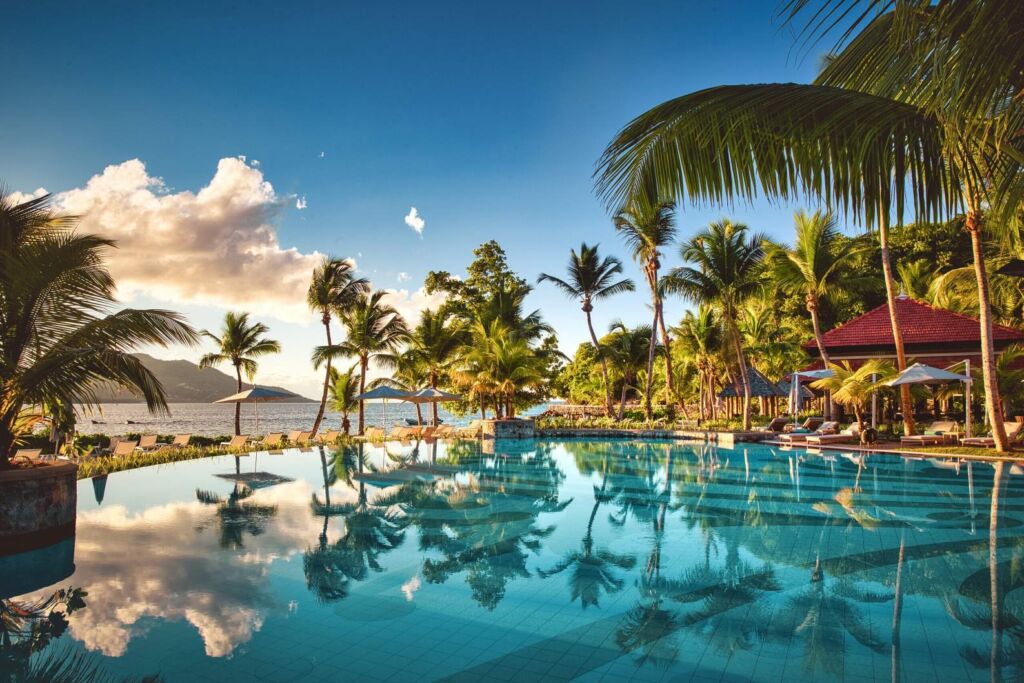 Centrally located on mainland Mahé in the suburbs of the charming capital of Victoria and close to Eden Island, its architecture and interior style, is reminiscent of resplendent Superyacht luxury with its clean lines and nautical touches. The Resort is the signature work of Winch Design: a London based design studio specialising in top-end design at the highest level. They have an international reputation for designing and delivering iconic projects on land, in the air and at sea, around the world. L'Escale Resort Marina & Spa marks Winch Design's debut into the luxury resort sector, with L'Escale setting the bar high for their very first boutique hotel project.