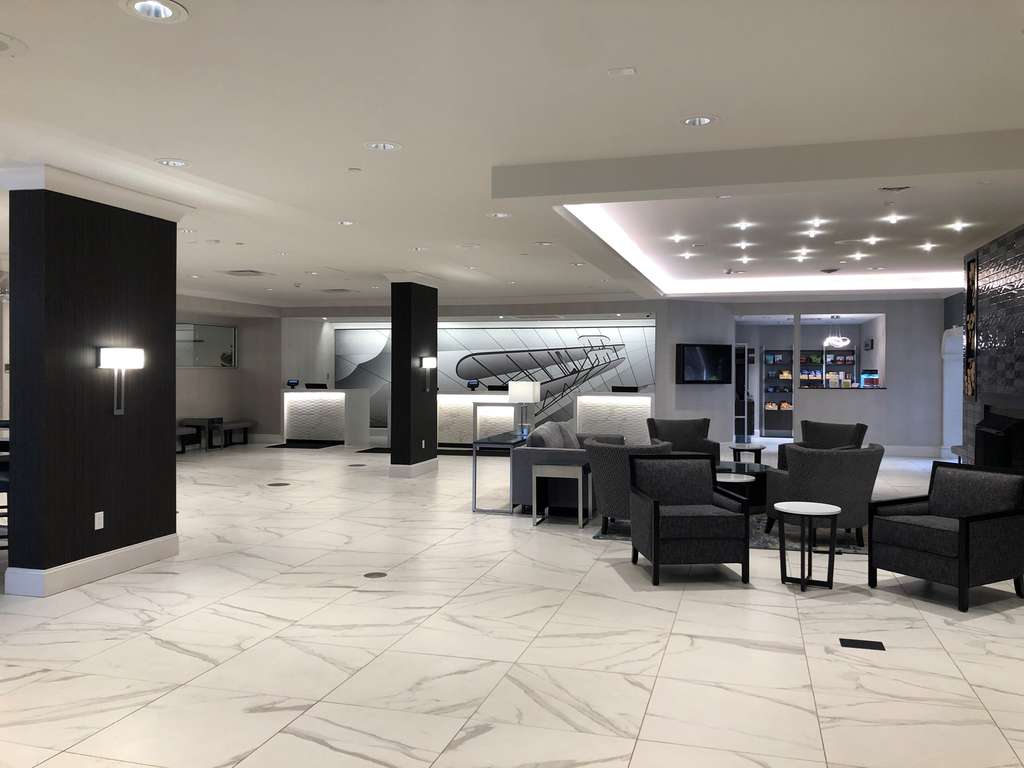 Crowne Plaza Albany – The Desmond Hotel is now open following a full renovation. This family-owned and operated property has provided superb accommodations, outstanding service and a unique guest experience since 1974. Located a half mile from the Albany International Airport and adjacent to premier shopping and business destinations, the hotel is now entirely transformed to meet the evolving needs of modern business travelers and leisure guests.
While showcasing a contemporary, refined design with 323 guest room and suite options, including spiral staircase duplexes, suites with private entrances and patios, and ADA accessible rooms, long-time fans of The Desmond can expect the same exceptional service and friendly staff they have always been greeted with – all backed by a guarantee of quality, consistency and safety as part of IHG Hotels & Resorts.
The property houses Plaza Workspace, Crowne Plaza's flexible work and meeting design, as well as nearly 25,000 square feet of meeting and ballroom space that has been adapted to new expectations for responsible gatherings that prioritize guest safety and well-being. The two iconic indoor courtyards have been fully renovated, featuring 30′ and 36′ high ceilings with large atrium skylights, koi pond with fountains, and guest room balconies that overlook year-round, park-like landscaping. The hotel's indoor heated pool has been modernized, and the 24-hour fitness center was completely redesigned and expanded to triple its previous size.
The Desmond has also invested in a state-of-the-art filtration solution with the installation of the Aerus – IOT – Shepherd Air Purification and Filtration system. This product, slated to be fully operating by later this spring, will provide a new level of service and comfort for guests, event attendees and coordinators as well as enhanced environmental protections for employees and staff members who work at the hotel.
While the hotel has been fully modernized, the celebrated architecture throughout the property designed by the original owner, John K. Desmond, Jr., remains intact to his original vision, which was revealed when the hotel opened in the early 70's. Nods to Desmond's affinity for aviation and the Capital Region can be found woven throughout the property's new bright and open spaces.
For more than 45 years, the hotel's dining options have been a popular culinary destination for both locals and hotel guests. The award-winning restaurant, Mr. D's Restaurant & Lounge, will feature a new menu including property staples such as the Pancetta Wrapped Shrimp and their famous off-menu, cult favorite Desmond Bread Pudding. New dish standouts include The Drunken Clams with garlic ale house butter and the Grilled Grouper with tequila lime butter and parmesan cheddar polenta. The sleek, new restaurant design features a fireplace, marble-top bar with built-in wireless phone chargers and several unique seating sections, including an outdoor patio, to fit any party size and occasion.
The property will continue to be independently owned and is managed by the third generation of the Desmond family. As part of IHG Hotels & Resorts, guests can rest easy with the IHG Clean Promise which guarantees every room will be clean to their satisfaction upon arrival. If the room does not meet standards upon check-in, Crowne Plaza promises to make it right.