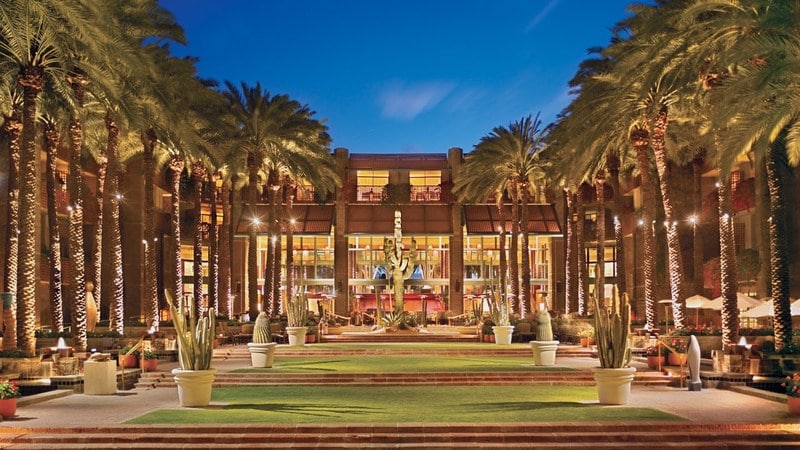 Hyatt Regency Scottsdale Resort & Spa at Gainey Ranch (PRNewsfoto/Xenia Hotels & Resorts, Inc.)
Hyatt Hotels today announced plans to grow its brand footprint in India – one of Hyatt's top three growth markets globally – by more than 70% by 2023. With over 20 executed managed and franchised agreements, Hyatt will add more than 3,600 keys to its existing portfolio of 32 Hyatt-branded hotels across eight distinct brands in the country, including the Andaz, Alila, Park Hyatt, Grand Hyatt, Hyatt Regency, Hyatt, Hyatt Centric, and Hyatt Place brands.
This ambitious growth in India is fueled by an ever-increasing demand from guests, World of Hyatt members, customers, and owners to offer unique and differentiated hotel experiences. This announcement signals significant intentional growth plans for Hyatt, bringing the number of Hyatt-branded hotels in India to more than 50 by the end of 2023, resulting in a more diverse portfolio of hotel offerings in new and existing markets.
In 2021, Hyatt plans to primarily expand its Hyatt Regency and Hyatt Place brands. The Hyatt Regency brand, which continues to drive Hyatt's brand growth in India, will enter two new markets with Hyatt Regency Jaipur Mansoravar, and Hyatt Regency Trivandrum. The Hyatt Place brand will enter four new markets with Hyatt Place Bodh Gaya, Hyatt Place Jaipur Malviya Nagar, Hyatt Place Vadodara, and Hyatt Place Bharuch.
Hyatt's growing brand footprint in India will offer a balanced portfolio designed to provide unique and engaging guest experiences, coupled with Hyatt's deep understanding of the local and global hospitality standards for which it is known. Executed managed and franchise agreements for Hyatt-branded hotels in India that are expected to open through 2023 include:
Grand Hyatt
Grand Hyatt hotels bring travel dreams to life by celebrating the iconic in small details and magnificent moments. Guests can experience superior service within a multicultural backdrop of dramatic architecture, inventive restaurants, luxury spas and sophisticated meeting spaces. grandhyatt.com
Grand Hyatt Gurgaon
Grand Hyatt Jaipur
Hyatt Regency
Hyatt Regency hotels allow guests to transition from work to play, and create their own meaningful connections in modern spaces designed for sharing, socializing and collaborating. Each property boasts spirited restaurants and bars, vibrant event venues, and their trademark atrium lobby setting. hyattregency.com
Hyatt Regency Jaipur Mansarovar*
Hyatt Regency Trivandrum*
Hyatt Regency Dehradun
Hyatt Regency Ghaziabad
Hyatt Regency Udaipur Sisarma
Hyatt Regency Kochi Malayattoor Resort
Hyatt Regency Goa Baga
Hyatt Regency Kasauli
Hyatt Regency Surat
Hyatt Regency Jaipur
Hyatt Centric
Hyatt Centric hotels inspire exploration and discovery for savvy, millennial-minded travelers with an adventurous spirit. Offering shareworthy experiences at and around each property, each property connects guests to the heart of the action in each destination, so they never miss a moment of adventure. hyattcentric.com
Hyatt Centric Sector 17 Chandigarh
Hyatt Centric Lonavala
Hyatt Centric Electronic City Bangalore
Hyatt Place
Hyatt Place hotels offer guests the opportunity to recharge and make the next day more successful than the one before. Each property is thoughtfully, intuitively designed around guests needs and wants. From the lobby to guestrooms to 24/7 market dining options, Hyatt Place hotels deliver a seamless transition from work to relaxation. hyattplace.com
Hyatt Place Bodh Gaya*
Hyatt Place Jaipur Malviya Nagar*
Hyatt Place Vadodara*
Hyatt Place Bharuch*
Hyatt Place Vijayawada
Hyatt Place Dehradun Rajpur Road
Hyatt Place Kolhapur Shiroli
Hyatt Place Tirupati
Hyatt Place Visakhapatnam Madhurawada