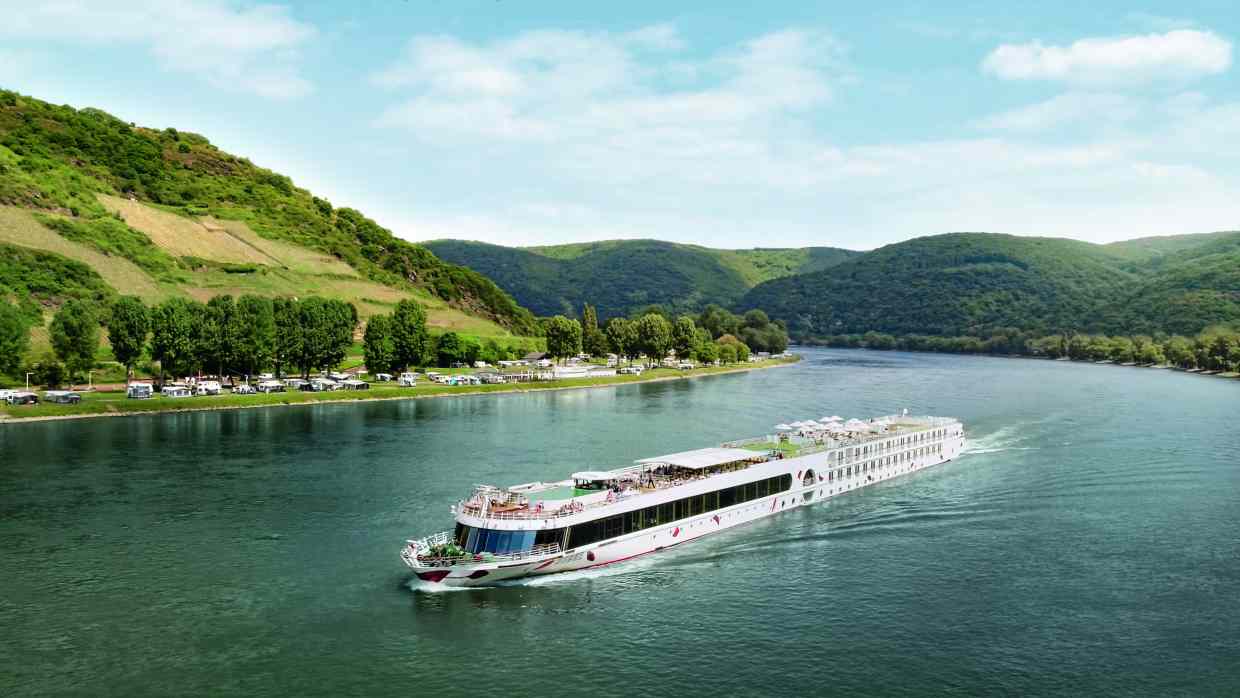 A-ROSA River Cruises has added a selection of new products for 2022 including a Rhine in Flames St Goar cruise, a gourmet themed cruise on the Douro, a seven-night itinerary on the Danube that starts and ends in Vienna and the opportunity for guests to combine a cruise on the Northern Rhine with visiting the Floriade Expo the Netherlands. In addition, from May 2022, A-ROSA FLORA, one of the most popular ships amongst international guests, will transfer onto the Danube.
2022 will also be the inaugural year for A-ROSA's new E-Motion ship, which will set sail on the Rhine from Spring next year. A range of itineraries are featured along the Northern Rhine, including two new ports of call for A-ROSA – Dordrecht and Utrecht. The ship will stay overnight in Amsterdam and Rotterdam allowing more time to enjoy these cities both during the day and evening. There will also be a stop in Antwerp.
New products include:
Rhine in Flames St Goar – After a week sailing the Southern Rhine, this trip culminates with an incredible evening joining the Rhine in Flames celebrations in St Goar. Fires on the riverbanks light up the night sky, illuminating the mountains and castles to create a truly magical atmosphere. As darkness falls, A-ROSA AQUA will join ships of all shapes and sizes, as they sail as a flotilla as part of the celebrations. The night culminates with a legendary firework display and music, which can be enjoying from the ship's sundeck. This seven-night itinerary departs on 11 September 2022 and travels from Cologne to Koblenz, Speyer, Kehl (for Strasbourg), through the Lorely Valley to Boppart and St Goar before returning to Cologne.
Gourmet Douro Cruise – On this themed cruise, everything revolves around culinary delights of Portugal and guests will be spoilt by gourmet menus, which are often prepared by award-winning chefs. The trip also features various tastings, workshops and exclusive gourmet excursions. This seven-night itinerary departs on 5 October 2022 and travels from Porto, through the Douro Valley to Vega de Terron and back.
E-MOTION Ship – This new ship will offer five different itineraries on the Northern Rhine throughout the season, including Christmas markets, Christmas and New Year options. For example, the ship will sail from Cologne to Amsterdam, Rotterdam, Dordrecht and Antwerp before returning to Cologne. Departures from 21 May – 22 October 2022.
Danube Vienna – Vienna Cruise – Between 1 May and 31 July, a new cruise itinerary is available on the Danube that starts and finishes in Vienna. Created for international guests who want the flexibility to enjoy a pre or post cruise stay in Vienna, this cruise also offers easy access to the embarkation point.
Floriade Expo – A-ROSA AQUA's itinerary on the Northern Rhine has been adapted to enable guests to explore the Florida Expo in Almere. This once every decade exhibition runs from mid-April to early October 2022 and is one of the most important horticultural exhibitions in the world. The ship will now call at the port of Lelystad which is just a short journey to Almere. In addition, for the cruise will also feature the new port of Kinderdijk, home to 19 of the most famous windmills in the Netherlands and a UNESCO World Heritage Site.
A-ROSA FLORA – From May 2022, A-ROSA FLORA will move from the Rhine onto the Danube, offering a second English speaking ship on this river. A popular ship with international guests, she will sail a range of itineraries including a new five-night 'Danube Advent Season' voyage visiting the cities of Vienna, Bratislava and Linz. An overnight in Vienna is included, offering the chance to enjoy this historic city for longer during the Christmas Market season.