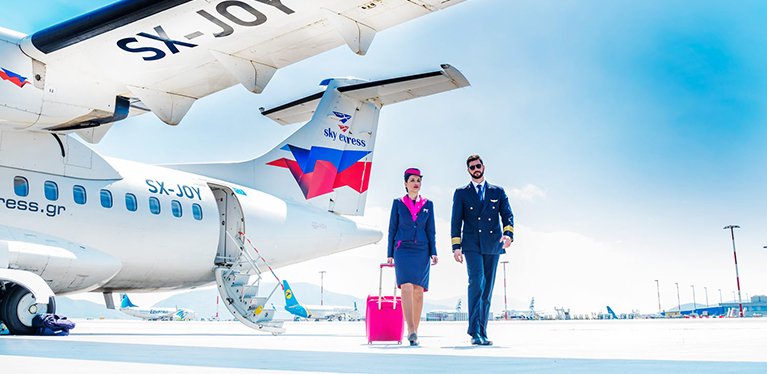 With up to three daily direct flights on the Athens – Larnaka route with the new state-of-the-art privately owned Airbus A320neo aircraft, SKY express expands its flight operations to fully cover the needs and requirements of the travelling public.
Travelers between Greece and Cyprus now have at their disposal affordable and highly competitive fares, personalized digital services and flexible travel options offered by SKY express. At the same time, the company has implemented a comprehensive plan of measures to safeguard the health and safety of passengers and staff with the enhanced care and hygiene program "CarePlane".
Remaining faithful to its vision of flying higher every year, SKY express sets Larnaka as the starting point of its expansion to popular international destinations, while supporting the Greek and Cypriot economy during a crucial period of time.
Mr. Theodoros Krokidas, Chairman of the Board & CEO of SKY express, said:
"At a time when flight operations on an international level are shrinking, SKY express is growing. After countless flights to 34 destinations throughout Greece, we are now expanding our activities abroad. And there was no other destination that could serve as our starting point but Cyprus.
With our new, state-of-the-art airplanes, travelers from Greece and Cyprus now have a new, reliable and advantageous option. And at the same time we're supporting the Cypriot economy and tourism at a time when the country needs it the most. We are confident that the Cypriot society will embrace our company and that we will build a solid, long-term and mutually beneficial relationship."
Maria Kouroupi, Senior Manager of Aviation Development and Communication of Hermes Airports, stated:
"We look forward to the commencement of the new route by SKY express which will also give an additional option for a popular destination, such as Athens. The period we go through is difficult and our efforts focus on restoring as many routes and airlines as possible with a goal to increase the choices for the passengers and enhance the quality of services offered."
State-of-the-art fleet
SKY express recently announced the strengthening of its privately owned fleet via the acquisition of six brand new Airbus aircraft A320neo that will cover both domestic and international flights, offering the best terms.
Thanks to their state-of-the-art specifications and CFM Leap-1A engines, these models guarantee optimum performance in terms of fuel consumption, carbon dioxide and noise emissions.
The combination of technology with the reduced footprint are elements that perfectly match the business plan of SKY express for a modern fleet that respects the environment and ensures an upgraded flight experience by providing safe and quality services to its passengers.
The company also owns ten ATR turboprop aircraft – a joint venture of Airbus and Leonardo – five ATR 72-500 and five ATR 42-500.