Just over half of all Turkish wine comes from the Aegean region of Turkey. Most of the wines produced at wineries in the Urla area are made from international grape varietals, but many vintners here are bringing back forgotten endemic varieties like Urla Karası, too. Bornova Muskat, white wine with sweet, citrusy tones, is one of the most popular with local winemakers. Other popular grapes are Cabernet Sauvignon, Carignan, Chardonnay, Grenache, Merlot, Petit Verdot, Sangiovese, Sauvignon Blanc, Shiraz and Viognier.
In 2016, seven wineries joined forces to form the Urla Wine Route (Urla Bağ Yolu) to encourage driving, cycling and hiking tours of the area. The Urla Wine Route consists of eight vineyards that come of different sizes: from the vast to the small but picturesque with a porch that opens up onto the vineyards.
Urla Winery (Urla Şarapçılık)
Urla Winery is working on the revitalization, re-diversification, and selection of the local grapes, the varieties of Anatolia and noble international grapes already 15 years.
These studies helped to invent 11 kinds of wine and bring recognition in the world of winemaking.
Urla Şarapçılık has recently rescued Urla Karası and Gaydura grapes, old local varieties, in biodynamically farmed vineyards.
Urla Winery produces 300 thousand liters of wine on approximately 35 acres of vineyard.
Varietals: Cabernet Sauvignon, Syrah, Nero d'Avola, Cabernet Franc, Merlot, Pinot Noir, Sangiovese, Petit Verdot, Boğazkere and Bornova Muscat, Urla Karası and Gaydura. In addition to these, the winery grows grapes such as Chardonnay, Sauvignon Blanc, Narince, Kalecik Karası, Viognier, Grenache and Mourvèdre in its vineyards.
Three wines of Urla Şarapçılık have been awarded Decanter Platinum Award, and one – Decanter Gold in 2020.
There are a tasting room and a small hotel on the premises of the winery.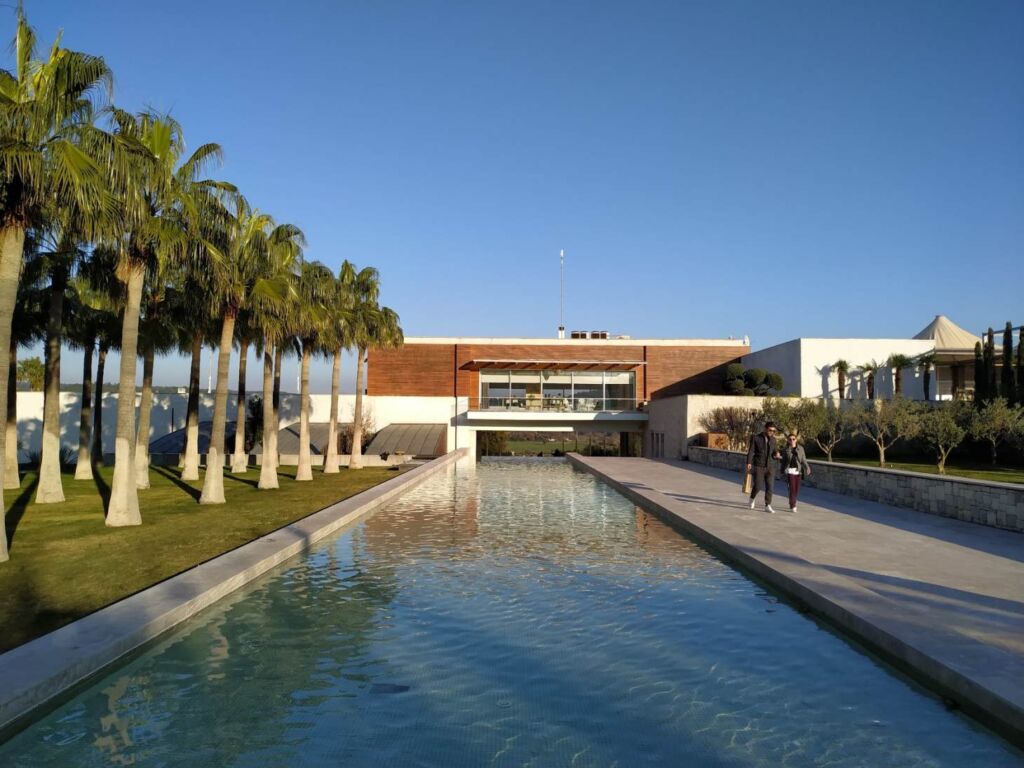 USCA Winery
Wine production started in 2012 at USCA facilities for the first time. The goal of the USCA family is to use traditional methods in winemaking and to control all stages of production with advanced technologies. Production is carried out in fully automatic temperature-controlled 316 AINSI steel tanks and French oak tanks and barrels. All stages of production are regularly monitored with analyzes made in the USCA laboratory.
The winery grows revived gaped such as Foça Karası, that was been was being traded by merchants in the western Mediterranean as far back as the 6th century BC. It was grown in the Aegean region, especially around Foça, Aydin, and Denizli until the 1920s, when the Greek population fled Izmir.
USCA has started a project to expand the Foça Karası grapes in the Aegean region in 2003. This grape variety produces extremely balanced wines characterized by peach, nectarine, and apricot.
Except for Foça Karası, the winery produces Chardonnay, Merlot, Cabernet Sauvignon, and Syrah.
USCA has a tasting facility and a restaurant facing vineyards.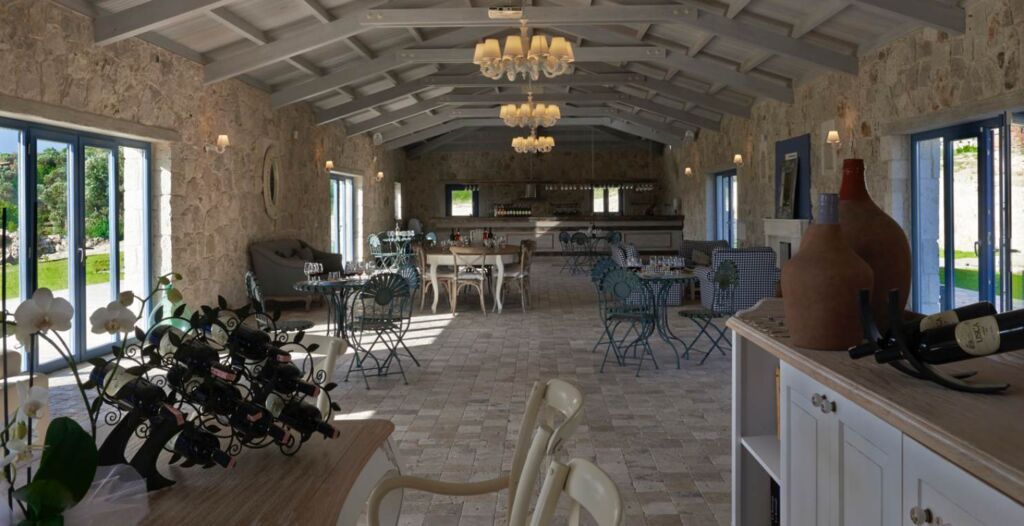 Urlice Winery
Urlice Vineyards is a small winery and has been producing wine grapes with organic farming principles since 1997. Urlice wines have less chemical additives as they have a non-interventionist policy. Production is controlled by Urlice, a small family business, at all stages. Organic certification is carried out by Swiss company Bio-Inspecta.
In the winery, red wines are offered for sale after waiting at least two years in French oak barrels and a minimum of 18 months in bottles.
Urlice produces Chardonnay, Merlot, Cabernet Sauvignon, and Syrah wine grapes.
The property has a tasting room and a restaurant facing vineyards.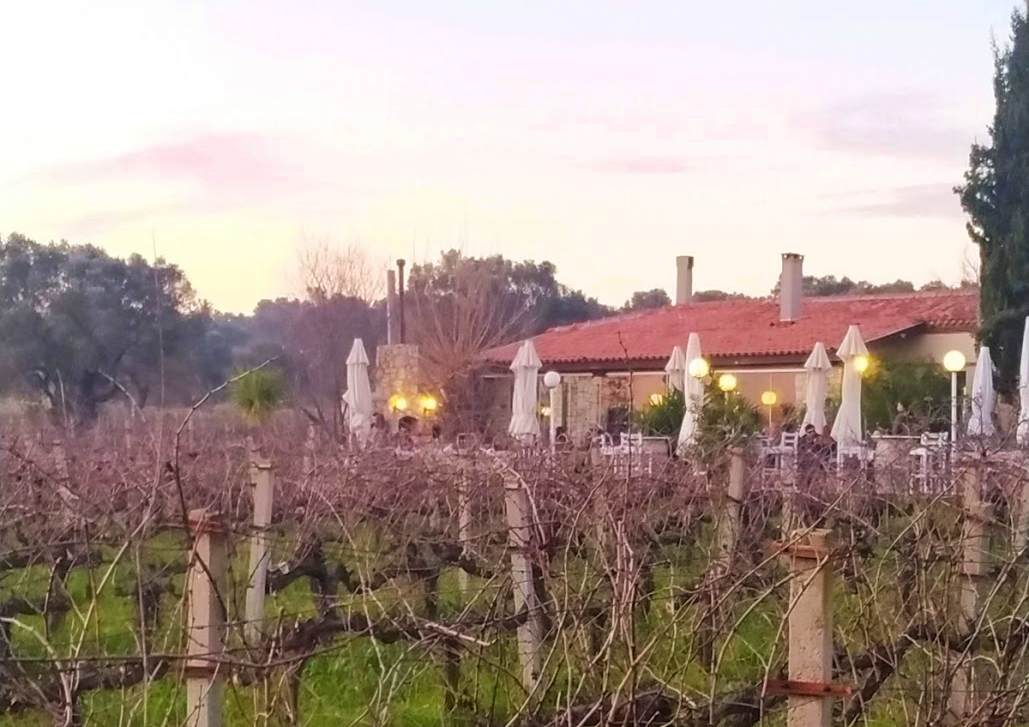 Çakır Şarapçılık & Bağcılık
The latest addition to the list of Urla wineries and to the Urla Wine Route, Çakır Şarapçılık is very chic and nicely decorated. Sevinç ve Erol Çakır have been overseeing the property since 2017 and the first bottle was produced in 2018.
The winery produces 25 thousand liters of wine on approximately 10 acres of vineyard. Çakır Şarapçılık produces Chardonnay, Cabernet Sauvignon, Merlot and Bornova Misketi.
The venue has a tasting facility and a restaurant facing vineyards. The restaurant has an authentic pizza oven and fireplace.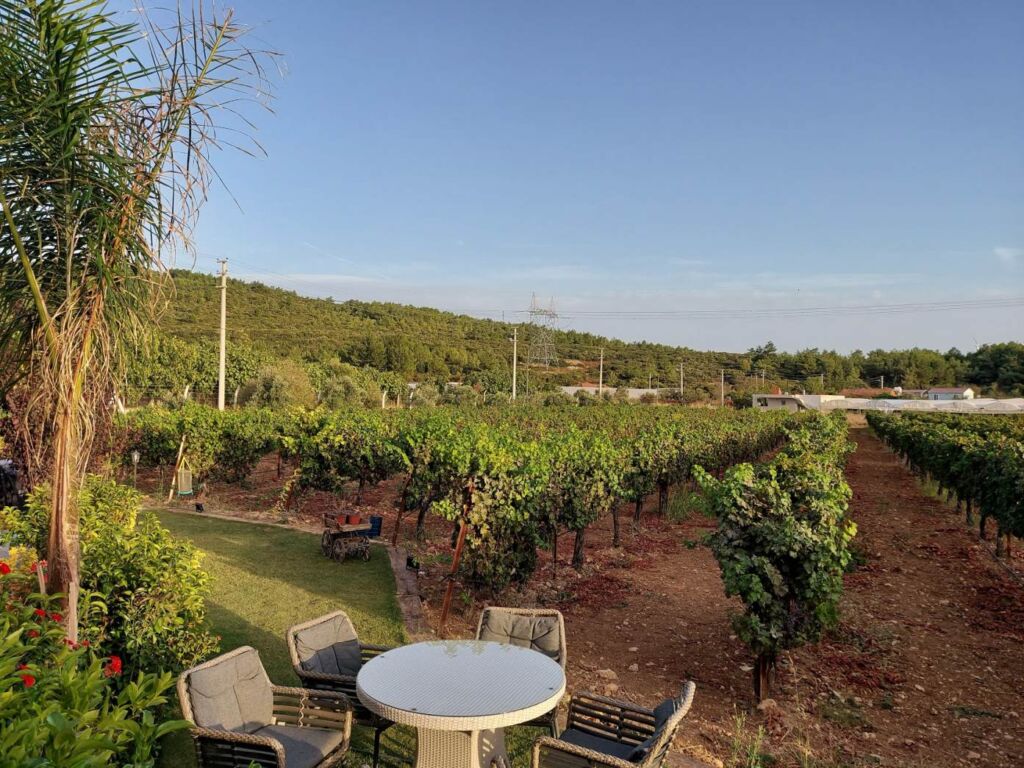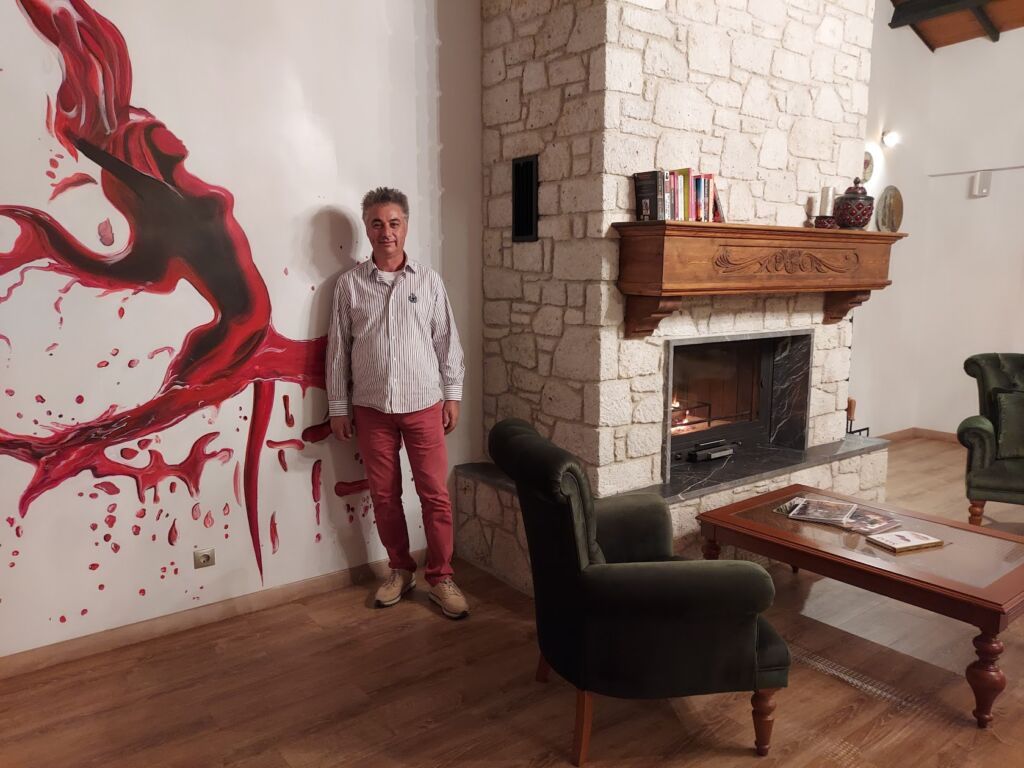 Ayda Bağları
Ayda Bağları is located in the middle of a valley surrounded by high mountains at an altitude of 400 meters near İzmir Seferihisar Gödence village.
Production at Ayda started in 2016. Production is carried out with the method of "Vinification Intégrale". Alcoholic fermentation, maceration, and malolactic fermentation stages of all wines take place in French oak barrels. All wines produced are vegan certified.
Sauvignon Blanc, Narince, Cabernet Sauvignon, Foça Karası, Petit Verdot, Merlot, and Syrah are grown at the Ayda vineyards.
The property has a restaurant facing vineyards and a small hotel.
For Izmir hotel deals click here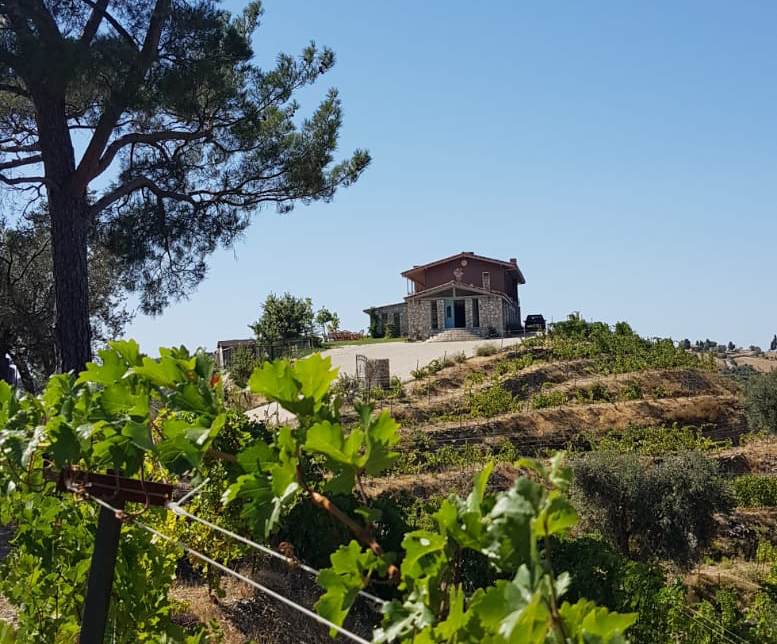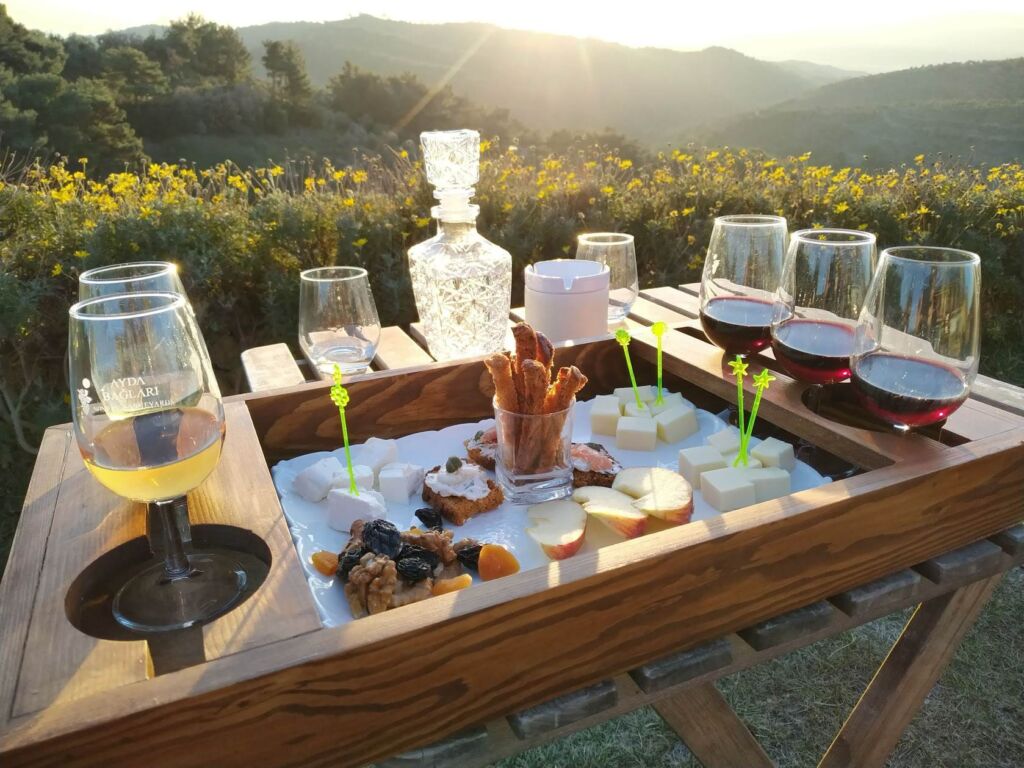 MMG Şarapçılık
MMG Şarapçılık is producing 20.000-bottles a year on apps. 35 acres of vineyards. The winery produces grapes in two different locations close to each other in the Urla region, one is at an altitude of 120m, another is at 300 m.
MMG Winery produces Bornova Muscat, Mourvèdre, Cabernet Sauvignon, Merlot, Syrah, Viognier, Black Muscat grapes from which 8 wines are produced.
The winery is using traditional production methods, like night-harvesting and manual pressing.
Inside the estate, you can find a restaurant with a panoramic view of the valley.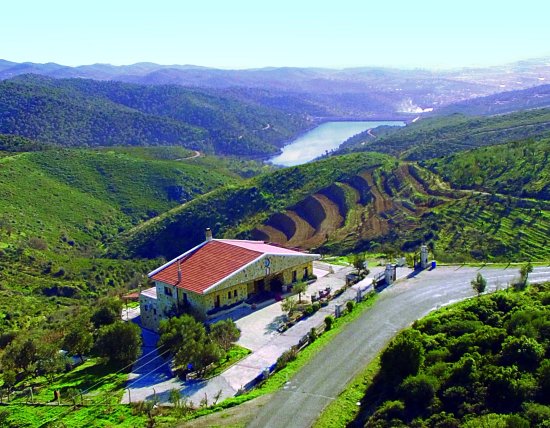 Mozaik Winery
The history of Mosaik Winery started in 2006. The winery grows several red varietals organically with little to no manipulation: Syrah, Sangiovese, Corinto, Montepulciano, Petit Verdot, Tannat, Marselan, Ekigaïna, and Rebo.
Mosaik is the only vineyard in Turkey with no installed irrigation systems so far.
Mozaik Tannat has been awarded Decanter Gold in 2020.
The winery has a tasting room.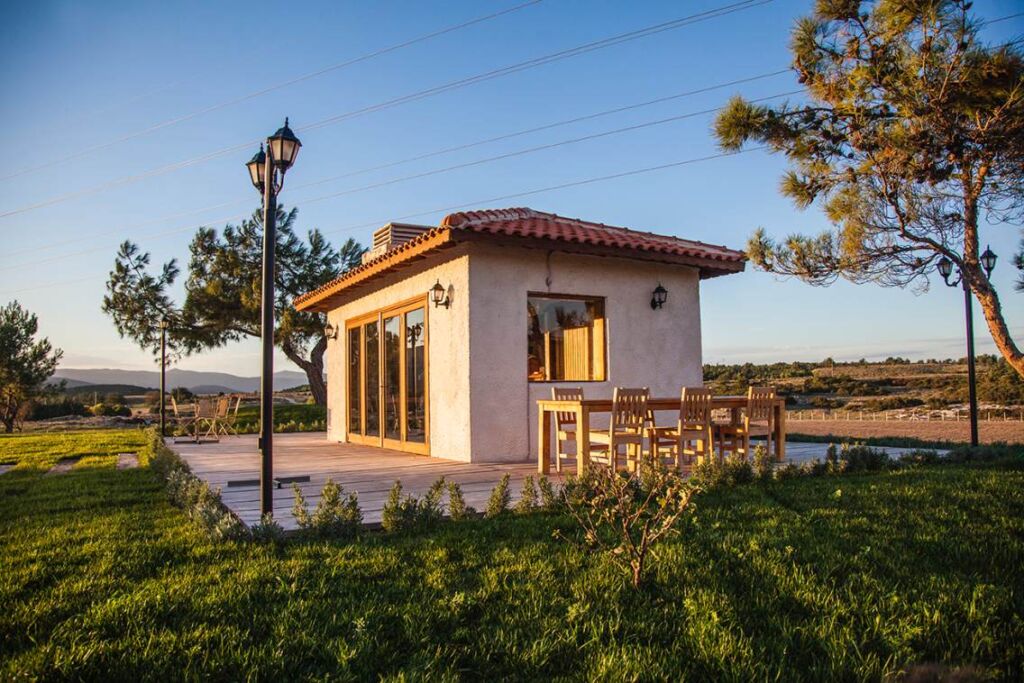 Hus
Hus is a small winery and producing wine grapes with the principle of minimum intervention. The first Syrah and Grenache varieties were planted around the winery in 2018.
Hus produce balanced and characterful wines using grapes from Anatolia and Aegean regions.
The winery has a tasting hall and terrace with panoramic views of the vineyards.
and last but not least
Isabey Vineyard
Located very close to Izmir International Airport, within the Sauvignon Blanc vineyards, Isabey Vineyard offers its guests a unique wine and viticulture experience accompanied by French and Italian cuisine. The property, composed of 160 hectares of vineyard and a first-class restaurant, lounge, tasting place, wine shop, and small hotel, is managed by the third generation of the Guner family that founded the vineyard in 1942.
Isabey Vineyard is a part of Sevilen Group that produces grapes for premium wines on two sites: Aegean Area, around Izmir, a warm Mediterranean climate, and Anatolia Plateau, a cool Mediterranean climate.
This vineyard is far away from Urla but can be a starting point in your wine journey. Besides, you can get fairly good shots of planes approaching for landing at Izmir Airport from Isabey Vineyard.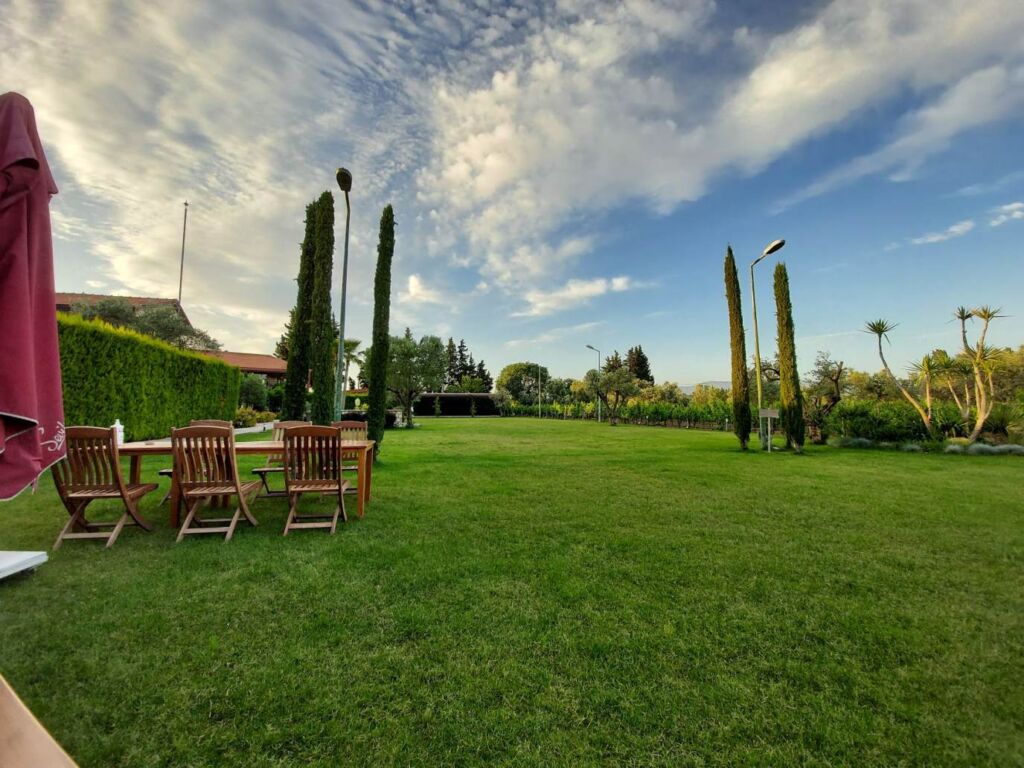 New wineries such as Limantepe, Ikidenizarasi Winery, and Urla Bağevi are under construction.