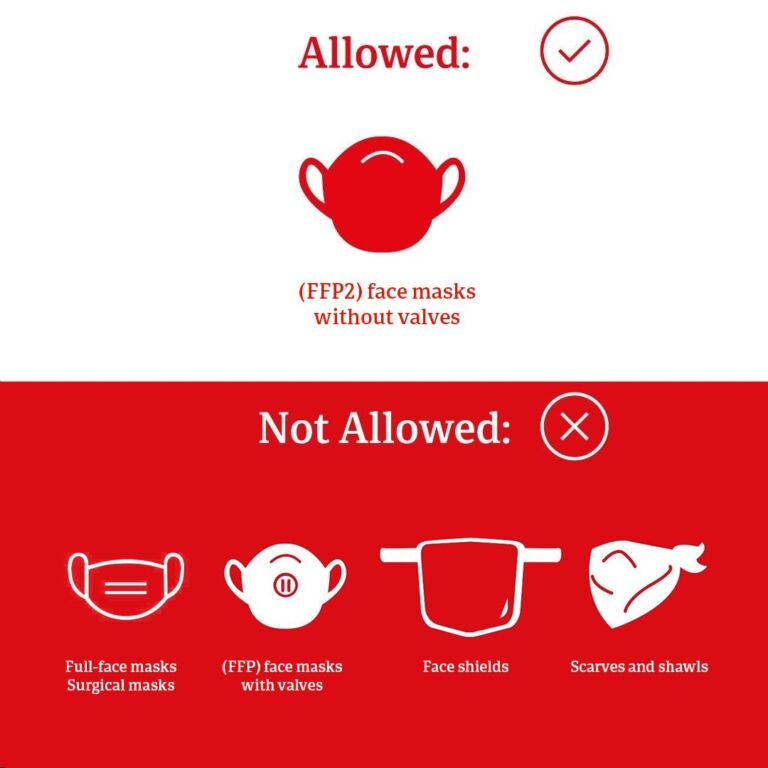 A number of airlines have made FFP2 masks mandatory on their flights from February 1. The measure is intended to help contain the spread of coronavirus infection.
As hereby communicated by the Board of Airline Representatives in Germany (BARIG), the association of national and international airlines in Germany, the German air traffic industry adjusts the rules regarding compulsory mask wearing. This means that as of February 01, 2021, all passengers, including children as from six years, at German airports as well as onboard the respective aircraft are obliged to wear medical face masks.
Permitted are both surgical as well as FFP2 masks, more specifically masks complying with the standard KN95/N95. A simple cloth face covering is no longer sufficient. Furthermore, visors, masks with an outlet valve as well as basic means of oronasal covering such as scarfs for example continue to be prohibited.
The adjusted mandatory mask-wearing requirement is applicable in all passenger areas at German airports as well as onboard of aircraft of Austrian Airlines, Brussels Airlines, Condor, Eurowings, Lufthansa, Swiss International Air Lines and TUIfly. The obligation applies to both departing and arriving flights to Germany. The masks are to be provided by the passengers themselves.
As of January 25, all passengers over the age of 14 must therefore wear an FFP2 mask without a valve (also known as N95 or KN95 mask) on board Austrian Airlines flights until further notice. Passengers are requested to bring the high-quality protective masks themselves for their own protection and that of others. The crew is also required to wear FFP2 masks. Higher classified masks, such as FFP3 masks without a valve, may also be worn. According to the new regulation, passengers between 6 and 14 years of age and pregnant women can travel with normal mouth-nose protection; children under 6 years of age continue to be exempt from the mask-wearing requirement. Passengers who cannot wear a mask for health reasons must present a negative Covid 19 test that is not older than 48 hours at the scheduled start of the trip and provide a medical certificate on an Austrian Airlines form. This can be downloaded from the Austrian Airlines website.
Аrom January 25 in Austria, it is imperative to wear not just masks, but respirators with a high degree of protection of the FFP2 class in public places, in particular in transport and in stores.