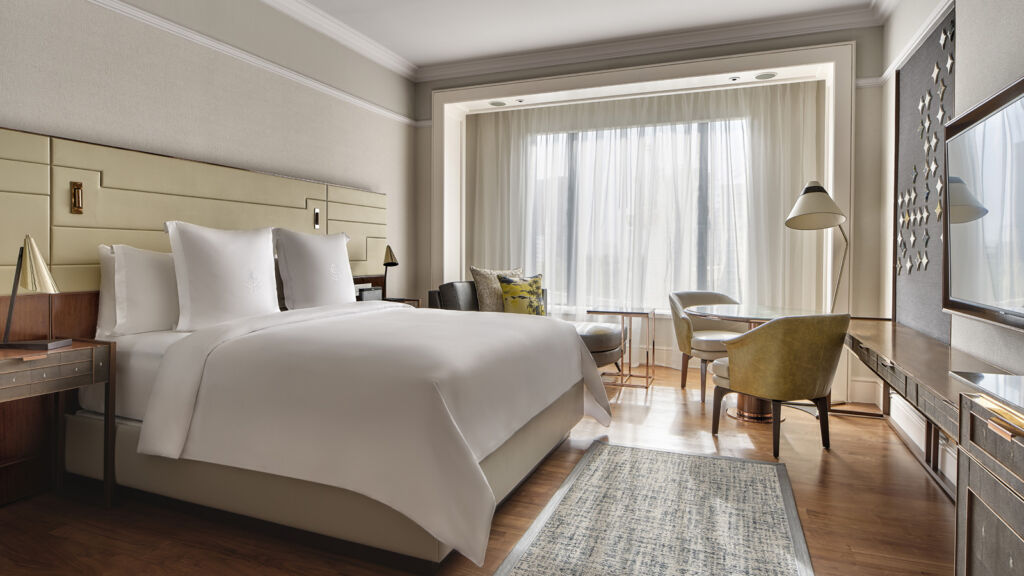 Four Seasons Hotel Singapore is ready to welcome guests to its new Hypoallergenic Rooms in January 2021, adding to the collection of luxury accommodation nestled amid the tree-lined lush boulevard.
Going beyond merely availing hypoallergenic pillows and bedding, the Hotel sets new standards in luxury hospitality, extending the brand experience and embracing the well-being and needs of guests who may be susceptible to allergies triggered by environmental particles in the immediate surrounds. The Hypoallergenic Collection offers an allergy-friendly in-room environment where guests may unwind and rest with peace of mind.
Designed and developed in partnership with Four Seasons Hotels and Resorts Design and Construction advisors, these unique rooms see the return of leading interior designers Hirsch Bedner Associates, who most recently led the recent renovation of the luxury themed suites and of One-Ninety, modern Asian brasserie.
Volatile Organic Compounds
A key wellness focus of the Hypoallergenic Room Collection is to minimise the amount of volatile organic compounds (VOC) found in these rooms. VOC refers to the production of gasses by materials by organic chemicals, also commonly referred to as volatility. These give rise to scents, odours and perfumes and are also responsible for pollutants.
Indoor spaces are where most spend their time within and it is here that pollutants can be much denser than outdoor air. This is due to chemical emissions that arise from regular household furnishings and accessories.
Leveraging the international Greenguard Gold certification as a guide for styling these rooms, VOCs are consciously kept low, leading to a more optimal indoor air quality. It requires a health-based criteria for the use and addition of chemicals and also requires lower total VOC emissions levels to help ensure that products are acceptable for use in environments such as schools and healthcare facilities. The Greenguard Gold certification is a program by the Greenguard Environmental Institute (GEI), an independent, non-profit organisation whose standards and certifications are internationally recognised.
Breathable Walls
Each Hypoallergenic Room is cloaked in breathable wallcovering by Sangetsu, an established leader in the Japanese construction and interior industries for more than 170 years since the Edo period. This wallcovering is certified to contain anti-fungal and low VOC properties.
Influenced by the nearby Singapore Botanic Gardens, a lush UNESCO World Heritage Site, the contemporary interiors of the Hypoallergenic Rooms feature a natural colour palette of cool blue and green tones that recall the landscape hues of the garden's Swan Lake.
Dust Free
Hardwood flooring, tight woven fabrics and roller blinds maintain Four Seasons standard in luxury, while minimising dust accumulation and mould growth. All main upholstery fabrics and blinds are Greenguard Gold certified to be "low VOC," which inhibits allergens released into the air.
Indoor Air Quality (IAQ)
Air quality in the Hypoallergenic Rooms is enhanced with the installation of UL-compliant ozone-free needle point bipolar ionization (NPBI) and UV systems. Air quality is further improved with portable HEPA and UV air purifiers to filter the air for continuous sanitation of air conditioning systems for treatment of odour, VOC and air particulates.
Linens
A stay in the Hypoallergenic Rooms is complete with allergy-friendly pillows, mattresses and beddings covered with dust-mite covers. These will also be washed and treated with prescribed cleaning methods and treated with cleaning agents that are guided by the same considerations.
Bath Amenities
Inspired by a poem De Rerum Natura, "the nature of things," written by the Roman philosopher Titus Lucretius Carus in the 1st century BC, The Rerum Natura series is guided by the authentic preparations of masterful herbalists in concert with Mother Nature.
Dermatologically and clinically tested, free of mineral oils or silicones and enriched with natural and selected ingredients including organic aloe vera gel, botanical extracts and organic botanical oils, The Rerum Natura plant-based remedies are created to enhance wellbeing.
A sublime symphony of fragrances for body and soul, every Rerum Natura fragrance is crafted only from pure essential oils distilled from aromatic plants. Expertly blended, they retain a sublime aroma that recalls the gentle embrace and song of Mother Nature. Rich in benefits, and produced to highest standards of sustainability, The Rerum Natura has its origins in Italy and has earned the COSMOS ORGANIC certification.
The Rerum Natura liquid amenities are free of parabens, isothiazolinones, sls-sles, gmos, silicones, synthetic fragrance and synthetic colourants. Clinically tested, nickel tested, and vegan friendly.