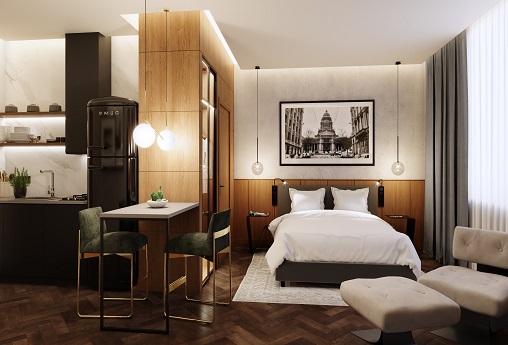 Radisson Hotel Group has announced the signing of the Radisson Blu Serviced Apartments, Islamabad in Pakistan, the first internationally branded serviced apartments in the country. This marks the group's second hotel in Pakistan, accelerating its ambition to have 10 hotels and 2,000 rooms in operation and under development across the country by 2025. Scheduled to open by Q2 2023, this addition brings the group's South Asia portfolio to over 160 hotels in operation and under development.
Islamabad, the capital of Pakistan, is located on Potohar Plateau in the northwest of the country and is Pakistan's most diverse metropolis, renowned for embracing modern ideas while remaining true to its rich cultural heritage. The city is rich in historical sights, expansive green spaces, fascinating museum and impressive monuments such as the Faisal Mosque, Islamabad's most iconic and instantly recognisable landmark.
Inside the Radisson Blu Serviced Apartments, Islamabad 's 224 upscale apartments, varying between 51 – 84 sqm, guests will discover Radisson Hotel Group's renowned hospitality and modern amenities. The new-build hotel will form part of a mixed-use development, which includes offices and a retail mall. Dining options will include an all-day dining restaurant, while the property's leisure facilities will feature a spa & fitness center, sports courts and swimming pool.
Elie Milky, Vice President Development Middle East, Greece, Cyprus and Pakistan, Radisson Hotel Group, said: "We are delighted to expand our footprint within Pakistan with the introduction of our flagship upper upscale brand, Radisson Blu, in the nation's capital. We are continuing to proactively grow our serviced apartments portfolio globally. Serviced apartments are becoming increasingly popular amongst corporate and leisure guests and we are supporting our owners and investors to maximise their real estate values with high occupancies and attractive profit margins. This deal is the beginning of a strategic partnership with Falaknaz Group and we thank them for their trust."
Shakeel Ilyas of Falaknaz Group, said, "We are proud to be partnering with Radisson Hotel Group, one of the leading players in the hospitality industry. We were seeking a brand that recognizes and responds to the needs of the business and leisure clients coming to Islamabad, while growing their portfolio in the flourishing country of Pakistan further."
Radisson Hotel Group announces the launch of a strategic collaboration with Cycas Hospitality, who will operate the Radisson Hotel & Suites Amsterdam South, the first Radisson serviced apartment product in Western Europe.