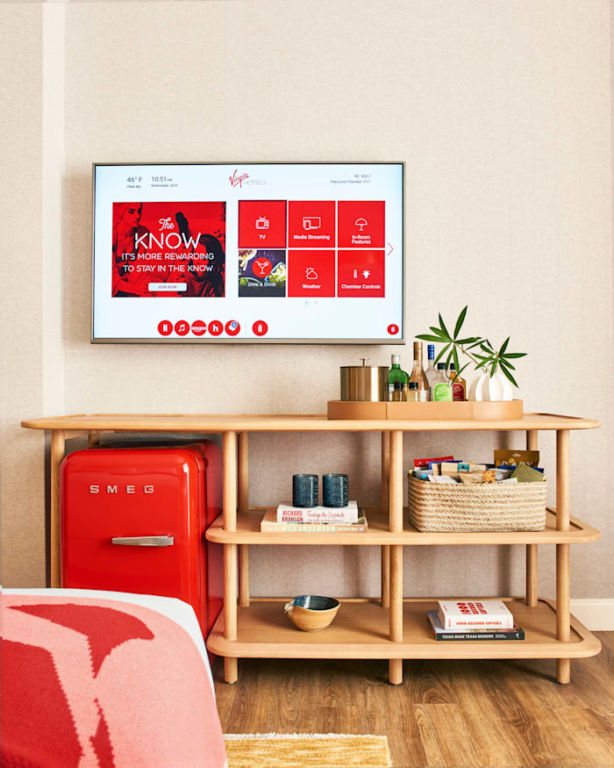 Virgin Hotels has opened the doors at its newest property in Nashville. Located at the helm of Nashville's historic Music Row neighbourhood, Virgin Hotels Nashville offers a one-of-a-kind hotel experience with multiple dining and drinking options including The Pool Club, Commons Club and Funny Library Coffee Shop.
The 262 Chambers at the hotel are designed to consist of two distinct spaces separated by a barn-style sliding door. The first space, 'The Dressing Room' combines the hallway and dressing area with full vanity, makeup desk and an extra-large shower. Slide open the privacy door and guests will enter 'The Lounge' with Virgin Hotel's patented ergonomically-designed lounge bed. There's also a red Smeg mini-fridge, TV, yoga mat, pedestal table and cosy window seating offering views of the Nashville skyline and Music Row.
On the 14th floor of the hotel, The Pool Club offers an indoor and outdoor bar and restaurants where guests can enjoy food and inventive cocktails day or night. Local DJs regularly spin soulful, laidback tunes to add to the relaxed club atmosphere.
Downstairs on the first floor, the Funny Library Coffee Shop offers Laughing Man coffee and a menu of grab and go items for breakfast and lunch.
Commons Club, Virgin Hotels' flagship restaurant, bar and lounge, is designed to feel like a members-only experience that is open to all. It will debut in the fall on the first floor of the hotel with a specially curated entertainment and music programme for locals and travellers to enjoy.