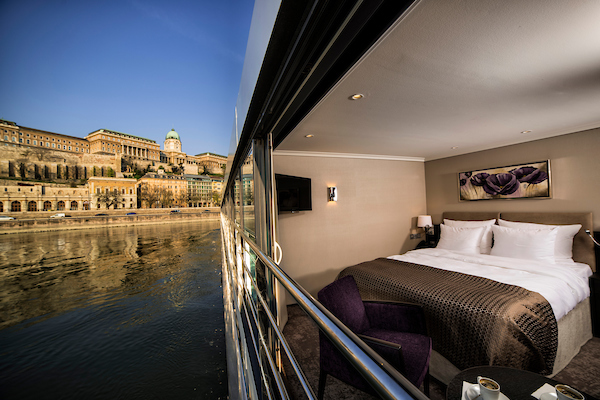 There was a time when Americans took an average of 20 vacation days per year. That time has passed. In fact, according to a recent Global Travel Insights survey, 80 percent (80%) of North American travelers plan trips of seven days or less. Catering to that trend, Avalon Waterways is the only river cruise company inviting travelers to dip their toes in river cruising with selection of 4-, 5- and 6-day "Short & Suite" itineraries, priced from $874.
"On a river cruise, travelers are not at sea. Instead, river cruises wind and bend through the heart of fascinating countries, providing panoramic views of the Old World," said Pam Hoffee, managing director of Avalon Waterways. "In 2021, Avalon Waterways is the only company offering travelers the chance to test river cruise waters with six ways to cruise six days or less. On these unique itineraries, travelers will see and explore clifftop castles, hillside vineyards, ancient villages and capital cities along the world's most popular rivers, the Danube and Rhine."
Avalon Waterways' 4-day A Taste of the Danube itinerary visits three (3) capitals and three (3) countries in just three (3) nights, giving first-time river cruisers an incredible opportunity to sample river cruising and several Blue Danube delights without breaking the bank.
The company's 6-day Danube Symphony vacation sails down the most beautiful stretch of the Danube River, including the Wachau Valley (a world heritage site) with its vineyard-clad hillsides and picturesque villages.
A Taste of the Rhine is a 5-day cruise featuring immersive opportunities to explore must-see sites along the Rhine River including: Taking a culinary walk through Amsterdam, enjoying a guided tour of Cologne, participating in wine-tasting in Boppard, spending free time in Rudesheim and of course, cruising through the picturesque, castle-dotted Rhine Gorge.
Formerly featured only during the holiday season, the 6-day Heart of Germany itinerary features stops along the Main River and Main-Danube Canal including a guided hike through a picturesque Bavarian village, spending time in Würzburg with its towering fortress and Baroque Bishop's residence; enjoying Bavarian wines in Itzingen, partaking in an onboard beer-tasting near Volkach, and taking in the sites of Bamberg, a Bavarian oasis built on seven hills. The cruise concludes in Nuremberg.
Two additional "short & suite" itineraries are "Christmas Cruises." They are: 5-day Christmastime in Alsace & Germany and 6-day Festive Season in the Heart of Germany.