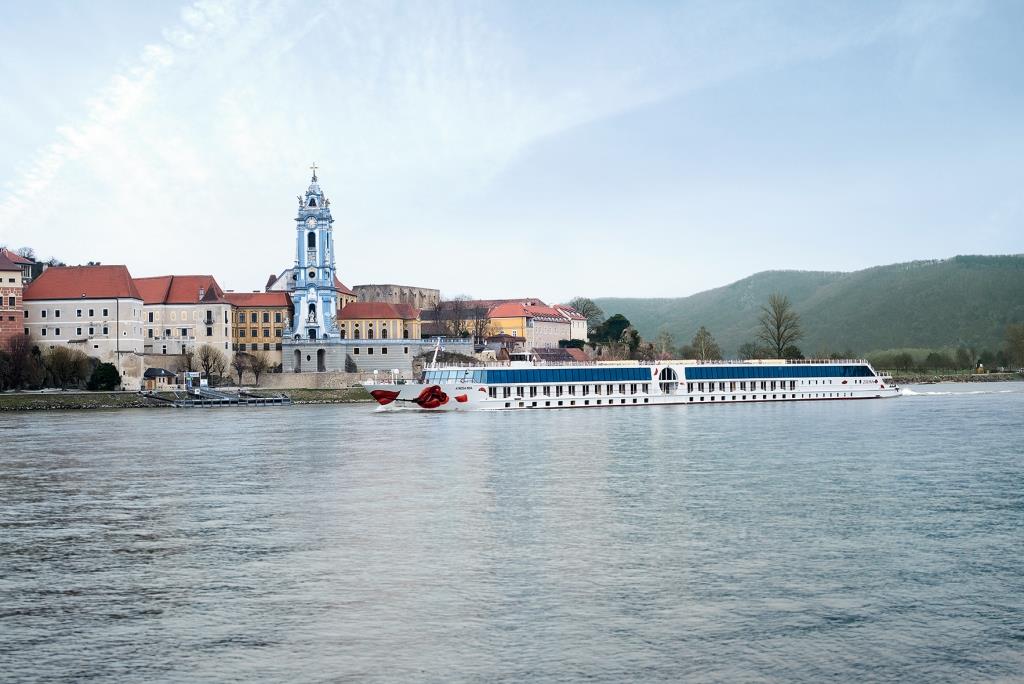 A-ROSA River Cruises has outlined its on board health and hygiene concept ahead of its planned restart in June 2020. The concept has been created by the A-ROSA Care Team, comprising of both internal and external specialists.
The health and hygiene concept is based on the recommendations of the Robert Koch Institute in Germany and the World Health Organisation and considers the pandemic regulations of the individual countries through which a ship passes. A-ROSA is closely monitoring the requirements of governments and authorities as well as the recommendations from relevant health organisations and is continually updating this concept due to the constantly changing conditions.
A care team, led by the ships management will be responsible for implementation on board.
Measures being put in place include: social distancing protocols for the entire ship, enhanced cleaning procedures; the wearing of mouth and nose coverings in public spaces; pre-screening and temperature checks prior to embarkation; meals to be served at tables, at set times and excursion participant numbers will be reduced. In addition, all A-ROSA ships are already equipped with an air refreshment system that ensures all cabins and public spaces operate using separate air supplies.
Jörg Eichler, Managing Director of A-ROSA River Cruises said "River cruises are an ideal and flexible form of travel for a safe relaxing holiday in the 'new normal'. The ships are comparatively small and have relatively few guests on board, so that the necessary hygiene rules can be implemented efficiently."
"The safety and well-being of our guests and employees have always been the highest priority at A-ROSA," emphasises Eichler. "That is why we have carefully checked every aspect of our trips and adapted them to the new requirements and recommendations."
Additionally, Joerg Eichler confirmed that the river cruise line has received financial support from the state of Mecklenburg-Western Pomerania in Germany, in the form of a guarantee loan. "A-ROSA is very well equipped for the future, thanks to the guarantee from the state of Mecklenburg-Western Pomerania, the lending bank and an additional financial contribution from the shareholders."
OVERVIEW OF THE KEY MEASURES
General
A minimum distance of 1.5 metres will apply to the entire ship, which will be implemented using a guidance system with aisles as 'one-way-streets', floor markings, reduced size of the dining areas and seating groups at the required distance.
Specific rules of conduct for the ships will be communicated regularly by means of posters, information videos and ship announcements.
Existing cleaning and disinfection plans and logs will be further enhanced.
Effective disinfectants will be provided and their use will be checked at all entrances (ship, restaurant, lounge, sun deck, work and crew areas).
In the public areas, all crew members and guests must wear a full mouth and nose cover. This does not apply to guests who are seated at a dining table or in the open-air areas.
A-ROSA ships are already equipped with an air refreshment system ensuring all cabins and public spaces operate using separate air supplies. Fresh air is drawn into each cabin and public space, it is then filtered before before being released back outside.
Access to the ship by external persons will be kept to the necessary minimum.
Prior to departure
Guests will be sent a declaration of fitness to travel and the rules of conducts onboard. These must be signed and handed over on arrival at the ship.
In addition, guests must carry out a 'self-check' for symptoms and not travel to the ship if the results are positive for any.
Embarkation
On arrival at the ship, guests body temperature will be checked using an infrared thermometer in a specially designed reception area and the necessary documents will be collected.
Guests baggage will be disinfected.
Dining
All tables will be positioned so the minimum distance required can be maintained.
There will be two set sittings for each meal and guests will be served at their assigned table. Drinks order will also be taken and served directly to the table.
All cutlery racks, table decorations and menus will be removed.
Spa
The SPA-ROSA offering will be reduced and carried out in accordance with newly established hygiene and distancing rules. The sauna will not be accessible.
Excursions
The group sizes for all excursions will be reduced.
A audio equipment, bikes etc will be disinfected after every use.
Crew
Manuals have been created and processes will be practiced via e-learning and on-site training.
Reinforced hygiene measures and social distancing rules will apply. In areas where this is not possible, mouth and nose coverings or plexiglass protection will be used.
There will be staggered work, break and meal times for the crew.
Regular cleaning of personal work clothes (uniform, mouth and nose cover, gloves) will be carried out by the on-board laundry.
Work equipment will be provided for each individual crew member for their use only, where possible. When it is not, cleaning or disinfection will take place after each use.