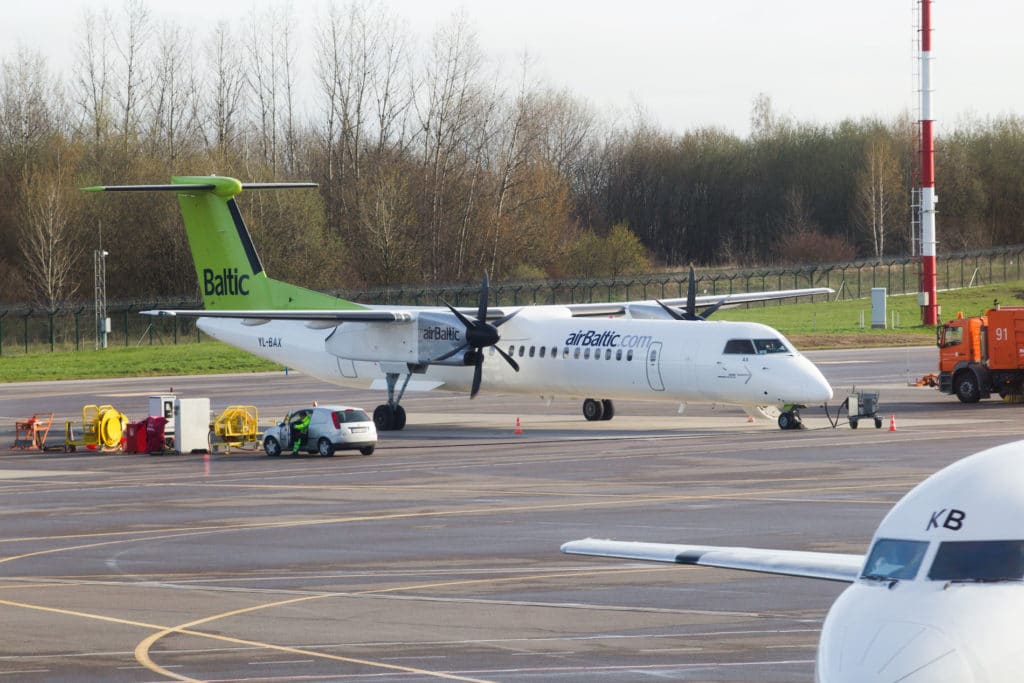 Amid the Covid-19 pandemic, most airlines worldwide were forced to cancel flights and ground planes. Lithuanian Airports were also affected by the pandemic as no regular passenger air services have been performed since mid-April. In preparations to return to normal airport operations and continue growth, Lithuanian Airports have ramped up their negotiations with air carriers for the return of essential routes.
Thorough preparedness is key for the return to normal operations
In order to efficiently and smoothly return all services to travellers after the quarantine ends, Lithuanian Airports have agreed on the measures that will be taken to restore passenger flights.
Passenger safety at the airports and on flights will be essential in the initial phase of returning flights. In accordance with various recommendations set up by national and international health organizations, Lithuanian Airports, together with airline partners, are establishing a package of safety measures to be implemented.
"We have set up a whole plan that includes measures which will encourage airlines to reinstate passenger flights. Firstly, airlines will have 60 days more to pay airport charges. Secondly, we have developed a new incentive programme to facilitate the return of flights and passengers. We have also revised our current incentive programmes, based on which air carriers are obliged to pay airport aviation charges" – states Aurimas Stikliūnas, Head of Aviation Services at Lithuanian Airports.
Multiple carriers across Europe have already received promises from national governments for financial support, which will only increase pressure on these carriers to further seek operational profitability. This means that airlines will re-evaluate the business case of each route before reinstating passenger flights. Low-profitability or loss-making routes will likely be reinstated much later – in one or two years.
According to Mr. Stikliūnas, now is the critical time for negotiations with all relevant stakeholders – ministries, travel and tourism organizations and other partners – for the implementation of additional measures that would facilitate a smooth return of flights. Additional measures, alongside current incentive schemes, are necessary for the return of strategically important flights and further growth. These measures would allow the return of the most necessary flights which are strategically important and bring added value not only for various businesses, but the whole country.
"In the past couple of years, Lithuanian Airports were significant facilitators of the development of Lithuania's economy. We attracted numerous foreign and local investments, we created and sustained job positions. We believe that the mentioned measures can greatly impact the return of business for both the aviation industry and the whole sector both in the short term when travel restrictions will be lifted, as well as in the coming 2-5 years", – hopes Mr. Stikliūnas.
A sudden drop in global air travel also impacted Lithuania
The newest prognosis by IATA, the International Air Transport Association, states that due to the pandemic, the aviation industry will lose 252 billion USD in revenues and 38% of total passenger numbers. The pandemic also impacted the performance of Lithuanian Airports. The initial reduction in flights and later restrictions on air travel caused a 16.4% drop in passengers in the first quarter of this year. All three airports served only 1.104 million passengers in Q1 2020.
"Covid-19 continues to have a devastating impact on the whole aviation industry, hitting airlines, airports and other aviation companies worldwide. Measures taken by nations to curb people's movement and the spread of the virus will continue to have a lasting impact on declining passenger numbers, until the spread of the virus is completely contained.
At the moment, the country's airports mainly handle cargo flights as passenger flights are grounded. We have renegotiated our route development strategy, now we must do our homework and implement the plan for the return of passenger flights at Lithuania's airports. The reinstatement of flights will encourage the return of normal operations for the many businesses working in the aviation (ground handling, other aviation services) and non-aviation industry (travel, tourism, international trade, foreign investment etc.)", – states Mr. Stikliūnas.
About Lithuanian Airports
The network of Lithuanian Airports comprises of three air gateways in Vilnius, Kaunas and Palanga. In 2019 they all served 6.5 million passengers and 62 thousand flights. During the 2019/2020 winter season, 15 airlines performed flights from Lithuanian Airports on 76 regular routes, comprising 51 cities in 26 countries.