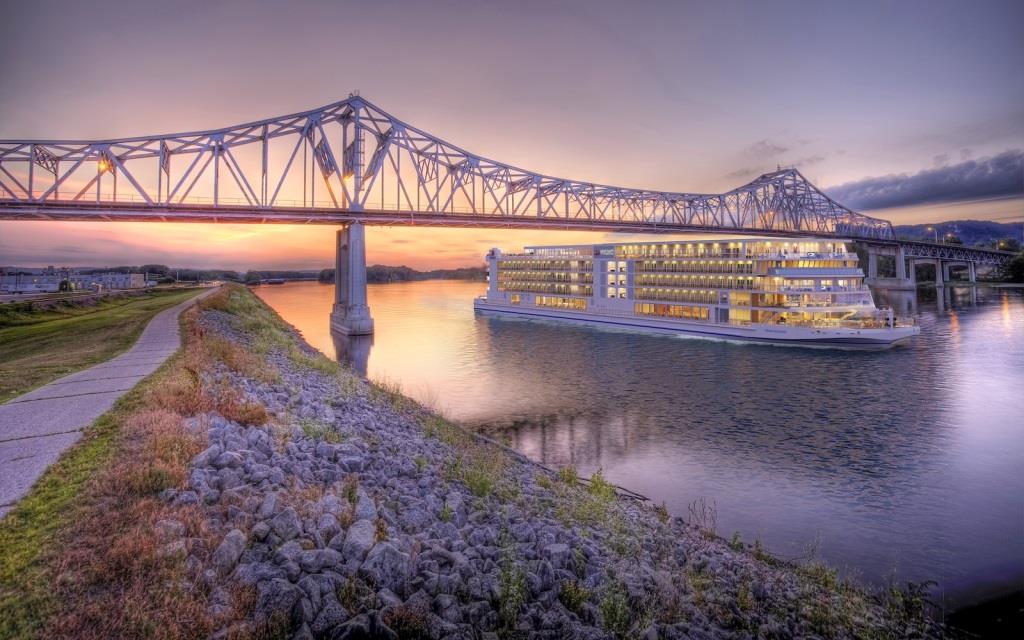 V6
Viking today opened reservations to the public for its new Mississippi River cruises, which will launch in 2022. The company's first custom vessel, Viking Mississippi, will debut in August 2022 and will sail voyages on the Lower and Upper Mississippi River, between New Orleans and St. Paul. Viking's arrival will bring modern river cruising to the Mississippi and will represent a major commitment to tourism and economic development in many communities along the river. Currently scheduled ports of call on Viking's new Mississippi River cruises comprise seven U.S. states: Louisiana (Baton Rouge, Darrow, New Orleans and St. Francisville); Mississippi (Natchez and Vicksburg); Tennessee (Memphis); Missouri (Hannibal, St. Louis); Iowa (Burlington, Dubuque and Davenport); Wisconsin (La Crosse); and Minnesota (Red Wing, St. Paul). As part of an exclusive preview promised by Viking Chairman Torstein Hagen, past Viking guests have been able to book the new Mississippi River cruises since March 30, 2020 and some departure dates are already nearly or completely sold out. As of today, all inaugural sailings of Viking Mississippi's 2022-2023 season are now available to the public for booking.
"At a time where many of us are at home, looking for inspiration to travel in the future, I am pleased to introduce a new, modern way to explore this great river. We invented the concept of modern river cruising when we got our start 23 years ago—first on the rivers of Russia and then in Europe. Since then, many people have come to appreciate the unique exploration that comes with river cruising—but currently there are very few options to do so on American rivers," said Hagen when the new Mississippi River cruises were announced on March 30, 2020. "Our guests are curious travelers, and they continue to tell us that the Mississippi is the river they most want to sail with us. The Mississippi River is closer to home for many of our guests, and no other waterway has played such an important role in America's history, commerce and culture."
The highly anticipated announcement of Viking's arrival on the Mississippi is the most recent milestone as the company continues to expand its fleet and destination-focused travel offerings. In January 2020 the company unveiled Viking Expeditions, with the first 378-guest purpose-built expedition ship, Viking Octantis, launching in January 2022 on voyages to Antarctica and then North America's Great Lakes. A second expedition vessel, Viking Polaris, will debut in August 2022, sailing to Antarctica and the Arctic.
2022-2023 Viking Mississippi Inaugural Voyages
America's Heartland (8 days; St. Louis to St. Paul)—From pristine farms nestled in rolling terrain to steep bluff rising from tributaries dotted with wooded islands, the Upper Mississippi offers a rich tapestry of beauty upon every turn of the river. This journey introduces you to the unforgettable experience of the locks and dams that control the flow of the heartland rivers. Hear stories of settlers migrating west; learn about Lewis & Clark, Mark Twain, John Deere and the Amish and Norwegian migrations; experience the regional music like polka and Norwegian folk; and taste regional cuisine showcasing local beer, produce and Wisconsin cheese.
Heart of the Delta (8 days; New Orleans to Memphis)—This journey on the Lower Mississippi is infused with American history, culture and heritage. Tour the area where the migrating French and Acadians settled; immerse yourself in the culture and lessons from the American Civil Rights Movement; discover the music of the South—jazz, blues and gospel; and experience the life and food culture of the south, from Cajun and Creole to the famed "dry" Memphis BBQ.
Southern Celebration (8 days; New Orleans–Vicksburg–New Orleans)—On this exploration of the Lower Mississippi, visit the historic homes of Louisiana and Mississippi; learn about Civil War history, touring sites like Vicksburg National Military Park; and discover the excitement and unique flavors of New Orleans and Baton Rouge.
America's Great River (15 days; New Orleans to St. Paul)—Experience nearly the entire length of the Mississippi River on this incredible journey from the Gulf of Mexico to the northernmost reaches of the U.S. Relax and enjoy the variety of scenery, foliage and wildlife on this leisurely voyage. Enjoy Southern charm and beautifully preserved homes in Natchez; retrace the steps of Civil Rights leaders in Memphis; ascend the Gateway Arch in St. Louis; and visit "The Norwegian Valley" in La Crosse.