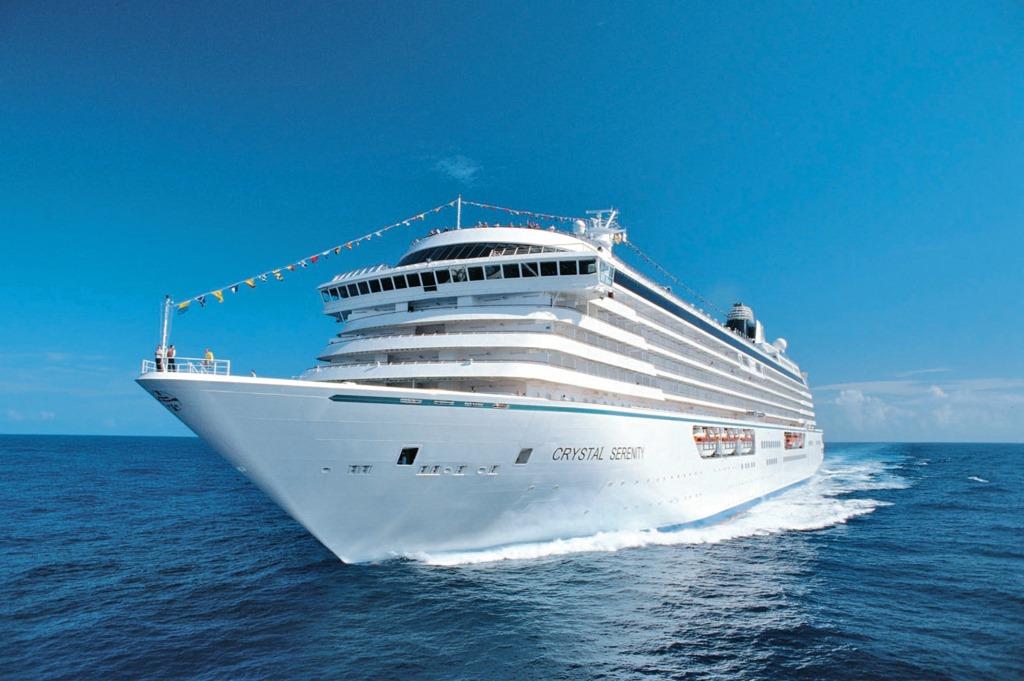 As Crystal temporarily pauses its global journeys, the company is looking ahead toward future explorations with luxury travelers with the announcement of its 2023 World Cruise. One of its most comprehensive global explorations ever, the 2023 World Cruise is now available for booking beginning today. The extensive Wild Kingdoms & Exotic Discoveries world cruise aboard Crystal Serenity is packed with spectacularly diverse destinations – 73 in all, including five maiden ports and 16 overnight cities spanning 40 countries – with a focus on the world's greatest wonders and UNESCO World Heritage Sites. The journey explores idyllic islands from Tahiti to the Seychelles and Maldives; eco-diversity in Papua New Guinea and Big Five safaris in Africa's Serengeti; famed spice route locales such as Bali, Ternate, Java, Sri Lanka and Zanzibar; ancient wonders including Ephesus, Petra, Bagan and Machu Picchu; and beach holiday hot spots including the Dalmatian coast, Bora Bora, Yasawa-I-Rara, St-Tropez and St. Barts.
Taken in full, the 140-night journey embarks from Miami on January 11, 2023, ending in Barcelona on May 31, with two alternate disembarkation options in Venice and Athens for 128- and 119-night itineraries, respectively.
"We know that travelers and those with a heart for discovery are looking forward to the journeys the future holds beyond the current global health crisis, and we are delighted to unveil one of Crystal's grandest journeys yet. The 2023 World Cruise is a culmination of so many of our guests' ultimate travel wish lists, a truly multi-layered global odyssey," said Carmen Roig, Crystal's senior vice president of marketing and sales. "Travelers continue to share with us the experiences that intrigue and inspire them, the places and cultures they want to explore with Crystal, and we've listened to them and created what may be our most extraordinary journeys to date."
Also offered in nine separate segments ranging from nine to 23 nights, Crystal's 2023 World Cruise features in-depth regional exploration, allowing guests to deeply immerse themselves in the cultures, cuisines, histories and adventures of thee destinations. Among the highlights are:
Access to the sites of three of the Seven Wonders of the Ancient World – Turkey's ruins of the Mausoleum of Halicarnassus and the Temple of Artemis and Egypt's Pyramids of Giza.
Access to 70 UNESCO World Heritage Sites, including Quito, the capital of Ecuador, UNESCO's first world cultural heritage site; Yangon's Bagan Archaeological Zone and Monuments; Tanzania's Mt. Kilimanjaro; Croatia's Palace of Diocletian; the Trulli of Alberobello, Italy; Easter Island's Rapa Nui National Park and many more.
Five maiden calls in Gladstone, Australia; Madang and Wewak, Papua New Guinea; Ternate, Indonesia; and Haa Alif Atoll (Utheemu), Maldives.
Overnight stays in Panama City, Panama; Callao, Peru; Easter Island, Chile; Bora Bora and Papeete, French Polynesia; Sydney, Australia; Rabaul, Papua New Guinea; Bali (Benoa), Indonesia; Singapore; Chennai/Madras, India; Colombo, Sri Lanka; Mahé/Victoria, Seychelles; Barcelona, Spain; plus double overnights in Yangon, Myanmar; Mombasa, Kenya; and Venice, Italy.
Focused destination segments in the Caribbean and South America; South Pacific and French Polynesia; Australia, Papua New Guinea and Indonesia; Southeast Asia and India; the islands of the Indian Ocean and Africa's east coast; Egypt and the Arabian Peninsula; and the Dalmatian Coast and the Adriatic.
Crystal's 2023 World Cruise has already been extremely well-received by Crystal Society members during their exclusive booking window and opens for sale to all guests today; fares for Crystal's 2023 Wild Kingdoms & Exotic Discoveries World Cruise begin at $46,699 per person.