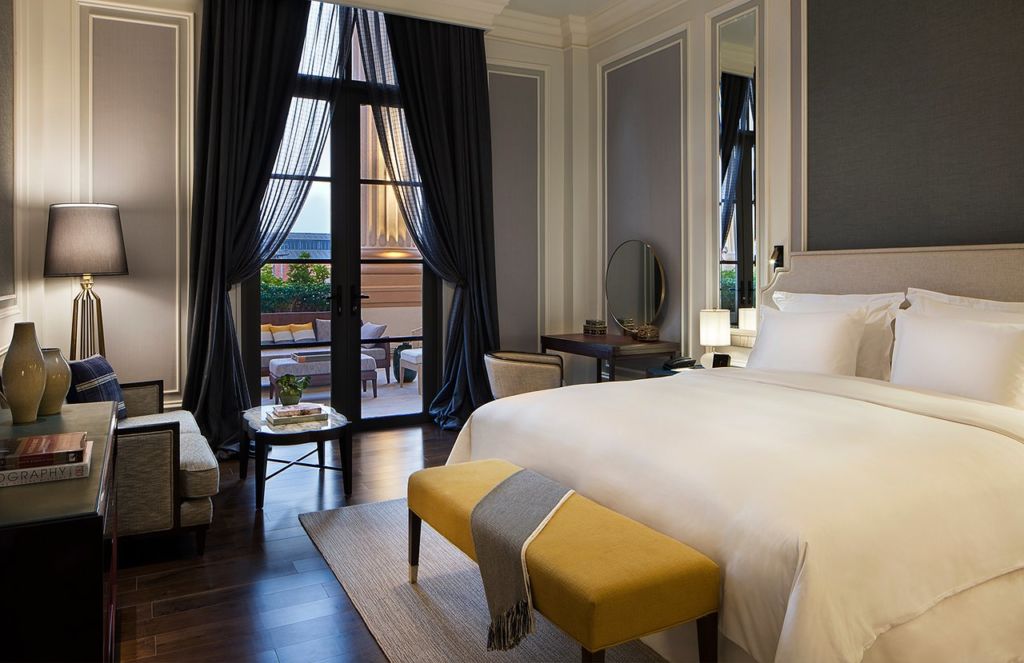 Showcasing a fusion of contemporary Burmese style and old-world grandeur, Rosewood Yangon opens its doors today. As Myanmar continues to welcome a fast-growing number of international travelers, the hotel takes on a transformative role in the country's largest city, combining an elevated level of luxury with strong cultural outreach.
Housed in one of the grandest and most expansive buildings built during the colonial era, formerly the New Law Courts built in 1927, the hotel is located in the heart of the historic center amidst other heritage buildings at the junction of the famous Strand and Sule Pagoda Roads. With its dramatic row of original three-story-high Ionic colonnades, the hotel forms a formative presence on the banks of the Irrawaddy River.
The hotel exquisitely expresses the Rosewood brand's A Sense of Place®, the Rosewood Hotels & Resorts® brand philosophy of reflecting the history, culture, architecture and sensibilities of the location.
Guests arrive at the Rosewood Yangon 's majestic portico, lit by three immense, 1920s chandeliers, before stepping through two sets of grand iron-framed doors into the lobby. Above the reception desk, a stunning mural by famed local artist Than Kyaw Htay immediately evokes the charm of Myanmar with sunset-bathed pagodas atop peaks floating over a rugged landscape.
Every step throughout the hotel showcases the hotel's transformation – one that preserves the architectural past while offering the ultimate in contemporary comfort. A wide range of facilities available under one roof includes five distinctive dining venues; recreational options including a spa, a rooftop infinity pool and a fitness studio; extensive meeting facilities featuring a grand ballroom, bridal suite, event studio, Heritage Salon and three meeting rooms; and a sophisticated retail gallery and barber shop.
The hotel's 205 stylishly designed rooms and suites are carefully crafted to highlight the architectural beauty of the building. Along with high ceilings and abundant natural light, most guestrooms feature patios and balconies with view overlooking the city or beautifully landscaped internal courtyards.
The refined Executive Rooms, starting at 45 square meters, have been thoughtfully conceived to create comfortable, residential-style living spaces that are equally suited to business and leisure stays. The property's suite collection boasts the 90-square-meter Rosewood Suite, which includes a separate enclosed bedroom and a spacious terrace that is ideal for afternoon tea or in-room dining experiences.
The Suites have been tastefully decorated using a combination of the old world and the new. Dazzling lacquerware and papier-mâché objets d'art from upcountry Bagan, along with handwoven bed-throws and cushions created by artisans from non-profit Turquoise Mountain, evoke a sense of place. Paintings by Nyein Chan Su lend a contemporary ambience to the elegant guest suites with his bold use of color in semi-abstract compositions. Meanwhile, Pyayt Phyo Aung's stylized portraits of young Myanmar women wearing traditional thanaka paste on their faces, displayed at guestroom entryways, create a warm and welcoming touch.