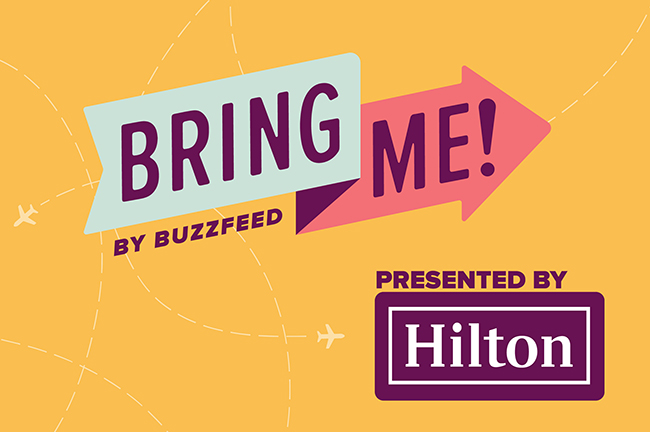 Hilton and BuzzFeed today announced a new partnership that pairs content from BuzzFeed's travel brand, BringMe, with Hilton's industry-leading direct-booking benefits to streamline the consumer travel experience and make it easier than ever to book a travel experience.
Through the partnership, Hilton is now the exclusive global hotel partner and the official title sponsor of BringMe as of January 2020. The partnership includes an extensive affiliate program that directs readers to Hilton promotions in relevant BringMe content and utilizes BuzzFeed's innovative marketing operating system including native and experiential strategies.
"BuzzFeed's strength is building brands that drive action IRL. Tasty empowers millions of people to cook and try new recipes every day and now BringMe is inspiring young people to visit new places and explore new things," said Jonah Peretti, BuzzFeed's CEO and founder. "Partnering with Hilton brings us even closer to our audience, and also makes it easier for them to make travel plans by booking directly. Through our shared consumer-first approach, we're able to provide utility for our audience in a new way."
Since its launch in 2018, BringMe has become the largest and fastest-growing travel and experience digital publisher, and has built a strong relationship with its massive audience to become the No. 1 travel creator globally per unique viewer and by minutes watched, according to Tubular Labs. Hilton has a longstanding history of embracing technology and innovation and has invested resources to anticipate consumer needs and facilitate the best possible travel experiences. BringMe's unique and accessible travel content combined with Hilton's direct booking benefits helps audiences go one step further from seeing an experience online to booking it for themselves.
"Today's consumers are rapidly evolving their content consumption habits, which means getting the right message in front of the right customer at the right time requires innovation and agility," said Kellyn Kenny, Hilton's chief marketing officer. "We're partnering with BuzzFeed because they're a powerhouse digital media company with the tools to showcase Hilton's incredible portfolio of brands and award-winning Hilton Honors loyalty program in a way that will inspire millions of travelers around the world."
Industry trends reveal that younger audiences tend to focus on overall travel experiences, rather than singular made-for-Instagram moments, trust peer-to-peer influence over big aggregators to guide their travel planning and are more likely to book with a company with a strong corporate responsibility record. By approaching travel through an accessible point of view, BringMe is uniquely positioned as that trusted friend who can lead them to the right experience and its content has a proven track record for driving real-world action.
"BuzzFeed is developing best of breed content experiences and integrating with Hilton's world- class brands and diverse portfolio of properties," said Armin Molavi, Hilton's vice president of global media strategy and execution. "This partnership is going to develop true value for their readers and our guests." Through the partnership, Hilton becomes the bridge and travel champion for younger audiences as they increasingly travel more for both business and leisure all over the world. With 18 brands offering distinct experiences, Hilton is perfectly positioned to make their dream travel experiences reality in addition to the assurance they are booking with a company that embodies values they care about.
Hilton is the first major hotel company to use science-based targets to reduce carbon emissions and is committed to doubling its investment in social impact and cutting its environmental impact in half by 2030. Efforts such as its food donation program that will feed 160,000 annually across the U.S. and Canada while also reducing millions of pounds of food waste to landfills are part of a global corporate responsibility strategy Hilton calls Travel With Purpose. The company also leads in efforts to send zero soap to landfills and reduce single use plastics and collaborates with organizations such as the U.N. and local groups on promoting more sustainable travel. In the U.S., Hilton was voted the #1 Best Place to Work, #1 for diversity and inclusion and #1 for women and #2 in the world by Fortune and the independent Best Places to Work organization.
The partnership builds on BuzzFeed's recently announced plans to fix the longstanding attribution problem where digital middlemen capture profit for the value that media publishers provide. Through this partnership, BuzzFeed's industry-leading affiliate business is applying learnings from mastering retail and building a more sophisticated affiliate business for travel. By creating a direct link from BuzzFeed content to Hilton's booking capabilities, the partnership helps readers directly engage with offerings relevant to their specific interests from BringMe's unique destinations, travel activities and city journey guides.
"BuzzFeed has built an industry-leading affiliate business and we're excited that this partnership helps us further extend into a more sophisticated model," said Peretti. "This is the first step in solving an industry-wide attribution problem for publishers, and we're proud to pave the way and work with an innovative leader like Hilton to create content that inspires our audience to travel."