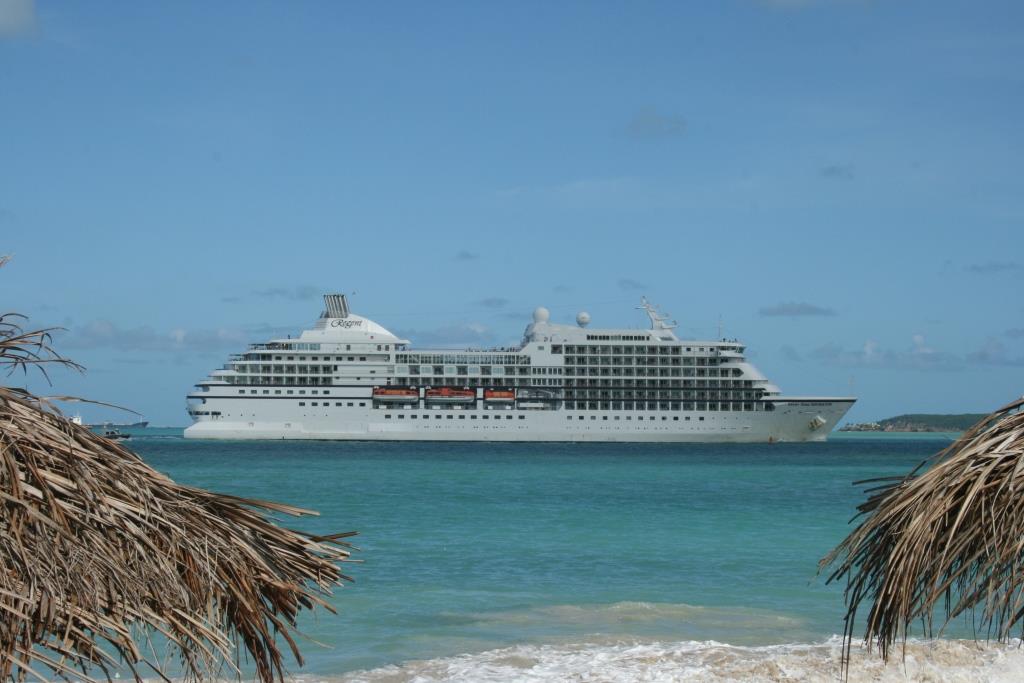 Today Regent Seven Seas Cruises opened reservations for seven new luxury voyages that will be added to its 2022 offerings. The seven-voyage collection, called Marvels of the Pacific Rim, will sail aboard the world's first all-suite, all-balcony ship, Seven Seas Mariner, and includes Free Unlimited Shore Excursions, multiple overnights in exciting ports, access to dozens of UNESCO World Heritage Sites and Free Pre- or Post-Cruise Land Programs on select voyages.
Luxury travelers will discover wonderous evening beauty with multiple overnights in ports like Auckland, Sydney, Ho Chi Minh City, Hong Kong, Shanghai, Tokyo, and more. The included Free Land Programs invite guests to explore these destinations further, such as Sydney Icons, the Jewels of Hong Kong and Vibrant Tokyo, among others. Guests can extend their time ashore and explore even deeper with an optional Overland Program to experience the Great Wall of China or Angkor Wat's stunning temples.
"South Pacific, Australia, New Zealand and Asia continue to be among the most popular and compelling ports for luxury travelers," said Jason Montague, president and chief executive officer of Regent Seven Seas Cruises. "Our new collection delivers An Unrivaled Experience™, allowing guests to immerse themselves and fully discover the best of this marvelous part of our world, while returning home to the exquisite comfort and care on board with every luxury included."
Escape to the Majesty of Europe with Cruisedirect.com! EXCLUSIVE – Up to $500 to Spend Onboard!
The Marvels of the Regent Seven Seas Pacific Rim Collection
QUINTESSENTIAL SOUTH PACIFIC – SAN FRANCISCO TO PAPEETE (TAHITI)
JAN. 5, 2022 | 18 Nights aboard Seven Seas Mariner
Nothing evokes a sense of paradise like the South Pacific. Marvel at the wonders of cascading waterfalls nestled in island mountain forests and feel the freedom of riding the surf around the shores of some of the world's most coveted coastlines when embarking for more than two weeks of golden sunsets, from Hawaii to Tahiti.
HEAVENLY ISLANDS & THE CITY OF SAILS – PAPEETE (TAHITI) TO AUCKLAND
JAN. 23, 2022 | 16 Nights aboard Seven Seas Mariner
Delve beneath some of the world's most pristine ocean waters to explore a selection of Polynesia's most stunning locales. The shared lagoon between Raiatea and Taha'a is teeming with vibrant sea life, while a Free Post-Cruise Land Program exploring New Zealand's Natural Wonders is the perfect conclusion to this heavenly escape.
NATURAL MARVELS & MAORI CULTURE – AUCKLAND TO SYDNEY
FEB. 8, 2022 | 14 Nights aboard Seven Seas Mariner
Few places in the world offer as much variety in landscape and intrinsic beauty as New Zealand. Sail south from Auckland to explore the eastern coast of this marvelous country, from the geothermal region around Lake Rotorua and the cultural insights found in the Waitangi estuary to the majesty of Milford Sound.
A GOLDEN COAST & URBAN WONDERS – SYDNEY TO SINGAPORE
FEB. 22, 2022 | 21 Nights aboard Seven Seas Mariner
Experience the Land Down Under and beyond on this 21-night voyage from Sydney to Singapore. Enjoy an overnight in Brisbane and cruise the Gold Coast, from the Great Barrier Reef to the shores of Bali for an overnight, uncovering captivating wonders along the journey. Choose to soak up Sydney's urban beauty and explore Sydney Icons with a Free Pre-Cruise Land Program, or opt to Discover Singapore on an enriching Free Post-Cruise Land Program with an immersive overnight in brilliant Singapore.
SWEET SPICES & SAVORY DELIGHTS – SINGAPORE TO HONG KONG
MAR. 15, 2022 | 16 Nights aboard Regent Seven Seas Seven Seas Mariner
Southeast Asia is a haven for some of the most delectable cuisine on the planet and offers among the most enchanting scenery and fascinating cultures. Overnight in five different cities including Bangkok, savoring the sweet and spicy flavors of Thailand's street food scene, and delight in the otherworldly beauty of Ha Long Bay, the Bay of the Descending Dragon, near Hanoi. To top it off, choose to Discover Singapore or explore The Jewels of Hong Kong on a Free Pre- or Post-Cruise Land Program for the perfect addition to this 16-night adventure.
WEST TO EAST IN ASIA – HONG KONG TO TOKYO
MAR. 31, 2022 | 15 Nights aboard Seven Seas Mariner
China and Japan harbor a wealth of historic sites, natural beauty and cultural wonders. Start this 15-night voyage with a Free Pre-Cruise Land Program discovering The Jewels of Hong Kong or conclude it with a Free Post-Cruise Land Program in Vibrant Tokyo. Along the way, savor four different overnights in Xiamen, Shanghai, Kyoto and Tokyo while witnessing the subtropical beauty of some of Japan's smaller islands like Okinawa and Oshima.
VOLCANIC SIGHTS & GLACIAL HEIGHTS – TOKYO TO SAN FRANCISCO
APR. 15, 2022 | 20 Nights aboard Seven Seas Mariner
Few forces in the world are as imposing and magnificent as fire and ice. Experience their marvels sailing from the futuristic wonders of Tokyo to the ancient Kamchatka volcanic region around Petropavlovsk, a UNESCO World Heritage Site. Then, journey east to Alaska for some of the most majestic scenery on earth before enjoying a Free Post-Cruise Land Program in San Francisco and Sausalito.