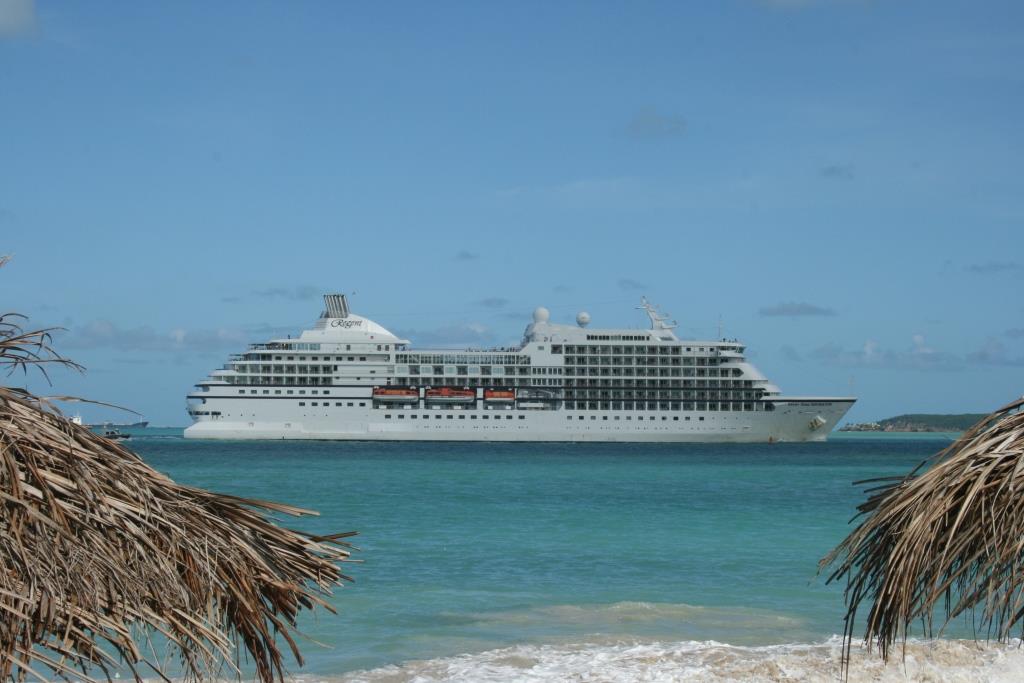 Regent Seven Seas Cruises is celebrating seven exciting destination firsts, all of which are perfect for the luxury traveller who is eager to reinvigorate their bucket list, explore unique destinations or immerse themselves in exciting new experiences.
From mid-2021 to early 2022, several of the line's spacious and stylish ships will embark on inaugural seasons and voyages across the globe to the likes of Alaska, Asia, Australia and New Zealand, Northern Europe, and even Antarctica.
"There is substantial appetite for luxury travel, with future trips being planned right now to be taken when the time is right," said Jason Montague, president and CEO, Regent Seven Seas Cruises. "Our guests are passionate about travel and we are constantly evolving our itineraries and shoreside experiences to ensure discerning travellers have access to the most authentic and original experiences available. From inaugural seasons to brand new ports of call, we are thrilled to showcase this inspiring number of destination firsts, which, when combined with our highly personalised onboard service, every imaginable luxury included, and free unlimited shore excursions, creates a truly unrivalled experience."
1. Seven Seas Splendor® Journeys to Northern Europe for Maiden Season
Launched in February 2020, Seven Seas Splendor will embark on her first Baltic and Northern European season in 2021, allowing guests to truly experience luxury perfected.
During her inaugural tour of Northern Europe and the Baltics, guests can choose from a range of mesmerising itineraries, including a lavish 14-night sailing from London to Copenhagen. Departing August 6, 2021, the Magnificent Fjords and Peaks voyage will visit sought-after ports of call in Denmark, Sweden, Latvia, Estonia, Russia and Finland, with overnight stays for an immersive experience in both St. Petersburg and Stockholm.
In St. Petersburg, guests can choose from up to 26 shore excursions – 13 of them free – including canal cruises and a visit to the decadent Catherine's Palace in Pushkin; while in Stockholm, discerning travellers can enjoy a true taste of Scandinavia with up to 11 shore excursions, including a local subway art tour, a traditional bohemian market or the iconic Nordic Hotel Ice Bar.
With Seven Seas Explorer® – the most luxurious ship ever built – as her sister ship, Seven Seas Splendor further elevates the highest benchmarks of personalised service and comfort, delivered by highly attentive crew members caring for guests in 375 beautifully appointed suites, ranging from 28 – to – 412 square metres. Lavishly designed public spaces include five exquisite and unique restaurants and three elegant bars and lounges, while a $5 million curated art collection, more than 500 crystal chandeliers, and over an acre of Italian marble complement the ship's sophistication.
View Seven Seas Splendor's maiden Northern Europe and Baltic season here.
2. Alaska welcomes Seven Seas Explorer® for the First Time
Next year, Seven Seas Explorer will set sail for the dramatic landscapes of Alaska for the first time, offering guests a series of exciting 7-night itineraries between Vancouver and Seward to choose from. Presenting one of the highest crew-to-guest ratios at sea, the all-suite, all-balcony Seven Seas Explorer boasts opulent accommodations, superb specialty dining and hundreds of works of art on board, including pieces by Picasso and Chagall.
A highlight itinerary is the stunning Klondike Adventure. Departing September 1, 2021, this 7-night voyage will treat guests to breathtaking scenery, including jagged glaciers, inky blue waters, rocky mountain peaks and incredible wildlife including views of the Hubbard Glacier and Inside Passage. To really immerse themselves in the Last Frontier, travellers can also select from up to 53 exhilarating free shore excursions, including hikes in leafy rain forests, whale watching, and skimming beautiful lakes in a float plane.
Discover Seven Seas Explorer's maiden Alaska season here.
3. Seven Seas Splendor's Inaugural Grand Tour of Europe
On August 30, 2021 Seven Seas Splendor will set sail on her first-ever Grand Tour – an opulent 59-night voyage encompassing the most sought-after ports of Western Europe.
After departing Stockholm, Seven Seas Splendor will explore historic favourites in Scandinavia and the Baltics, including an overnight stay in St Petersburg, before enjoying the best of the British Isles, followed by the flavours of France, Spain, Morocco, the Amalfi Coast, Croatia and the Greek Isles – before culminating with the historic treasures of Turkey.
With an incredible 338 free shore excursions to choose from, as well as bespoke amenities including a one-night pre-cruise hotel stay and unlimited valet laundry, guests are guaranteed a truly unforgettable experience. Shore excursion highlights include the colourful town of Asilah from Tangier, Morocco, renowned for its palace, bazaar shopping and cultural cuisine; or an insider's tour of a family estate's olive groves in Montenegro, where guests will taste the region's famed 'liquid gold'.
4. A Pre-Cruise Adventure in Tokyo
Regent Seven Seas Cruises is famed for its innovative and inclusive land and hotel programmes, and Tokyo is the latest addition to the collection. Offering guests a free three-night stay to discover one of Asia's most exciting cities, the Vibrant Tokyo pre-cruise programme invites travellers to explore the city's delightful contrasts. From ancient temples to high-rise observation decks, exceptional cuisine, buzzing shopping districts and tranquil gardens, this adventure is one not to be missed.
The pre-cruise land tour of this phenomenal city can be enjoyed as part of Seven Seas Explorer's Zen Gardens & Samurai Legends 10-night, October 23, 2021 sailing – an intensive cruise of Japan, including a stop in the port of Busan, South Korea.
5. Seven Seas Explorer's debut Down Under
From late 2021, Seven Seas Explorer will embark upon her inaugural Asia-Pacific season with 8 all-inclusive itineraries focusing on Australia and New Zealand.
Guests on board the Holiday Down Under voyage will have an incredible opportunity to enjoy Christmas and New Year's Eve celebrations aboard the decadent Seven Seas Explorer. Departing Sydney on December 20, 2021 for 16 nights, travellers will explore iconic local ports including Burnie in Tasmania, the fjords of Milford Sound, New Zealand's magnificent Bay of Islands and the volcanic hills of Akaroa.
Free shore excursions include a truly indulgent Cheese, Chocolate & Wine tour in Burnie sampling the region's epicurean delights and robust wines; or horse riding along the secluded beaches of New Zealand's striking Waipu Coast.
Find the full list of Seven Seas Explorer's Asia-Pacific inaugural voyages here.
6. Traditional Caribbean Charm in Iles des Saintes, Guadeloupe
In January 2022, Seven Seas Navigator® will be the first ship in the Regent fleet to sail to the Iles des Saintes islands in Guadeloupe, home to a genuine taste of traditional Caribbean life, stunning mountains, green iguanas, beautiful beaches and incredible diving.
Iles des Saintes is one of the ports-of-call on the 30-night Complete Caribbean round-trip voyage, sailing Jan 6, 2022 from Miami, which visits exotic destinations, from across the east and west Caribbean, such as the Cayman Islands, Jamaica, the Dominican Republic, Puerto Rico, St Barts, St Lucia, Barbados, Mexico, Columbia and Belize.
7. Regent's First Scenic Sailing to Antarctica Since 2011
Adding the seventh continent to the Regent fleet's already impressive destination list, Seven Seas Voyager's® 19-night Journey to Antarctica is a once-in-a-lifetime scenic voyage, round-trip from Buenos Aires.
Departing January 31, 2022, this sailing offers guests spectacular viewing over three days of some of the White Continent's best-known sights and unique wildlife spanning seals, whales, penguins and seabirds – all from the balcony of their suite or one of the ship's panoramic viewing decks. Highlights include the majestic cliffs of Neumayer Channel, Paradise Bay's icy landscapes, and the stunning marine life of Dallmann Bay.
To make the experience even more memorable, guests can also enjoy a free three-night Chilean Wonders and Wines pre-cruise land programme, or a free three-night post-cruise land programme in lively Buenos Aires.
The sailing is the luxury line's first time to the region since 2011. Other notable destination returns include Seven Seas Mariner's® exploration of the Black Sea as part of its 12-night, Colossus to Parthenon sailing on June 20, 2021, and Seven Seas Voyager's 22-night, Adventure in Africa sailing on October 30, 2021 which revisits the Seychelles, Mauritius and Réunion in the Indian Ocean.