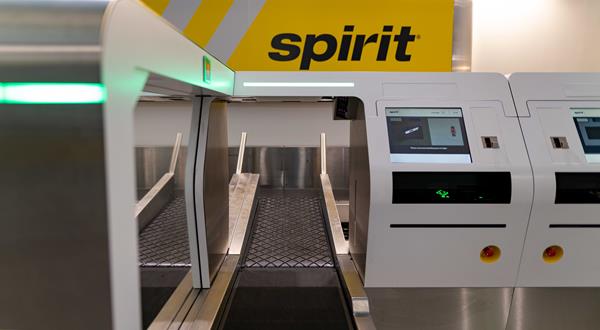 Spirit Airlines delivered an industry-first on Tuesday for the New York City metropolitan area. As part of its multi-year Invest in the Guest initiative, the airline unveiled an automated and expedited self-bag drop for processing checked luggage at its ticket counter at LaGuardia Airport.
Spirit partnered with Materna Intelligent Passenger Solutions (IPS) North America, a US-based industrywide leader in automated passenger handling solutions, to introduce the technology in the tri-state area. Materna powers self-bag drop operations at major international airports such as Toronto (YYZ), Denver (DEN), Minneapolis−Saint Paul (MSP), London (LGW), and many more across Europe and Asia. Several U.S. airports utilize self-bag drop operations purchased and managed by the airport, but Spirit is the first carrier in the nation to pursue the technology as an airline-level initiative with four new units.
"Adoption of self-bag-drop machines is high in Europe, Asia and Canada, and we see a bright future for this technology to improve the Guest experience in the U.S.," said Ted Christie, President and CEO of Spirit Airlines. "New York is the perfect place to bring this innovative technology, giving our tech-savvy Guests more options during the check-in process and getting them to the gate faster."
The new self-bag drop for checked luggage employs a two-step approach. Guests start by printing a bag tag at a kiosk following check-in. Once the bag is tagged, Guests go to the machine and scan their boarding pass to initiate the process. The bag is measured, weighed, scanned to ensure that it's the correct size and weight, and Guests watch as the bag is automatically fed into the baggage handling system to be routed for flight. The self-bag drop is also payment-enabled to avoid waiting to speak with a representative, if needed. Additionally, an agent will be in the area to assist as needed and to ensure security compliance.
"We are delighted to have Spirit Airlines implement this new automated and time-saving self-service bag drop system for its customers at LaGuardia Airport," said Tony Vero, Interim General Manager of LaGuardia Airport. "As the airport undergoes a major $8 billion redevelopment, LaGuardia and its partners are continuing to find new and innovative ways to provide efficient and customer-friendly services to improve the customer experience."
One of Spirit's approaches to improving the customer experience at check-in is to eliminate as much of the wait time as possible.
"Results from our self-bag drop equipment in service worldwide show each passenger averaging 1 minute 30 seconds at a traditional check-in counter," said Gary McDonald, Materna's President, North America. "Our Materna equipment shaves at least 30 seconds off that time depending on the local set-up, and when you multiply that time difference across hundreds of passengers each day, airlines clear their lobbies much faster and the passenger benefits from the queue reduction."
Spirit will maintain a hybrid service at its LGA ticket counter with both a classic agent counter and four self-bag drop units to allow flexibility for Guests. The new self-bag drops will be introduced at Spirit's larger stations across the U.S. in 2020 and 2021.
Delta Air Lines and Virgin Atlantic are launching 18 self-service bag-drop units at London Heathrow's Terminal 3.