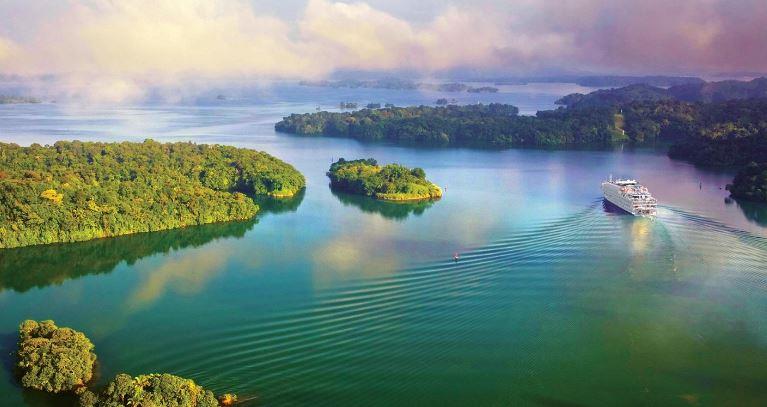 Pearl Seas Cruises will sail through the Panama Canal on a new 7-night Panama Canal cruise itinerary that kicks off this December on Pearl Mist.
The sailing brings guests from Cartagena to San Blas Islands, Gatun Lake in the Canal, Las Perlas Archipelago, and Panama City.
Pearl's Panama Canal Cruises offer a once in a lifetime experience to travel the entire length of the Panama Canal–one of the greatest engineering marvels in modern history. Guests will relish this rare up-close passing, as they cruise between the Atlantic and the Pacific Oceans, in complete comfort aboard the Pearl Mist, the Line'sall-private balcony, fully stabilized, 210-passenger ship.
Pearl Seas will offer departures from both Cartagena and Panama City, with a pre-cruise stay included in the fare in both cities. The line will offer post-sailing stays for an extra cost in both cities, as well.
Experience the Man-Made Magic of the Panama Canal! Book Your Panama Canal Cruise Today, Only at Cruisedirect.com! EXCLUSIVES – Up to $1,000 to Spend Onboard & 10% Off Shore Excursions!
Cruising through this region aboard the Pearl Mistis the most amazing way to explore it. As the Pearl Mist navigates Gatun Lake and the Panama Canal, guests can view the canal's massive lock system up close for a front row view of one of the seven wonders of the modern world. The Pearl Mist'sall private balcony staterooms with full-size sliding glass doors offer a private sanctuary for guests to experience this amazing environment. Only the fully stabilized Pearl Mist offers the smooth sailing advantages of the large ships while also providing the access and intimate exploration advantages only possible on a small ship.
Pearl's Panama Canal Cruise also sails through the Las Perlas Archipelago, with a stop on Contadora Island, a popular tourist destination. The amazing new voyage concludes in Panama City, where guests can explore the Casco Viejo, the old city, built in 1674 and accented with French and Spanish Colonial style architecture.