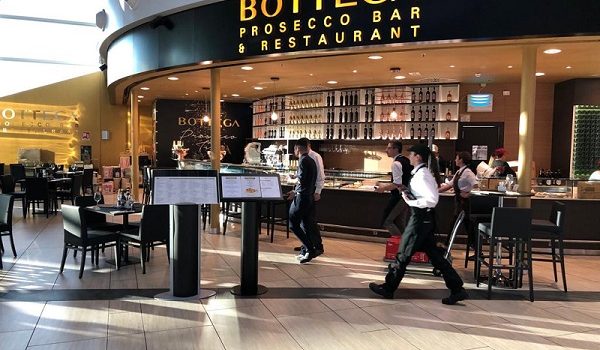 On Friday 8th November the new Bottega Prosecco Bar & Craft Beer was inaugurated at Dubai Airport, at Terminal 3 (A Gates).
A new location where the perfect combination of quality drinks and traditional Italian dishes offers an excellent and unforgettable tasting experience. It will be one of the key locations of the project, as Dubai is the main airport hub in the world, with a traffic of 89 million passengers in 2018. The Arab Emirates airport is, in fact, the major hub of most air connections between Europe, Asia, Oceania and the Middle East. A perfect location to host the Bottega Prosecco Bar, a welcoming and elegant place, where guests can taste a good glass of Prosecco and more. In addition to the Prosecco Doc and Docg, in fact, there will also be other wines from the Bottega range.
The drinks list is also complete with a wide range of cocktails and craft beers. Our wines can be paired with delicious Venetian "cicchetti" and cutting boards, or with Italian dishes, made with carefully selected ingredients. The Bottega Prosecco Bar in Dubai is the twenty-fifth location open all over the world.
During 2019 another 4 new openings are planned both in Italy and abroad in order to spread throughout the world the warmth, elegance and style of Italian culture, known worldwide for its delicious cuisine and for its great wines. A concept that Bottega has been pursuing for several years now.