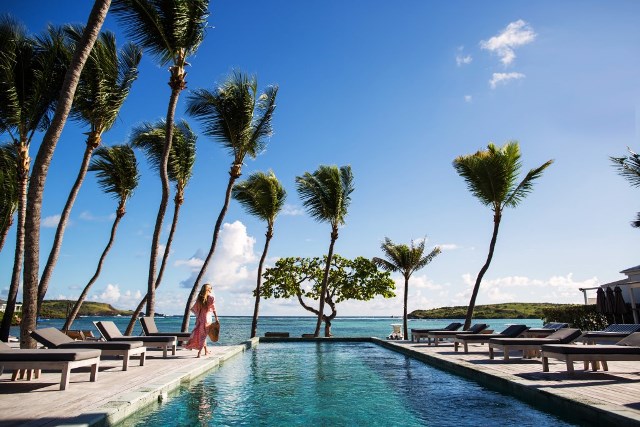 Le Sereno St. Barth's, Photo credit: Christian Oth
When getting married there are so many things to consider and much planning is necessary. Whilst the main focus is usually on your big day, it is also worth spending a fair bit of time planning the second most important thing – the honeymoon! After your wedding day is over, you can get away, just the two of you, and spend some quality time together.
With its idyllic beaches and so many amazing things to do and see, it's no wonder the Caribbean is one of the most popular honeymoon locations with newlyweds. Here are some ideas on how to plan for the perfect honeymoon in the Caribbean.
Book time off work
One of the first things to do is to make sure your employers are happy for you to have the time off. Some people like to go on an extended honeymoon so make sure you have been given you the go-ahead before making any plans. Figure out how long you want to be away and then submit your holiday request for approval as soon as you possibly can.
Budget
This will be the trip of a lifetime so carefully plan your budget. You will no doubt want to experience as many things as possible, so you need to save as much as you can. Nowadays it is not unusual to ask guests to give money towards a honeymoon instead of buying wedding gifts.
Passports
Make sure you both have up to date passports. Whilst these usually don't take too long to renew or obtain, always try and make sure you have these before booking. You don't want it to escape your mind and end up with a last-minute panic!
Choose a destination
There are so many wonderful places within the Caribbean, it may be difficult deciding which one you want to visit. It's a good idea to decide what you want out of a holiday and narrow it down from there. One thing is for sure, sun, sea, and jaw-dropping views are on the cards regardless of where you decide. Here are only a few of the many options available:
Lucia
St. Lucia attracts around 400,000 tourists per year and is always popular with honeymooners. Perhaps best known for The Pitons, its dramatic landmark mountains, as well as an abundance of rainforest, St. Lucia is a real hit with nature lovers. The Treetop adventure park offers fabulous fun. Admire the rainforest views whilst zip sliding in the treetops. If you prefer something more aquatic, go on a dive boat from Marigot Bay and spend some time snorkeling in the clear crystal waters.
British Virgin Islands
A string of islands located east of Puerto Rico, the British Virgin Islands are the perfect spot for any avid sailor or even just those who lovely relaxing sandy beaches and stunning views. If you want to take to the water you can do so with BVI bareboat charters. If you aren't too confident or prefer someone else to take the helm, you can always hire a skipper. Private charters offer you the freedom to explore. If you are a bit of a foody, there are a host of restaurants offering locally grown produce and freshly caught seafood. The beaches in the British Virgin Islands are like paradise. The sand is soft and fine, and the views are breathtaking.
Cayman Islands
The gorgeous Cayman Islands are a must if you love diving. The islands that make up the Caymans are surrounded by crystal clear waters, making it considered to be one of the best diving spots in the whole of the Caribbean. Bloody Bay Wall can be found in Bloody Bay Marine Park in Little Cayman. A reef that starts around 20 feet below sea level and plummets more than 1000 feet. Seven Mile Beach in Grand Cayman is said to be one of the Caribbean's best. The Cayman Islands is a luxury resort hosting some amazing hotels. If it is a high-end deluxe holiday that you are after, you will not be disappointed.
Barts
Popular with the rich and famous, this chic Caribbean island is an extremely popular honeymoon resort and the ideal escape location. Whether you enjoy shopping, relaxing or even sailing, it has something for everyone. Baie de St. Jean is possibly one of the loveliest beaches in the world. With its vibrant turquoise waters and idyllic views, it is said to be reminiscent of a day on the French Riviera. It is not to be missed.
Insurance
Once you have made your booking, it is very important to get travel insurance. You can buy annual or single travel policies. If you intend going on more than one trip within the next 12 months, an annual policy may prove most cost-effective. Make sure if you intend doing any water sports or other activities during your stay that your policy covers you. Some policies will only cover the basics so always check the small print.
Vaccinations
Check with your doctor whether any vaccinations are needed for your chosen location. This will depend where you are travelling from and to. You do not want to contract any preventable illnesses during your stay.
Itinerary
It's a good idea to try and plan your trip in some detail before arriving. If possible, book excursions, tours, and activities beforehand. This will make it far easier when putting together an itinerary. Make a list of the activities you want to do, things you have pre-booked and places you want to visit. If you have a rough idea before you go, it will make things a lot easier. It should also ensure that nothing important is forgotten about.
Make sure you leave some time to relax. Your honeymoon will be one of the most special times of your life. As well as appreciating the scenery, food and gorgeous weather, make sure you take time to appreciate each other. Your life together starts now.