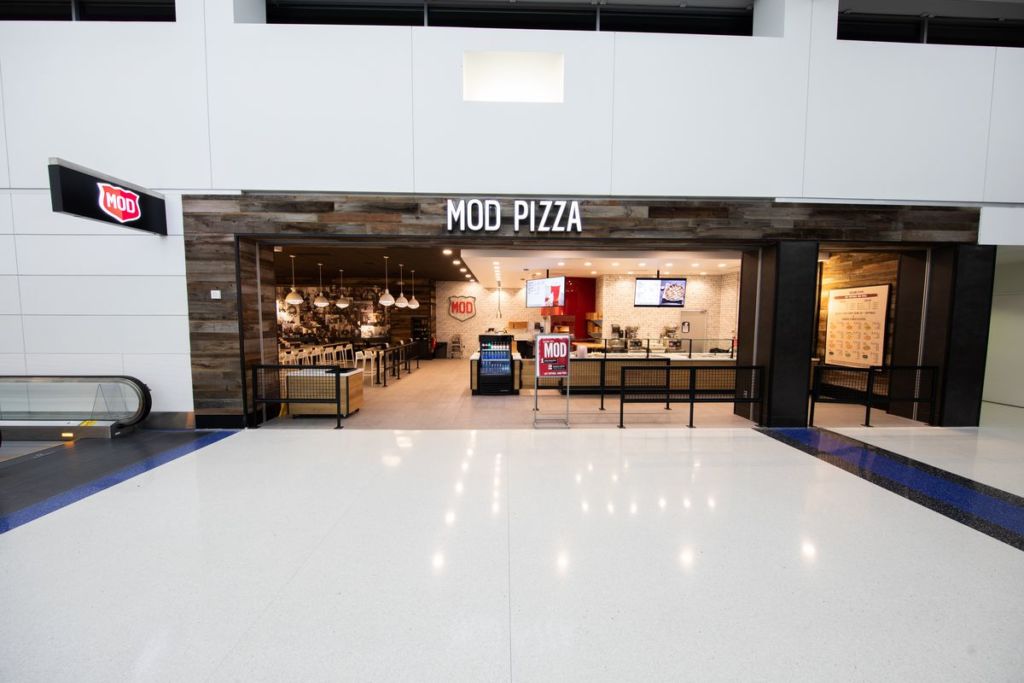 Detroit Metropolitan Wayne County Airport (DTW) is pleased to announce the opening of the five newest restaurants in the North Terminal. The restaurants include: Starbucks, a coffee brand recognized globally; National Coney Island, an All-American diner that has been part of Metro Detroit for over 50 years; Common Grace Coffee Co., a local café specializing in the roasting of fine specialty coffees; MOD Pizza, the original superfast pizza experience delivering hand-cooked pizzas in just minutes; and McDonald's, an American fast food restaurant known around the globe.
The restaurants represent the second part of a multi-phased dining redevelopment project. Starbucks opened on June 15. National Coney Island, which has been a staple in the North Terminal since 2008, opened in its new location on August 28. Common Grace opened on September 11. MOD Pizza opened on October 1 and McDonald's opened in its new location on November 15.
"Detroit Metropolitan Airport is known for its many dining options," said Wayne County Airport Authority CEO Chad Newton. "We are pleased to offer new concepts and even more choices for those traveling through our North Terminal. DTW is consistently being recognized for its terminal facilities, and our concessions are a key reason why. I'm confident our customers will enjoy the fresh appeal of our newest locations."
The redevelopment program includes 15 food and beverage concepts, many of them Metro Detroit favorites. The restaurants are operated by four concessionaires (HMSHost; DTW North Partners, LLC; NAC-MAC Concessions, LLC and McDonald's USA) who exceeded the Airport Authority's requirements for partnering with ACDBEs—Airport Concessions Disadvantaged Business Enterprises. The ACDBEs for the North Terminal food and beverage program are: AP United, LLC; AJA & Associates, LLC; Ellis Infinity, LLC; Jamjomar VIII, LLC; Rodriquez Group, LLC and W & W Diversified Services, Inc.
"National Coney Island is thrilled to be an ongoing partner with WCAA, and to open a new location in the North Terminal at Metro Airport," said National Coney Island CEO Tom Giftos. "We are a Detroit-based brand that has always taken a tremendous amount of pride in our name and our presence here in Southeast Michigan. To be a part of the airport, which is a gateway to our city, is very special. As air travel continues to evolve in the coming years, we hope to bring a renewed spirit to the terminal and be an integral component of the world-class concessions program at Detroit Metro."
To ensure a variety of food options are available for customers at all times, the transformation is divided into four phases. The third phase, which includes Pei Wei, Brioche Dorée, Chick-Fil-A and Anita's Kitchen is expected to be completed this winter.
Detroit Metropolitan (DTW) is in the top 5 airports in the U.S. with the best security wait times.