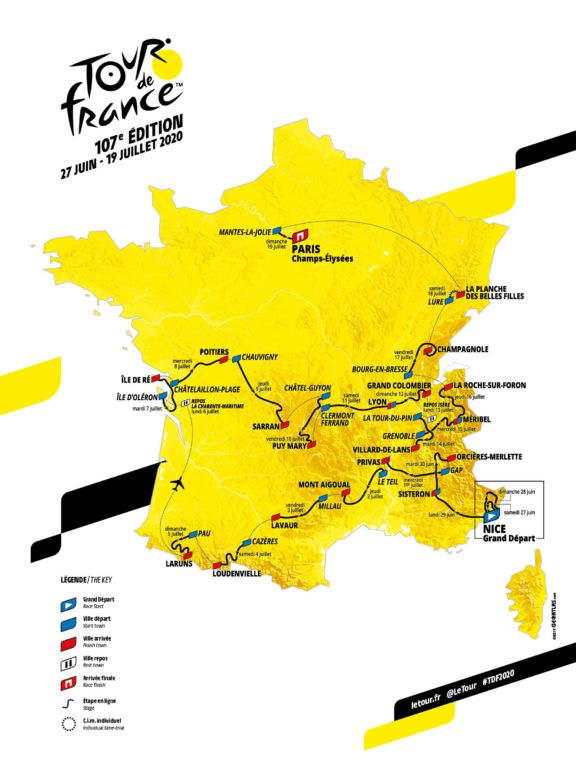 Almost all of the 2020 Tour de France will take place in the south of the country. The route was revealed by organizers on October 15 and promises to be a tough challenge for riders but will once again reveal some beautiful corners of France, in particular, its mountains.
A Tour that starts from the south of France is rare enough to allow the riders to immediately take off ovn an adventure in selective mountains. Indeed the menu of the opening week distinguishes itself by its diversity and a large part of mountain climbing without however just focusing on the usual great passes.
The riders will rapidly get into the thick of things: they will visit three of France's mountain ranges in the first eight days, the Alps, the Massif Central that they will rediscover later and the Pyrenees. As soon as day 2, they will take on two climbs at over 1,500m followed on day 4 by a summit finish at Orcières- Merlette. They will discover the Col de la Lusette, in the Cévennes area on the way to the Mont Aigoual, then the Col de la Hourcère, during the stage to Laruns. The common point of these novelties: tough percentages…
It isn't always necessary to look for the snowiest summits to favour the attacks of the climbers. The unprecedented finishes at Puy Mary and at the Grand Colombier can't rival with the heights of the giants of the Alps and Pyrenees but the harshness of the climbs to respectively tackle during the stage of the Puys and in the final part of the day in the Jura will offer an opportunity to create big gaps. An opportunity that might be even clearer on the line set at the top of the Col de la Loze at an altitude of 2,304 metres, making it the third highest Col of Savoie. Exclusively opened to cyclists last spring, it is the first part of the future Via 3 Vallées. One reaches it after struggling on a demanding road above Méribel and without doubt it will be one of the decisive moments of the 2020 Tour.
Finally, while the climb to La Planche des Belles Filles has rapidly become a classic of the Tour, it will be slightly different this time as the riders will individually battle against the clock to defend the Yellow Jersey or a place on the final podium. After the four other French mountain ranges, the Vosges will have looped the loop of La Grande Boucle.