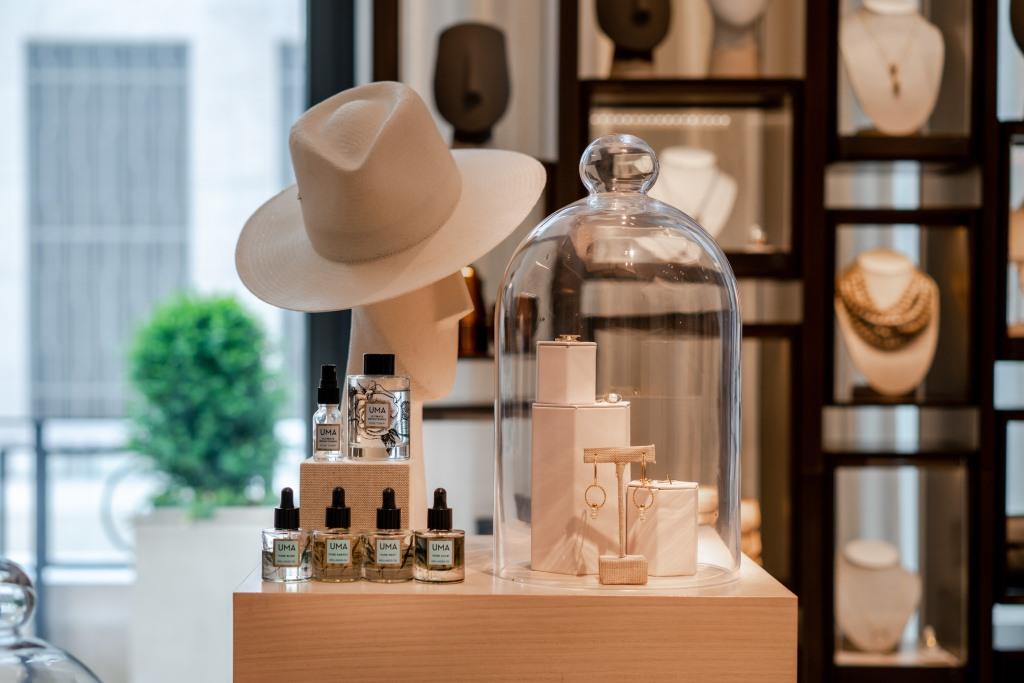 Four Seasons Hotel New York Downtown today announces the launch of a 2019 Holiday Gift Guide, curated by Senior Spa Director Tara Cruz.
The extensive Holiday Gift Guide includes a curated selection of Cruz's favourite items for the holidays and caters to six distinct categories including The Fashion Forward, The Jetsetter, The Wellness Guru, The Fitness Junkie, The Adored and The Ultimate Host. Included is a wide selection of merchandise and experiences for individuals and couples, all available for purchase from the Boutique at Four Seasons Hotel New York Downtown.
Some of the more exclusive products include –
Marc Jacobs x Four Seasons New York Downtown Sweatshirt
Take home a signature Marc Jacobs x Four Seasons Hotel New York Downtown limited-edition sweatshirt by Marc Jacobs in celebration of New York Fashion Week 2019. Featuring an apple motif that pays homage to New York in addition to the iconic brands of Four Seasons and Marc Jacobs, the sweatshirt is the first collaboration of its kind for both brands and was designed to celebrate the union of two storied institutions and a mutual love for all things New York City.
Signature Four Seasons Hotel New York Downtown Candle
Select a specific scent from the dedicated Four Seasons New York Downtown Signature Candle Collection. The collection, which launched in 2018, features five distinctive scents – one for each season and the ever-green spa scent. Designed by General Manger Thomas Carreras, these branded candles allow guests to take home a piece of their New York experience and reminisce over the memories of their stay, long after their trip has ended and they have returned home. Carreras personally designed each scent and worked closely with specialty scent partner Air Aroma to match each of the notes for the seasonal scents to ensure they are on-brand and reflect the character of the Hotel throughout the seasons. Each of the scents are specific to Four Seasons Hotel New York Downtown and are created with the unique New York City environment in mind. Candles can be purchased individually or guests can take home the entire collection.
Personalised Wellness Oil Collection
Take home a personalised wellness oil collection, blended by a wellness expert, specifically for you. The use of essential oils to aid in health and wellness has been around for centuries, dating back as far as Greek and Egyptian times. However it wasn't until 1910 that a French scientist named Gattefosse used lavender oil to aid in the cure of a burn that the term aromatherapie was coined. Alexandra Soveral, Founder and CEO of SOVERAL, has now actualised this ancient art into a modern day science, developing her own food-grade essential oils from a UK distillery that sources locally and responsibly farmed essentials oils. The Spa's Aromatherapy Blend Bar features a selection of nine essential oils, all of which support mood enhancement, physical wellbeing and emotional balance. The personalised oil collection includes five bespoke blended oils.
For those looking for a more experiential gift, some of the highlights include –
Sleep Well, Live Well Experience
The Hotel's Sleep Well, Live Well experience is designed around the search for, and commitment to, the perfect night's sleep. The experience includes a 50-minute Sleep Serenity Massage for two, overnight accommodation in a room or suite, and a customisable take-home Four Seasons Queen Bed, featuring the new mattress and topper collection, designed exclusively by Simmons Bedding Company for Four Seasons.
Resident Healer Session
Enjoy a Resident Healer Session with any one of four exceptional Resident Healers including Deganit Nuur, Rashia Bell, Show Shimazu and Michelle Pirret, all of whom tailor the sessions to the individual's needs. Deganit Nuur is a certified acupuncturist, herbalist, clairvoyant intuitive and meditation instructor whose goal is to improve spiritual and overall well-being. Rashia Bell will help guests explore the healing energy of crystals while practising mindful meditation. Snow Shimazu is a certified travel wellness specialist who incorporates mediation, yoga and advanced massage therapies into her healing methods. Michelle Pirret delivers profound auditory exploration that stimulates the imagination and connects one to their intuition and higher self.
Soak Service in a Hudson Suite
Stay overnight in one of the Hotel's luxurious Hudson Suites with a deep soaking tub, and enjoy an indulgent Soak Service. Choose a curated experience based on unique needs from a menu that includes restore, soothe, detox, seasonal options or the ultimate – a rose revival for two.
Club27 Membership
For the ultimate gift for the Fitness Junkie, give the gift of freedom with a 12-month membership to Club27. The Wellness Membership includes access to amenities including a 75 foot (23 metre) indoor heated swimming pool; eucalyptus steam room; locker rooms and private sundeck from 6:00 am to 9:00 pm daily; 24 hour state-of-the-art fitness centre with laundry service; luxury amenities and daily wellness elixir; quarterly complimentary 80 minute spa treatment of choice; access to private or group yoga, boxing, meditation, aqua-fit and personal training classes, including one complimentary initiation class; 9+ guest passes; access to personal Wellness and Hotel Concierge and more.
Whether looking for an extravagant gesture for someone special or for a more simple subtle hostess gift to take to a dinner party, Cruz has thought of it all.
To view the entire Holiday Gift Guide, visit here.