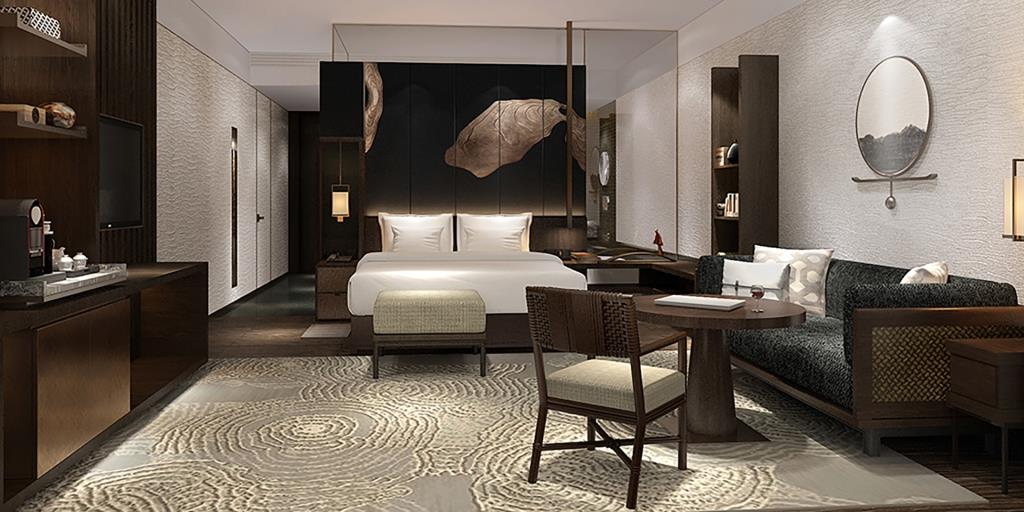 W Marriott recently announced the opening of the new JW Marriott Hotel Qufu in Shandong province, China. Owned by Shandong Luneng, this is the first JW Marriott hotel in Shandong and the 16th in China. The new hotel is an architectural masterpiece that will showcase the brand's philosophy of welcoming guests to this exciting destination with modern luxury and authentic, exceptional service.
JW Marriott Hotel Qufu is located in the old city. The brainchild of Kai Cui, the academician of the Chinese Academy of Engineering, the building is a masterpiece of design that celebrates Chinese architecture, while taking its ancient contexts into the 21st century. The hotel features 197 modern rooms and suites, comprising 188 individual guestrooms and 9 complex suites. All guestrooms, spanning from 45m² to 98m² with 3.2-meter-high ceilings, are tastefully appointed with elegant Chinese accents and are equipped with the latest in-room technology, walk-in closets, and modern amenities to ensure guests' every comfort. The hotel's distinctive exterior profile, with its elegant classical Chinese rooflines, blends seamlessly with its surroundings. Sixteen Chinese chimes at the front porch are a visual reminder of both the ancient percussion instrument, as well as the history of Chinese culture and music. The spectacular lobby features a stylized moon gate and a statue of Confucius under a graceful ginkgo tree, in commemoration of the lectures "The Great Teacher" gave.
"We are thrilled to bring our JW Marriott brand to the historic city of Qufu," said Mitzi Gaskins, Vice President & Global Brand Leader, JW Marriott for Marriott International. "The new JW Marriott Hotel Qufu is a haven of luxury within the timeless history of the city, famed as the birthplace of revered Chinese philosopher Confucius, with a rich landscape of historic palaces and temples. The design of this hotel, its distinctive decor and mindful, intuitive service are all part of The JW Treatment, our promise to enhance and elevate our guest's experience when visiting this amazing destination."
JW Marriott Hotel Qufu offers a diverse range of artfully selected and locally inspired dishes and beverages to appeal to all guests' palates. At the hotel's signature restaurant Residence, guests can experience the time-honored cuisine of the region, including Cantonese dishes and the traditional Kongfu cuisine which focuses on culinary refinement, also known as "Dishes of the Confucian Mansion", complemented by traditional Shandong dishes. JW Kitchen is a smart casual outlet featuring an open kitchen, serving local and international cuisines, healthy juices and the chefs' daily recommendations in a relaxed, contemporary atmosphere. The Lounge is an intimate and idyllic place to linger and enjoy views of Six Arts Atrium. Guests can savor JW Wine Ambassador services as well as the exquisite afternoon tea. In the lobby, the Tea Library is a beautiful space reminiscent of a traditional teahouse with wooden shelves displaying tea sets and books while guests can experience local tea culture guided by an expert tea master.
JW Marriott Hotel Qufu is an extraordinary venue for meetings, incentives, conferences and exhibitions with its multipurpose function spaces. The Grand Ballroom has an impressive nine-meter-high ceiling and 800m2 of space, which can be divided into two separate banquet halls featuring a variety of customizable layouts. The function spaces feature 70m2 HD LED screens and state-of-the-art sound equipment. For smaller events, the hotel also has a 200m2 Function Room, which can be divided into three independent multifunctional halls. All events at the JW Marriott Hotel Qufu enjoy the support of the JW Event Concierge service for quick responses to requirements and to provide organizers with expert, intuitive solutions.
For guests who wish to maintain their wellness routines during their visit, the 24-hour Fitness Center is a natural sunlight-filled space with advanced cardio and strength training equipment. A luxurious indoor heated swimming pool with natural sunlight allows guests to enjoy swimming for exercise and leisure during any season of the year.
"JW Marriott, with its distinctive JW Treatment brand philosophy, continues to grow strongly here in China, resonating with consumers who seek exceptional quality and thoughtfully crafted service," said Henry Lee, Chief Operations Officer and Managing Director, Greater China, Marriott International. "We look forward to welcoming guests to the new JW Marriott Hotel Qufu. From sightseeing and sampling the traditional cuisines of Qufu, to organizing a memorable event or a simple romantic getaway – JW Marriott Hotel Qufu will delight the most discerning of world travelers who come to this beautiful ancient city."