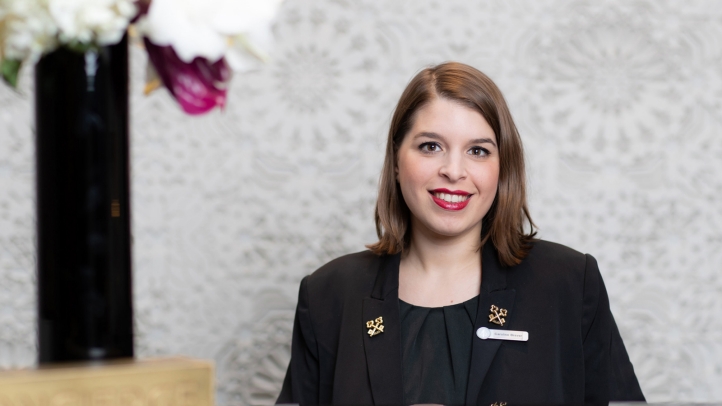 Four Seasons Hotel Casablanca announces that Concierge Supervisor Caroline Breyer has received her golden keys from Les Clefs D'Or, the only international association of professional hotel concierges.
Caroline began her hospitality career in 2009 having worked as a receptionist at various 4 and 5 star Hotels in countries such as Luxembourg and Belgium. She joined Four Seasons Hotel Casablanca as part of its opening team in late 2015 and was quickly recognised by her peers and guests as a valuable resource in the Hotel. In 2017 she was promoted to Concierge Supervisor and received her recognition by the Association of Les Clefs d'Or Morocco in January 2019.
Speaking of this recent recognition, "I am delighted to have this recognition and being able to offer my insider perspective on the best the city has to offer. I look forward to sharing my tips on the city's hidden gems with our guests and making their visit to Casablanca as memorable as possible."
"The decision to award Caroline Breyer with this prestigious badge was done after careful consideration and keeping in mind the impact that a Clefs d'Or concierge would have on a prestigious establishment that caters to a refined clientele. The addition of Caroline Breyer as a new member will further enhance the association's objectives in Casablanca. I could clearly see in her a true professional passionate about her work," states M. Youssef Mamouni, President of Les Clefs d'Or Morocco.
Les Clefs d'Or is an international network of more than 3,500 professional hotel concierges from 80 countries around the world helping travellers during their visit by sourcing inside information. The organisation was established in 1952, and its members are identified with crossed gold keys all over the world, which demonstrate professionalism and high level of care for their guests.
Les Clef d'Or association in Morocco counts 55 certified Clefs d'Or throughout the Kingdom, 15 of whom are based in Casablanca. The association was founded by the Head Concierge of the Royal Mansour in Casablanca Mohamed Anakar.
The historic port town of Casablanca offers a dynamic city to be discovered with a rich cultural heritage rooted in its French colonial past and important economic identity. The city first gained international fame through the 1942 cult-classic film Casablanca, but todays offers plenty of sights to enjoy including architectural wonders such as the Art Deco neighbourhood, the famous Hassan II Mosque towering over the Atlantic coastline and the Habous quarters.
Discover the top sites of Casablanca with the help of Clefs d'Or Concierge Caroline Breyer, who will help arrange a guided visit of the city to help guests unlock its hidden gems as well as organising day trips to UNESCO World Heritage sites in nearby cities Rabat or El Jadida.