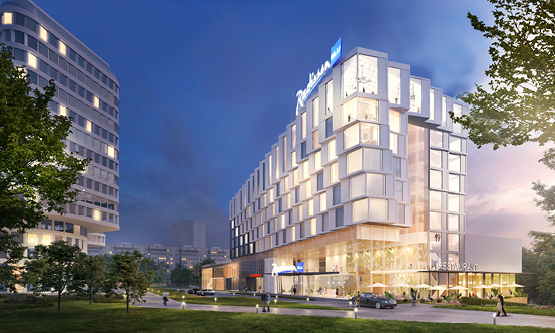 Radisson Blu Opens New Hotel in Russia, Moscow. The new property will bring the group's portfolio in Moscow and its surrounding area to eight hotels and 2,260 rooms in operation or under development.
The Radisson Blu Leninsky Prospect Hotel, Moscow will be an integral part of a mixed-use office and hotel complex. New Radisson Blu is set to open in 2021. It will feature 150 comfortable guest rooms, state-of-the-art meeting facilities, fitness, wellness center, two restaurants, and a lobby bar.
Radisson Blu Leninsky Prospect Hotel located just 16km from Vnukovo International Airport and 9km from the city center.
The Radisson Blu Leninsky Prospect Hotel, Moscow will be managed by Radisson Hospitality AB under an international management agreement.
Elie Younes, Executive Vice President & Chief Development Officer of Radisson Hotel Group, said: "This strategic project will further strengthen our leading position in Russia as well as Radisson Blu's position as the largest upper upscale hotel brand in Europe. We're thankful and grateful to our partners for the trust in our brand and people''
Radisson Blu Olympiyskiy Hotel, Moscow, situated near the city's historic center, was opened in November 2018.
Check new Moscow hotels here