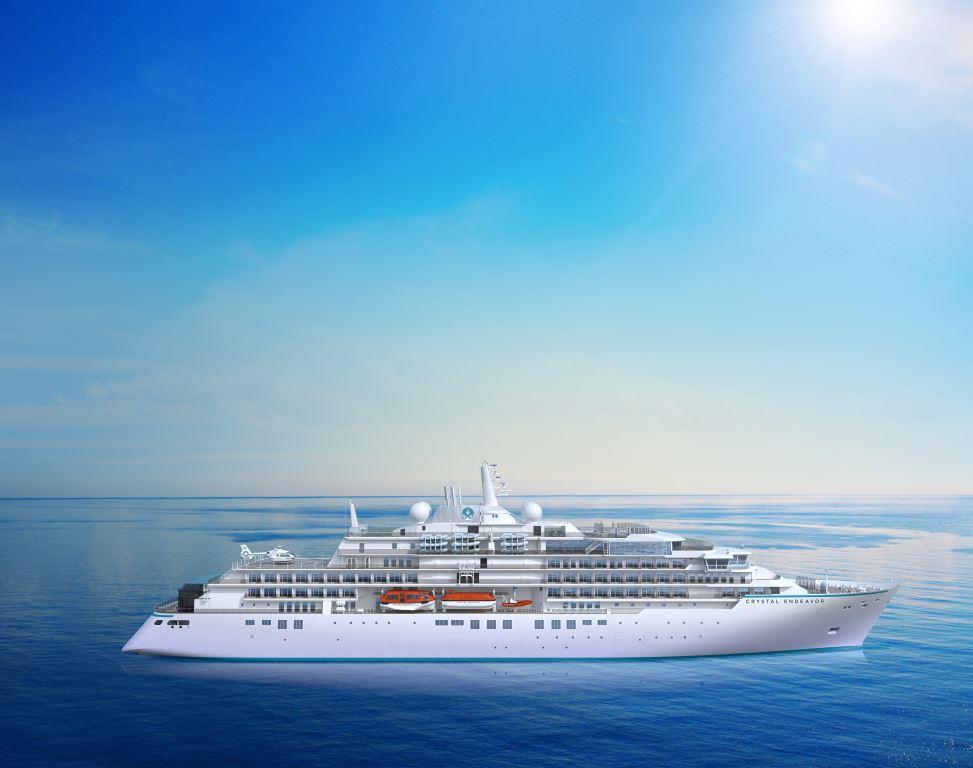 Enticing luxury travelers with boutique yachting adventures in some of the world's most intriguing and breathtaking locales, Crystal Yacht Expedition Cruises has unveiled the complete 2021 deployment for Crystal Esprit. In all, 45 voyages of epic discovery will combine Crystal's signature luxuries with the legendary histories and landscapes of the destinations. Nearly all of the 62-guest, butler-serviced, all-suite yacht's 2021 voyages are seven days, designed to suit busy calendars or combine easily for expanded vacations. Notably featured are 11 brand new voyages, including routes along Turkey's Turquoise Coast, an expanded season along the Dalmatian Coast and Greek Isles, warm-weather winter sailings in the Seychelles, and focused voyages in the United Arab Emirates and Holy Lands.
Details of Crystal Esprit's 2021 itineraries include:
Turkey's Turquoise Coast, three 10-day voyages – Exploring the Turkish Riviera, monumental archaeological sites (including UNESCO-listed Ephesus and the Mausoleum at Halicarnassus, one of the Seven Wonders of the World), classic Turkish cuisine, charming resort towns and landscapes ideal for active outdoor pursuits like hiking, bicycling and village walks in Antalya, Bodrum, Kas, Kalkan, Kuşadasi, Finike and Datça, as well as calls to Larnaca and Limassol, Cyprus.
Dalmatian Coast, 22 7-day voyages – Designed for combining or indulging individually, these itineraries highlight the complexities and beauty of Croatia, Slovenia and Montenegro, from Split's UNESCO-listed Diocletian Palace and Dubrovnik's impenetrable walls, to Hvar's fresh water springs and pine forests and Korçula's sapphire blue waters and cultural epicenter of Croatia. Other calls include Vis, Trogir, Opatija, Zadar, Rovinj and Sibenik, Croatia; Kotor, Montenegro; Piran, Slovenia; and Venice, Italy.
Seychelles, nine 7-day voyages – From the famous giant tortoises of Laraie Bay, Curieuse Island to Mahé's massive granite peaks, botanical garden and welcoming waters for all manner of watersports (from the yacht's private marina and along some of the world's most beautiful beaches), these identical itineraries offer travelers a slice of lush island paradise in the heart of the Indian Ocean, with overnights in Praslin and Laraie Bay and calls to Aride Island, La Passe, St. Anne and Mahé's Eden Island and Victoria Harbor.
Greek Isles, five 7-day voyages – Immersive quests into the heart of where much of history originated, including the UNESCO-listed sites of the Monastery of St. John in Patmos, Delphi in Itea, the island of Delos, and many others in Rhodes, Mykonos, Hydra, Chania/Crete, Athens, Naxos and Santorini – all set among white-washed shoreside villages that shine with modern cafés, shops and activities that offset the ancient heritage of the destinations.
United Arab Emirates, four voyages, 6, 7, 9 and 12 days – Exploring the Arabian Gulf and its juxtaposition of ancient tradition and modern ingenuity, these voyages offer overnights in Dubai and Abu Dhabi, plus Doha, Qatar and Muscat, Oman on select sailings. The region's glittering taste shines through at the Sheikh Zayed Grand Mosque and Ferrari World, while international influences are everywhere. Additional destinations include Khasab, Sir Banir Yas Island, Oman and Manama, Bahrain, depending on the itinerary.
Holy Lands, two voyages, 8 and 11 days – Highlighting the sacred and spectacular sites of Cyprus, Israel, Egypt and Jordan. Filled with multiple overnights in gateway cities, guests can explore the hallowed treasures of Jerusalem, vibrant culture of Tel Aviv, Haifa's glorious coastline and the resort town of Eilat; venture to the Valley of Kings and Cairo's Great Pyramids of Giza and the new Egyptian Museum; and explore the once lost riches of Petra.