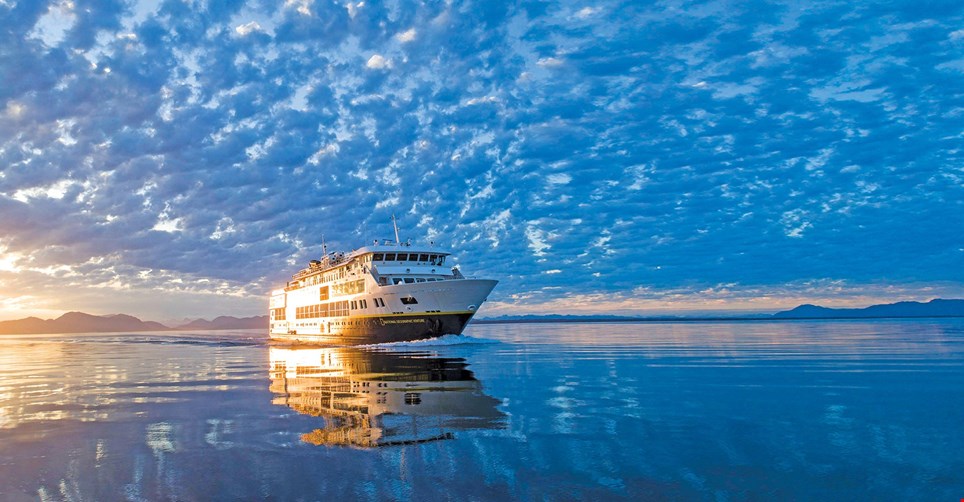 Lindblad Expeditions-National Geographic officially launched the newest addition to their fleet, National Geographic Venture, at a dockside christening ceremony in San Francisco Bay on Friday, November 30, 2018. The occasion marked a major milestone for the line, as only the second new build in the company's history. Following the ceremony, the ship embarked on a two-night VIP mini expedition that included travel agency partners, affinity/charter partners, media and other special guests.
Then Pamela Fingleton, 40-year Lindblad veteran and senior vice president, joined Sven on the bow for the traditional toast and breaking of the champagne bottle.
The 50-cabin coastal vessel is the second new build in the line's history, and is sister ship to National Geographic Quest, launched in 2017. Built entirely in the US, her design is based on 50 years of expedition experience and is the perfect base for exploring. The lounge is a moving window on the world outside, the bow the perfect place for photography with a Lindblad-National Geographic certified photo instructor. The ship also features the B&H photo gear loaner program, where guests can try the latest lenses, camera bodies and binoculars aboard ship.
National Geographic Venture is now exploring the Pacific coast on two new and unique inaugural itineraries, giving guests a privileged perspective on the region—before she begins her seasons in Baja, the Pacific Northwest and Alaska.