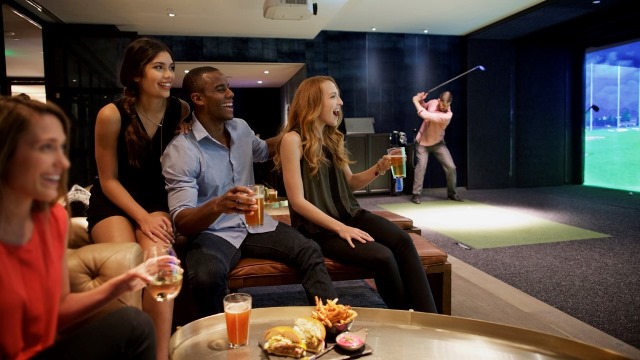 Four Seasons Hotel Houston is now offering an enhanced selection of simulated games in its popular Topgolf Swing Suite, located at the Hotel's acclaimed Bayou & Bottle restaurant and lounge.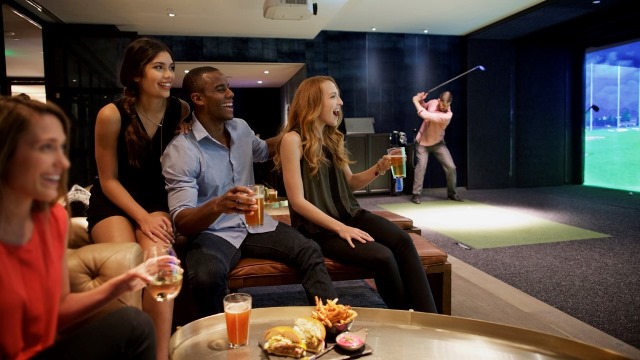 Now, in addition to its popular golf games, the Hotel's newest simulated experiences include:
Baseball Pitching – Take the mound against a team of sluggers. Just don't let them take you deep because it's the bottom of the 9th and the game is on the line.
Hockey Shots – No need to lace up your skates in this ice rink. Grab a hockey stick and puck then take aim at various targets in the net. In advanced mode, shoot at smaller targets in more difficult net locations.
Carnival Classics – Pop as many balloons as you can in this fast-paced game of precision. The smaller the balloon, the more points it's worth. Put up a lot of points, and you'll be heading to the bonus round, where you can dunk a clown. In advanced mode, break as many plates as you can in this fast-paced game of timing and accuracy.
Zombie Dodgeball – Defend yourself from a trio of zombie street dancers by hitting them with dodgeballs until time runs out. If more than one zombie reaches the fence, you're in big trouble. In advanced mode, fend off a mob of zombie clowns.
"These exciting new simulation experiences provide our guests with even more to do and enjoy at the Hotel," says Tom Segesta, General Manager of Four Seasons Hotel Houston. "The combination of Bayou & Bottle's incredible food and drink offerings, exceptional service and entertainment make for a great time here in 'Houston's Living Room'."
Through its partnership with Topgolf, a one-of-a-kind simulated golf experience was brought to the downtown luxury destination as part of the Hotel's multi-million dollar renovation in early 2017. This was the first Topgolf-branded simulation experience of its kind anywhere in the world, offering guests an immersive and all-encompassing golf simulation experience, which could be enjoyed in one of the two simulator bays, accommodating up to eight guests each, or combined to accommodate 16.
Personalised food and beverage service is provided through Bayou & Bottle, the Hotel's chic bourbon bar and restaurant, serving flavourful cuisine inspired by Houston's melting pot of cultures. The bar also offers more than 180 whiskies, curated and served by a team of Certified Bourbon Stewards, as well as a complete beer, wine and craft cocktail selection.
The Topgolf Swing Suite is surrounded by lounge seating and HDTVs offering the ultimate spot for gatherings and events both medium and small. Whether looking to hone their skills for an upcoming 18-hole round or just "golfin' off" with friends, players at Topgolf are presented with an unrivalled simulation experience.