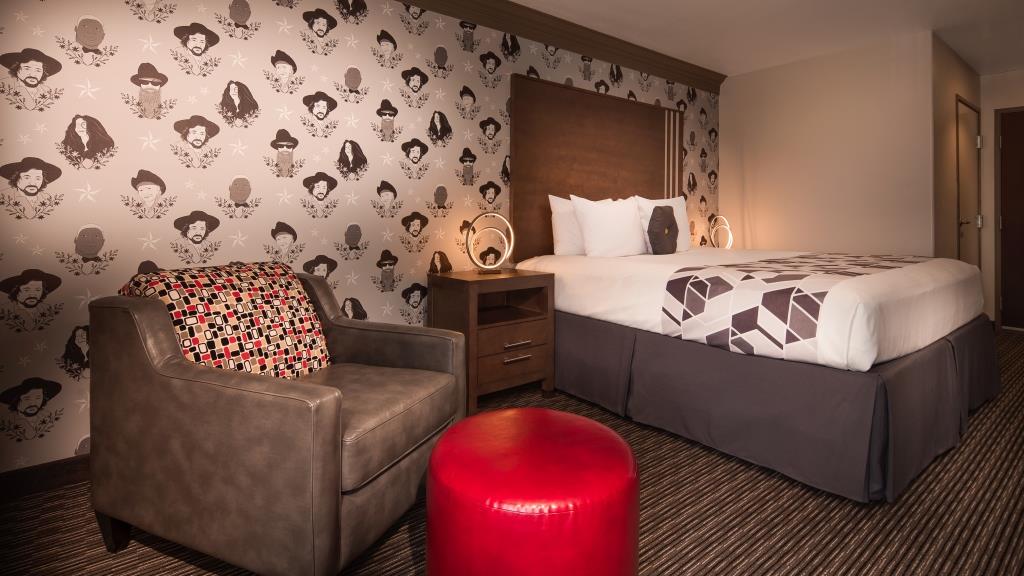 During today's general session at the 2018 Best Western North American Convention and Global Conference, Best Western Hotels & Resorts unveiled three new prototypes that will modernize its Best Western, Best Western Plus and Best Western Premier brands. The move comes on the heels of the company's award-winning brand refresh, which began in 2015 and unveiled a fresh new look for the hospitality giant, along with an extensive brand portfolio.
Best Western Prototype
The revamped Best Western prototype focuses on smart, modern design with high-end impact and well thought out rooms for every traveler. Simplified furnishings with tastefully blended fixtures and finishes provide modern sophistication. Unique, On-Trend Hospitality Design elements and color schemes offer an attractive and comfortable guest stay. The new Signature Architectural Branding Element delivers continuity within Best Western's portfolio for immediate guest recognition and a reduced overall footprint offers developers a cost-effective build. Multi-purpose spaces along with integrated technology are provided to enhance the guest experience.
Best Western Plus Prototype
The new and improved Best Western Plus prototype brings affordable elegance to the modern-day traveler. Stylish textures collide with vibrant jewel tones, breathing life into refined public areas and cozy guestrooms, providing comfort and relaxation to the contemporary traveler. Natural elements and state-of-the-art technology transform the public spaces into a social oasis.
Best Western Premier Prototype
The all new Best Western Premier Prototype welcomes guests with a luxurious experience and elegant atmosphere. Upscale amenities await – including casual dining and Grab & Go food choices, sociable communal seating, as well as collective indoor-outdoor spaces offering a cozy atmosphere. The stylish interiors envelop guests in plush fabrics, with mixed metals, and a well-designed color scheme. Guests indulge in the comfort of guestrooms complete with upgraded beds and linens, spa-like bathrooms and spacious guestroom layouts. Public areas provide an on-trend aesthetic and acute attention to detail catering towards today's sophisticated traveler.
Today's Best Western features 13 brands and a global network of more than 4,200† properties around the world. The new prototypes are expected to roll out by the end of 2018.