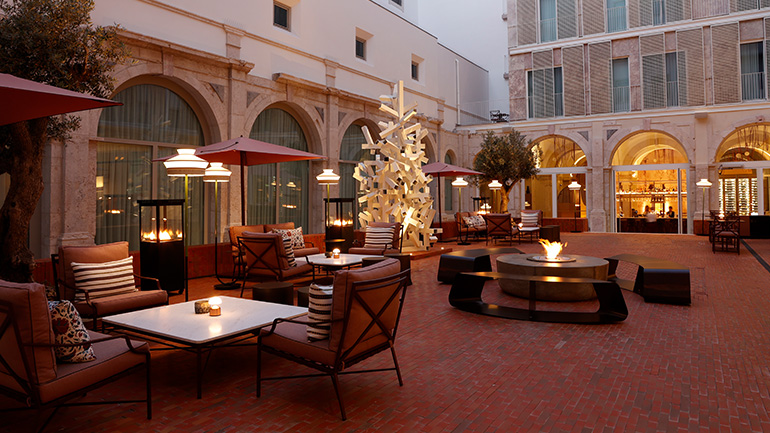 IHG Hotels & Resorts has added another gem to its rapidly growing Luxury & Lifestyle portfolio with the introduction of Convent Square Lisbon, Vignette Collection. Nestled in the heart of Lisbon, this 121-room hotel represents the second Vignette Collection property to open in Europe and the sixth addition to IHG's pioneering collection brand. With ambitions to reach 100 properties in the next decade, IHG is redefining luxury travel by blending heritage and hospitality to create a unique experience for guests.
Convent Square Lisbon, Vignette Collection, beautifully combines history and modernity. Housed in a 13th-century Dominican convent, the hotel is a haven of tranquility in Lisbon's bustling Baixa neighborhood. Cobblestone streets lead guests from the vibrant Portuguese capital to the spiritual ambiance of the convent's open-air cloister, where they can socialize under the open sky beside warm fire pits.
Central to the Vignette Collection concept is the harmonious balance between individuality and a sense of belonging. Each Vignette Collection property maintains its unique identity while sharing a common vision: to offer travelers a more authentic way to explore the world. This vision is built on principles of sustainability, luxury, distinction, elegance, and intrigue.
Tom Rowntree, Vice President of Luxury & Lifestyle Brands at IHG Hotels & Resorts, expressed his enthusiasm for the addition of Convent Square Lisbon, Vignette Collection, saying, "The collection is united by a shared vision to harness travel's ability to benefit people, place, and planet, and together, offers thoughtful venturers the opportunity to make positive change through authentically storied experiences."
Each Vignette Collection property offers unique rituals that connect guests with the hotel's identity, location, and culture. Convent Square Lisbon invites guests to partake in the ancient healing practice of Dominican monks by creating their daily herbal blends within the serene confines of the cloister. This ritual pays homage to Portugal's historical significance as the nation that introduced tea to Europe.
Every Vignette Collection hotel spearheads initiatives that promote positive impact, combining responsibility, community, and locality. Convent Square Lisbon collaborates with Corações Com Coroa to empower women by providing housing and school materials for young girls and sponsoring women through a hospitality internship program.
The hotel is the result of the meticulous restoration of Convento de S. Domingos, a structure dating back to 1242, commissioned by King Sancho II. Today, the space blends wellness and history with amenities such as a sauna, fitness suite, and an indoor plunge pool offering breathtaking views of Lisbon's ancient architecture. The original open-air cloister is now adorned with contemporary seating, inviting guests to savor a glass of wine or coffee in tranquil surroundings illuminated by fire pits. Throughout the hotel, guests can admire art by renowned Portuguese artists, including pieces by Pedro Calapez and a sculptural work specially created by Pedro Cabrita Reis for the hotel's cloister.
Hyatt Hotels announced the opening of Hyatt Regency Lisbon, located in the pretty district of Belém along the banks of the breathtaking Tagus River.
Convent Square Lisbon offers a range of dining experiences to cater to various moods. The hotel's all-day dining venue, Capitulo, serves Chef Victor Sobral's contemporary interpretations of traditional Portuguese classics in a former noble assembly room. Guests can enjoy light bites and beverages in the iconic open-air cloister or opt for tapas with live music in the lounge.
Located within walking distance of Lisbon's historic cobblestone streets, guests can easily explore traditional bookstores, cafes, and theaters. Nearby attractions like Rossio Square, Avenida da Liberdade, Terreiro do Paço, and the famous Chiado district provide a rich cultural tapestry for guests to immerse themselves in.
Convent Square Lisbon, Vignette Collection, offers travelers a unique opportunity to experience the captivating blend of history, culture, and modern luxury in one of Europe's most vibrant cities. As IHG's Luxury & Lifestyle portfolio continues to expand, it solidifies its position as a global leader in redefining the luxury travel experience.