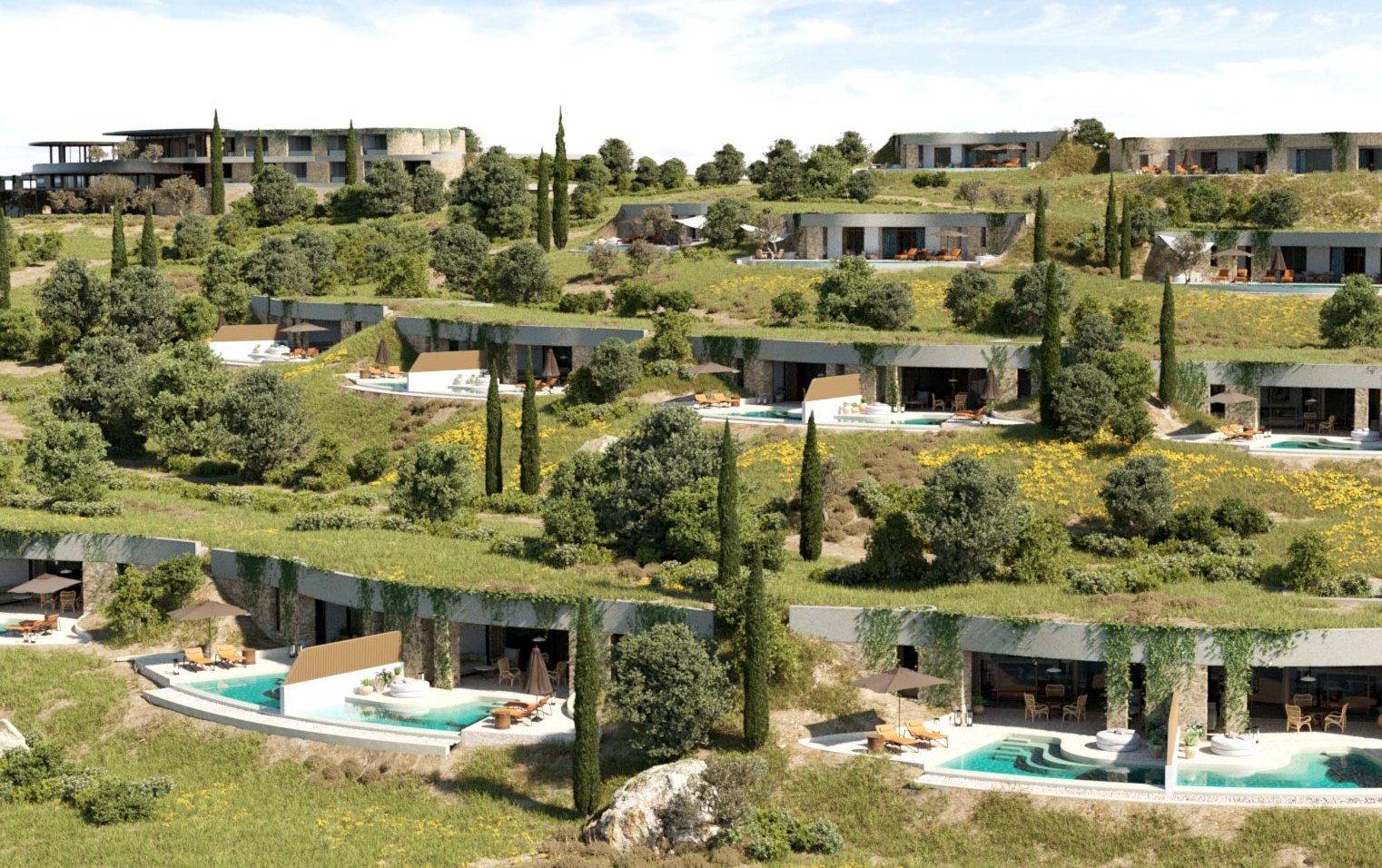 A new era of luxury and hospitality dawns in Greece as Mandarin Oriental unveils its first beachfront resort in the country, situated at Costa Navarino, a sustainable destination in Messenia, southwest Peloponnese. Nestled in the lap of nature, Mandarin Oriental, Costa Navarino is a breathtaking sanctuary that harmoniously fuses traditional Messenian elements with modern opulence.
Developed in collaboration with TEMES, a pioneering developer known for its unwavering commitment to sustainability, the resort's design has been meticulously crafted by the renowned Tombazis & Associates Architects and K-Studio. These teams have blended innovation with craftsmanship, ensuring every facet of the resort captures the unparalleled vistas. Its bioclimatic design, employing locally sourced materials and embracing green living principles, is inspired by local agricultural traditions and the region's rich cultural heritage.
Each of the 99 suites and villas is a luminous haven, with spacious terraces and private pools. These beautifully designed living spaces exude the warmth of the Peloponnese, seamlessly merging comfort and elegance.
Culinary Delights and Immersive Experiences
Mandarin Oriental, Costa Navarino entices guests with five distinctive dining venues curated by Chef Bertrand Valegeas. Among them, Oliviera Restaurant takes center stage, offering sweeping bay views and an eclectic selection of redefined Greek cuisine that pays homage to local culture. Tahir Restaurant, focusing on Levantine fare, is a standout concept, serving healthy mezze dishes sourced from local farms. With such a diverse range of dining options, guests can savor a culinary journey that encapsulates the essence of Messenia's culture and flavors.
Designed as a serene sanctuary, The Spa at Mandarin Oriental, Costa Navarino, combines the Group's oriental traditions with the lush Greek flora that surrounds it. This tranquil space offers a genuine escape, presenting an array of relaxing and invigorating holistic treatments. The 25-meter swimming pool, transitioning seamlessly from indoor to outdoor, boasts stunning bay views. The Hammam, cold bath, and herbal sauna provide unique detoxifying experiences. The Fitness Centre, staffed by expert trainers, motivates guests to achieve their fitness goals. Water enthusiasts can enjoy various activities, from paddleboarding to water skiing, at the beach club.
Cultural aficionados will revel in experiences like olive oil tastings and traditional cooking classes, as well as visits to local historical sites. Golf enthusiasts will appreciate the 18-hole Bay Course with its coastal vistas, as well as three other signature golf courses nearby.
Furthermore, Mandarin Oriental, Costa Navarino is adjacent to the newly opened Navarino Agora, a vibrant marketplace offering curated retail, dining venues, artisanal street food, an open-air cinema, and a dynamic event program celebrating local culture and traditions.
Raul Levis, General Manager of Mandarin Oriental, Costa Navarino, expressed, "Our dedicated team has worked tirelessly to bring the exceptional Mandarin Oriental experience to Greece. We are thrilled to welcome visitors from around the world to discover the authentic beauty and hospitality of Costa Navarino."