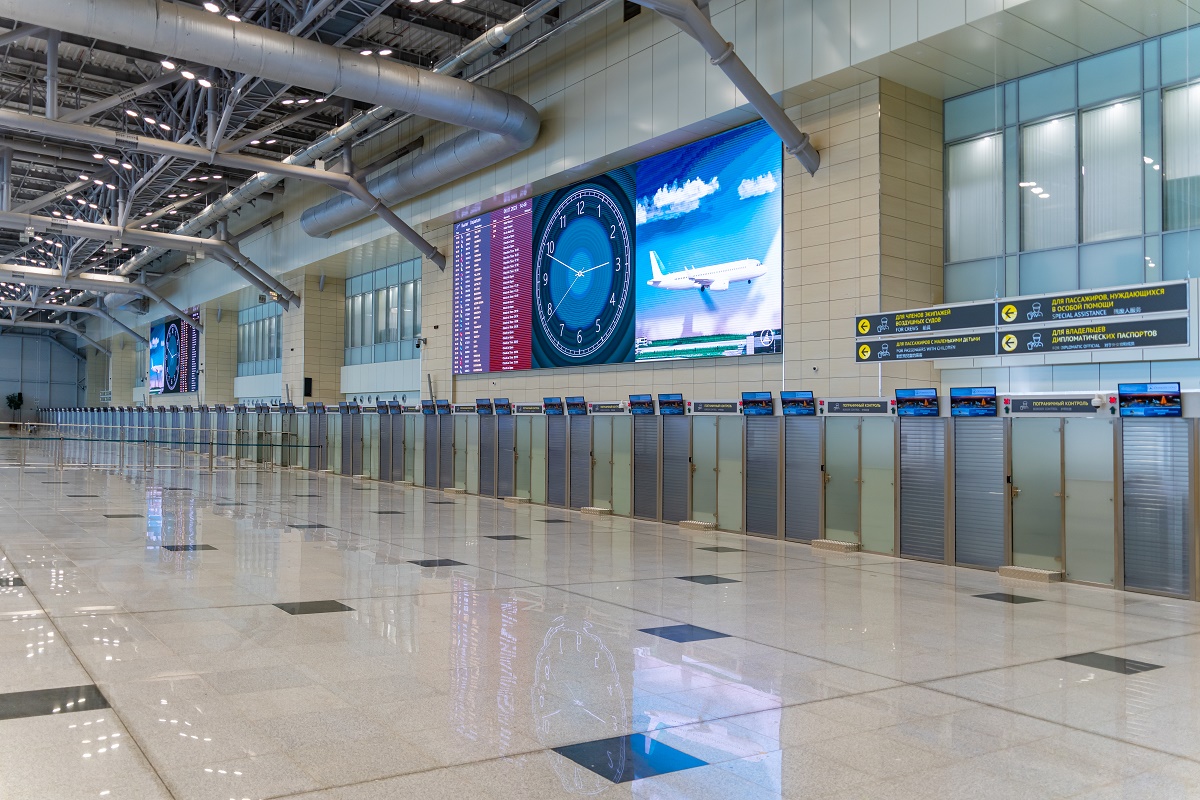 Moscow Domodedovo Airport has successfully inaugurated the T2 segment of its passenger terminal, significantly enlarging the air harbor to nearly 500,000 square meters. This latest addition has already accommodated its first international flights, marking a significant milestone in the history of both Domodedovo Airport and Russian civil aviation. Andrey Pavlov, Director of Moscow Domodedovo Airport, expressed gratitude to all those involved in the project, extending special thanks to the airlines and passengers whose choice and support motivated the realization of this exceptional endeavor.
The construction of T2 involved investments exceeding 42 billion rubles, and it primarily serves airlines operating international flights. The seven-story terminal covers an approximate area of 240,000 square meters. The ground floor features a spacious check-in area with three islands consisting of 28 sections, along with four reception desks designated for oversized luggage. On the second floor, a comprehensive checkpoint for customs and border control is situated.
Within the secure zone, there are 22 boarding gates, with 16 of them equipped with cutting-edge teletraps. The exits are furnished with automatic turnstiles, enabling passengers to independently pass through boarding control. The project follows the architectural concept of "UNDER ONE ROOF," allowing for the efficient utilization of the airport's transfer potential. Notably, Domodedovo Airport stands as Russia's largest structure employing a polygonal glass design, a solution that merges aesthetics with energy efficiency. Enhancing the familiar appearance of the air harbor, a new striking architectural feature, the atrium, has been introduced. This circular gallery, crowned by a glass dome, encompasses business halls, cafes, bars, restaurants, and duty-free shops along its perimeter.
Technological innovations implemented in T2 aim to streamline passenger service by minimizing wait times through the implementation of a multi-level service system. This approach strategically separates the flows of arriving and departing travelers, ensuring their entrances and exits are located on different levels of the terminal building. Simultaneously, a two-level automobile overpass has been inaugurated alongside the launch of the new terminal segment.
Here are some statistics regarding Moscow Domodedovo Airport T2:
Terminal Area: 240,000 square meters
Investments: Over 42 billion rubles
Floors: 7
Check-in Counters: 84 regular counters and 4 for oversized luggage
Passport Control Channels: 80 in the departure area, 88 in the arrival area
Boarding Gates: 22 (16 contact parking spots, 6 bus gates)
Teletraps: 18
Baggage Claim: 6 conveyor belts
Luggage Belt Length: 15 kilometers
Family Service Area: 490 square meters
Medical Center Area: 1,400 square meters
Commercial Area: 13,150 thousand square meters
Landscaping: 500 trees and 1,000 bush plants
Number of Lamps: 30,775