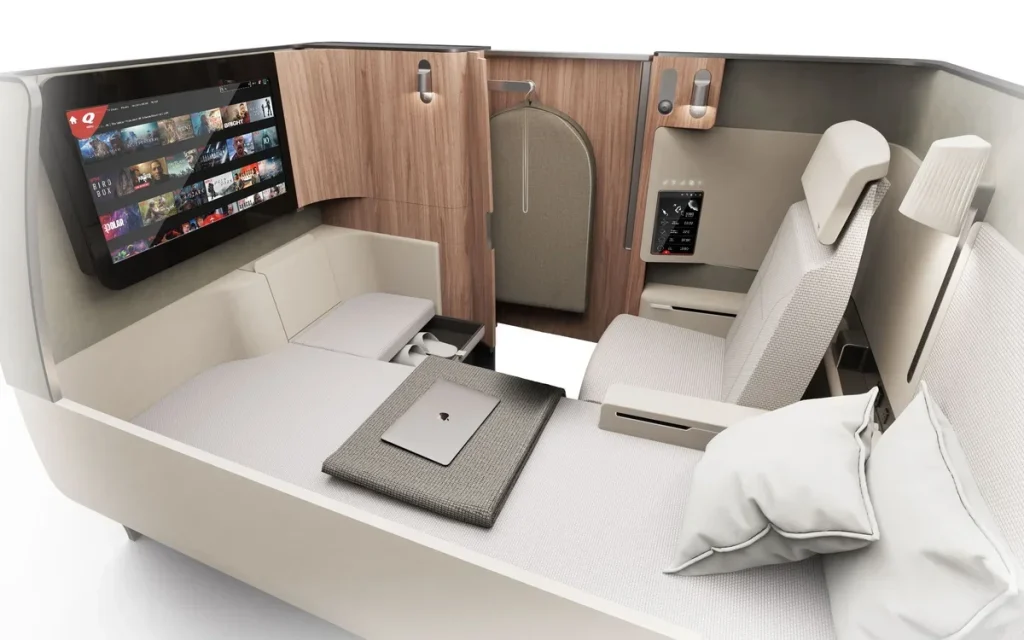 Qantas has unveiled the cabin of its Airbus A350-1000 aircraft, which will be used for record-breaking long-haul flights to London and New York. Despite the initial setbacks caused by the coronavirus pandemic, the Project Sunrise initiative has been revived.
After years of discussions and preparations, Qantas' dream of connecting Australians with New York and London through non-stop flights is coming to fruition. On Friday, June 16, the airline fully revealed the cabin design of the aircraft specifically built for these flights.
The non-stop flights will allow passengers to save up to 4 hours of travel time.
A test flight was conducted in October 2019 on a Boeing 787-9 Dreamliner from New York to Sydney, covering a distance of 16,000 km in just under 20 hours.
The main highlight for passengers opting for such a long flight is the increased personal space. Qantas has achieved this by significantly reducing the number of seats in the economy class cabin compared to other airlines.
The economy class will have 140 seats, while the premium economy class will have an additional 40 seats. Both classes will offer the largest seat pitch among all Qantas aircraft. The seats will feature ergonomic leg support systems and storage options for personal belongings. Each seat in the aircraft will have multiple fast-charging USB-C ports, and each premium class seat will also have built-in wireless charging.
Qantas will become the first airline in the world to offer passengers a specially designed "wellbeing zone" located between the premium economy and economy class cabins. The wellness zone will provide an opportunity for recharging and stretching. To assist tourists, there will be soft wall panels, handles for exercise support, on-screen instructions, as well as a station offering "healthy snacks" and drinks.
For entertainment purposes, fast and free Wi-Fi and Bluetooth will be available on board in all four A350 cabins, allowing passengers to connect their personal headphones to the in-flight entertainment screen.
The economy class seats are equipped with a 13-inch OLED screen, a foot net, and storage within arm's reach, as well as a "generous" 33-inch legroom.
Passengers in the luxurious first class will have access to one of the six large enclosed First Suites, which, according to Qantas representatives, are designed to make travelers feel like they are in a boutique hotel. Each suite features a two-meter flat bed, a dining table for two, a separate reclining chair, and a 32-inch 4K ultra-high-definition touchscreen TV.
The business class is quite similar to the first class: each of the 52 business suites is equipped with sliding doors. Inside, there is a lie-flat bed, a large dining table, individual lighting, and an 18-inch 4K ultra-high-definition touchscreen TV.