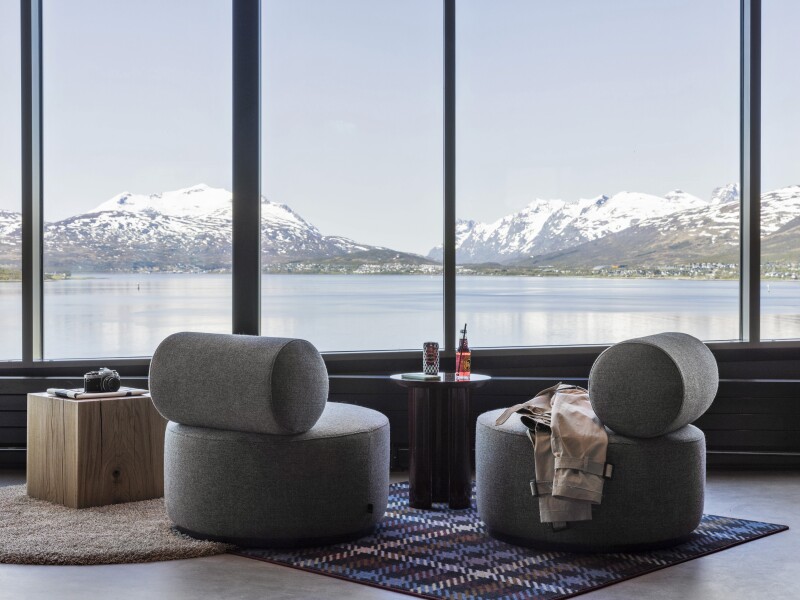 Moxy Hotel has recently opened Moxy Tromsø, located in Northern Norway, becoming the northernmost property in Marriott Bonvoy's global portfolio. Tromsø is renowned for its stunning winter landscapes and captivating Northern Light displays, while summer adventures benefit from the midnight sun and 24-hour daylight.
Moxy Tromsø offers a unique blend of stylish, industrial design and sociable service at an affordable price, allowing guests to save on space and indulge in memorable experiences. The hotel features 208 smartly designed rooms with walk-in showers, 55-inch flat-screen TVs, exceptionally comfortable beds, and motion-activated LED guidelights. Taking check-in to new heights, the newly constructed hotel invites guests to the top floor, where they will find the Sky Bar Moxy, serving as both the social heart of the hotel and the front desk. As a warm welcome, all guests are greeted with a 'Got Moxy' cocktail or mocktail upon check-in, along with their room key.
Inspired by the local surroundings, Danish designers Mette Fredskild Studio have created a palette influenced by traditional local folk dress, featuring shades of indigo, cobalt, city blue, as well as warmer tones including purples, browns, and deep reds. Playful murals by local artists Alice Kvalvik and Jonathan Broca adorn the public spaces, depicting Tromsø life and the enchanting natural environment.
Sky Bar Moxy, the social hub of the hotel, caters to the always-on travelers, offering a variety of board games, a foosball table, and café tables with board games printed on the tabletops. The 11th-floor rooftop terrace provides unobstructed views of the city and fjord, while the indoor lounge features a telescope for guests to observe the wildlife and marvel at the stars during the winter.
Sky Bar Moxy offers a lively social atmosphere with a menu of light bites and crafted cocktails. Local brews, such as Nordlys ("northern lights") and Isbjørn Lite ("polar bear," a gluten-free beer) from MACK, are on tap, along with classic Moxy cocktails like the delicious non-alcoholic Fauxy Moxy, infused with hints of strawberry, rose, and hibiscus. The Moxy Pickups menu showcases international favorites, and a dedicated barista counter serves up coffee for those who have made the most of the endless daylight.
The hotel serves as a gateway to breathtaking Arctic adventures, including husky and reindeer visits, Sami cultural experiences, whale safaris, Northern Lights excursions, cross-country skiing, and fjord cruises.
Moxy Hotels is a part of the Marriott Bonvoy program, allowing guests to earn points for their stay at Moxy Tromsø and other hotels and resorts within the Marriott Bonvoy portfolio. Points can be redeemed for future stays, unique Marriott Bonvoy Moments experiences, or through partners for luxurious products from Marriott Bonvoy Boutiques. The Marriott Bonvoy app offers a personalized and contactless travel experience, providing members with peace of mind during their journeys.